I first saw Blood Fest at Horrorhound Weekend Indianapolis earlier this year. I remember enjoying the film, but there was a drinking game involved, so my memory was a little hazy. Recently, I picked up Blood Fest on Blu-ray to revisit it. Was it just as fun without booze? Read on to find out.
Blood Fest is the latest film from Writer/Director Owen Egerton (Follow 2015). The film stars Egerton, Robbie Kay (Once Upon a Time TV series), Jacob Batalon (Spiderman: Homecoming 2017), Seychelle Gabriel (Falling Skies TV Series), Barbara Dunkelman (RWBY Webseries), Chris Doubek, Nicolas Rutherford, Tate Donovan (The O.C. TV series, Kingdom Hearts III video game), Rebecca Lynne Wagner, and Olivia Grace Applegate (Revolution TV Series).
Synopsis:
Fans flock to a festival celebrating the most iconic horror movies, only to discover that the charismatic showman behind the event has a diabolical agenda. As festival attendees start dying off, three teenagers – more schooled in horror-film cliches than practical knowledge about neutralizing psycho killers – must band together and battle through various madmen and monstrosities to survive.
Blood Fest is a film that has a little something for everyone, including slashers, zombies, vampires, killer clowns, and Saw-esque torture devices. The film has a wicked sense of meta humor (probably the best use of it since the original Scream). It's there, but it's not obtrusive. The kills are well done with vampires ripping out throats, zombies dragging screaming people into the ground, throat slashings, impalements, chainsaw decapitations and much more. The film isn't just gore and humor for its own sake. It has a solid story with themes, such as: Does horror cause violence? What actually makes a monster?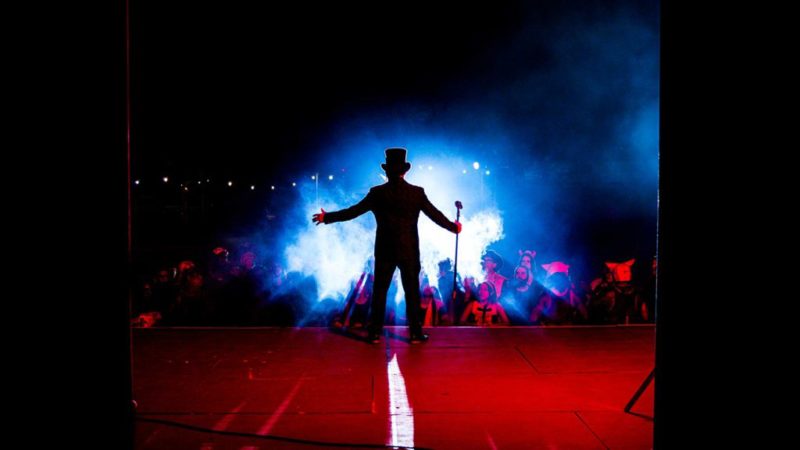 The cast is wonderful. Robbie Kay (best known as the villainous Peter Pan in Once Upon a Time) makes a likable and sympathetic lead as Dax. You can't help but root for him throughout the movie as he, his crush, and their friends try to make it to safety. Seychelle Gabriel is a certified badass as Sam, killing monsters left and right and while serving as Dax's friend and love interest. Jacob Batalon is hilarious as Krill, Dax and Sam's best friend and token virgin who just wants to lose his V-card.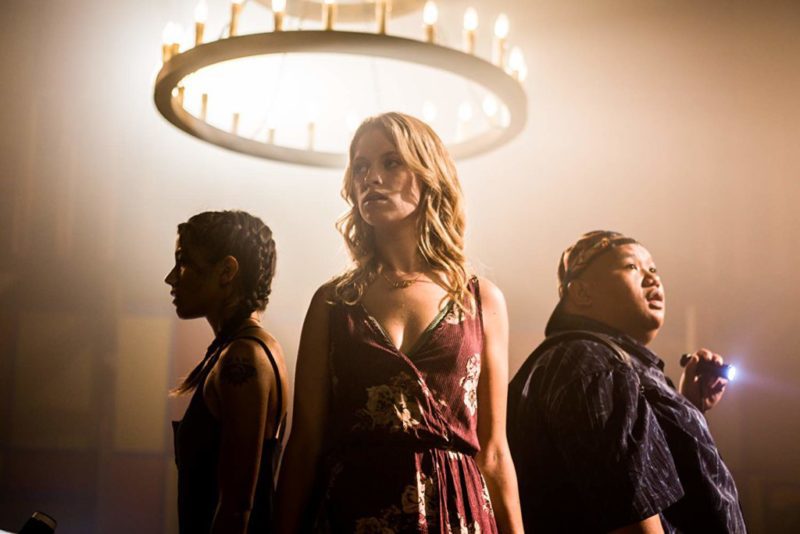 Rooster Teeth regular Barbara Dunkelman is excellent as Ashley, the vapid blond who is actually deeper than she lets on. Chris Doubek is perfectly unlikable as Roger Hinckley, an ageing genre star irritated by his fans and his legacy, who becomes more and more likable as he learns that his film history could save their lives. Last but not least is director Owen Egerton, who plays Anthony Walsh, the villainous proprietor of Blood Fest. Walsh is charismatic, egotistical and smarmy, making for a fun, compelling villain as he deceives everyone around him.
Final Thoughts
Featuring a likable cast, excellently gory effects, a razor sharp sense of humor and a fun story with a little something for everyone, Blood Fest is a modern day, meta-infused slasher that more than delivers the goods. Highly recommended.