So far this year, I've had the opportunity to review two movies from Uncork'd Entertainment: James Cullen Bresseck's Bethany and Glenn Packard's Pitchfork , both of which I enjoyed quite a bit. I recently got the chance to screen Brad Douglas' 2017 film Besetment. Would Besetment be a 3-0 for Uncork'd or would it fall short?
Besetment was written and directed by Brad Douglas (Big 2009). The film stars Abby Wathen, Marlyn Mason, Michael Meyer (My Name is Bruce), Max Gutfreund, and Sonya Davis (TV's Grimm). The film was released to VOD on June 6, 2017. It currently hold a 3.3 out of 10 rating on IMDb.com. Do I agree with that rating? Let's find out!
Official synopsis of Besetment:
After struggling to find employment, Amanda takes a hotel position in a small town where she ends up fighting for her life.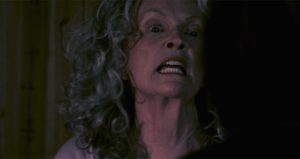 The Positives
I found myself going back and fourth on Besetment. Marlyn Mason killed it in her role as the over protective, crazy mother. She was absolutely the stand out performance in this film. She isn't Pamela Voorhees by any means, but I still would not want to go toe to toe with her. The story is certainly interesting and that's what made me excited to watch it. However, the only time I felt truly captivated was when Mason was on screen. I wish that I could say that there was more that I enjoyed about this film, but it just fell flat on so many levels for me.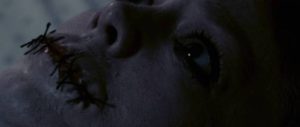 The Negatives
The story of Besetment had so much potential. I felt as though the film took too many ideas from other movies and wasn't completely original. From the Hotel and mother/son relationship (Pyscho) to the sewing of the lips (Strangeland) to a certain, cringe-worthy scene straight from from Don't Breathe, it felt like I was watching a spoof of these other amazing films. The performances – aside from Mason – felt lackluster and the actors did not seem really committed to their roles. I understand that this was low budget horror but, in my opinion, if you don't have much to work with money-wise, you better have a hell of a story to tell. This one just didn't do it for me on any level. I love cheesy B movies, but this was just not original and very predictable. I really hate giving a negative review for a film, but I also feel the need to be honest as a reviewer… because if not, then what's the point? I really wanted to like this movie. I sat through the whole thing, hoping there was going to be some kind of redeeming qualities in it. But there just wasn't.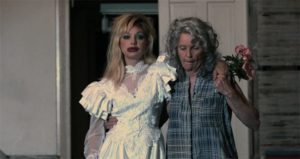 Final Thoughts
Unfortunately, this Uncork'd Production just didn't do it for me. However, I will still look forward to what other movies they come out with because, as I stated before, the first two that I reviewed, I really did like. So, in other words, Besetment is not a setback for Uncork'd. It's just nothing I care to ever set my eyes on again.