When Psycho rode its massive hype train into theaters in 1960, its promotion and formula were considered groundbreaking. Alfred Hitchcock had found his magnum opus, raising the slasher film into prominence for perhaps the first time on a national level in America. Twenty-three years later, after Hitchcock was no longer living, a sequel came to pass. Then on July 2, 1986, Psycho III was released with it's lovably tortured antagonist donning the director's chair. It's been thirty five years since Psycho III graced our screens. Let's take a fond look back at how it holds up in this underrated franchise.
Psycho III was written by Charles Edward Pogue (The Fly 1986 – read our retro review here) and directed by Anthony Perkins (Lucky Stiff 1988), who played the infamous Norman Bates character in all four original films in the franchise. Perkins was known as a tough man to work with because of his alpha personality and strong opinions, but he had a clear vision for the film since he'd been heavily involved in the two before it.
The plot for Psycho III follows fallen nun Maureen Coyle as she fleas her convent after accidentally killing the sister who tries to rescue her from an attempted suicide. As she utters, "There is no God," we know that this film isn't going to be another run-of-the-mill slasher. She hitchhikes into town, despondent and needing somewhere to stay. Bates sees the M.C. monogram on her suitcase, and it reminds him of his victim in the first film. Mother is back in action.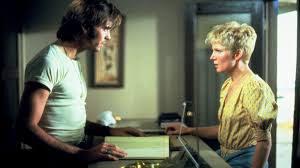 Aside from Perkins, Psycho III stars Diana Scarwid (The Clearing 2004) and Jeff Fahey (Lost TV series). Scarwid's unstable Coyle character and Fahey's sleazy Duane Duke provide a wonderful balance to Bates, as they both have traits that Norman often possesses. Where most slasher sequels just move the story ahead by upping the body count, this film explores heavier themes like religion, sex, and mental imbalance. Norman has his first equal love interest here in Maureen as they find respite from their demons in each other's company. Duke is perhaps the most intentionally sinister character in the series—aside from Mother, of course—which allows the audience to side with Norman in the dispatching of his foe.
We also get a thorough and satisfying wrap-up on the Bates family tree. At the end of the second film, Emma Spool, a diner worker who's been looking out for Norman, comes over to confess that she's his real mother before Norman hits her with a shovel. In this installment, we find out that Spool was Norman's aunt who was in love with Norman's father, so she killed his dad and kidnapped her nephew. Norman was returned to his real mother and Spool was institutionalized, providing another layer of understanding as to why Norman is so mentally broken. The film wraps up with a reporter finding Spool's corpse in the bedroom, and Norman attacks the corpse instead of the reporter. So even amidst the trail of dead bodies, Norman tries to do the right thing, showing the fight in the dual layer of his personality. He gets locked up again, and we wouldn't see him until a made-for-TV prequel in 1990.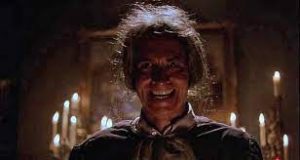 Most third films in a franchise are forgettable downward spirals, but not Psycho III. The themes and depth of the characters not only separate this from the other films around this time, but add extra heart and backstory to the already successful Psycho lineage. You can see Perkins' passion for the work here, sprinkled with hints of Hitchcock's teaching. At thirty-five years old, Psycho III still has a lot to offer fans of the original source material.