Master of Horror author Stephen King is the end all and be all for many genre lovers when they feel it's time to sit back, relax and grab something terrifying to read. However, not all of King's books are created equal. Believe it or not, some are better than others. So we at PopHorror decided to rank the entire freaking list of over 60 books. To break it down and make it much easier to trudge through, we split the list up into decades. If you're interested in another decade entirely, they're all linked at both the top and bottom of every article. And just so you know, books written under King's pen name, Richard Bachman, and any non-fiction books that King has written, are not included in this list.
King released 3 books in 1983 and 4 books in 1987 alone. Dang.
#14 The Tommyknockers (1987)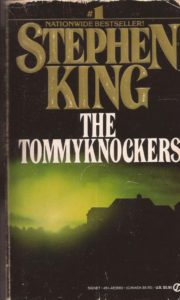 Synopsis:
On a beautiful June day, while walking deep in the woods on her property in Haven, Maine, Bobbi Anderson quite literally stumbles over her own destiny and that of the entire town. For the dull gray metal protrusion she discovers in the ground is part of a mysterious and massive metal object, one that may have been buried there for millennia. Bobbi can't help but become obsessed and try to dig it out…the consequences of which will affect and transmute every citizen of Haven, young and old. It means unleashing extraordinary powers beyond those of mere mortals—and certain death for any and all outsiders. An alien hell has now invaded this small New England town…an aggressive and violent malignancy devoid of any mercy or sanity…
I am not a very big fan of this story at all, although I'm not sure why. Maybe it's because it's about aliens and I'm not a very big sci-fi nerd? Who knows. All I do know is that I read it once when it first was released and haven't picked it up since. And I'm a re-reader.
#13 The Dark Half (1989)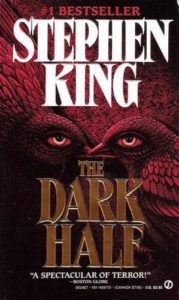 Synopsis:
Thad Beaumont is a writer, and for a dozen years he has secretly published violent bestsellers under the name of George Stark. But Thad is a healthier and happier man now, the father of infant twins, and starting to write as himself again. He no longer needs George Stark and so, with nationwide publicity, the pseudonym is retired. But George Stark won't go willingly.

And now Thad would like to say he is innocent. He'd like to say he has nothing to do with the twisted imagination that produced his bestselling novels. He'd like to say he has nothing to do with the series of monstrous murders that keep coming closer to his home. But how can Thad deny the ultimate embodiment of evil that goes by the name he gave it—and signs its crimes with Thad's bloody fingerprints?
I think the reason I was never very fond of The Dark Half was because this seemed to mark the time when King made the switch from creature features and utmost insanity to a more psychological horror, which was something I felt I could find elsewhere. When looking for a Stephen King book (at least, up until 1989), one would expect a certain amount of monster mayhem and gory flesh-rippers. A killer symbiotic twin just didn't do it for me way back when.
#12 Cycle of the Werewolf (1983)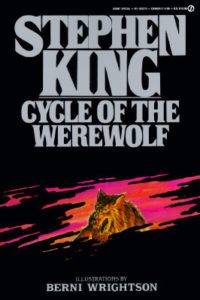 Synopsis:
The first scream came from the snowbound railwayman who felt the fangs ripping at his throat. The next month there was a scream of ecstatic agony from the woman attacked in her snug bedroom.

Now scenes of unbelieving horror come each time the full moon shines on the isolated Maine town of Tarker Mills. No one knows who will be attacked next. But one thing is sure.

When the moon grows fat, a paralyzing fear sweeps through Tarker Mills. For snarls that sound like human words can be heard whining through the wind. And all around are the footprints of a monster whose hunger cannot be sated…
I was so excited to read this after watching the movie, Silver Bullet, wanting to ride with Marty in his electric wheelchair and fend off werewolves with his sister, Jane. Unfortunately, Cycle of the Werewolf is more of a calendar of events. Sure, he was around, but it was more about the werewolf himself rather than the story of our protagonists. Each chapter tells the story of that month's full moon and what that bloodthirsty supernatural creature would do to the people of Tarker Mills. And Uncle Red became Uncle Al. Sigh…
#11 The Eyes of the Dragon (1987)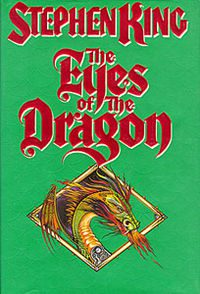 Synopsis:
"Once, in a kingdom called Delain, there was a king with two sons…."

Thus begins one of the most unique tales that master storyteller Stephen King has ever written—a sprawling fantasy of dark magic and the struggle for absolute power that utterly transforms the destinies of two brothers born into royalty. Through this enthralling masterpiece of mythical adventure, intrigue, and terror, you will thrill to this unforgettable narrative filled with relentless, wicked enchantment, and the most terrible of secrets….
I loved the fairy tale world of Eyes of the Dragon. The characters are colorful and deeply set in their ways, and Randall Flagg (AKA Walter Padick, Walter O'Dim, Rudin Filaro, Raymond Fiegler, Richard Fannin, Walter Hodji, Walter Farden, The Walkin' Dude, The Covenant Man, Marten Broadcloak and the Man in Black) plays a huge part in the telling of this story. Knowing that King wrote the book for his daughter, Naomi, when she was just a little girl makes me love it all the more.
#10 The Dark Tower: The Drawing of Three (1987)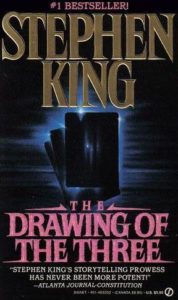 Synopsis:
Beginning just less than seven hours after The Gunslinger ends, in the second installment to the thrilling Dark Tower series, Roland encounters three mysterious doorways on a deserted beach along the Western Sea. Each one enters into a different person's life in New York—here, he joins forces with the defiant young Eddie Dean, and with the beautiful, brilliant, and brave Odetta Holmes, to save the Dark Tower.
The three people that Roland draws to himself to complete his ka-tet are some of the most memorable King figures in a long list of characters. They were all flawed in some way – some deathly so – but despite their faults, they were all destined to be a part of saving the Dark Tower. Their introduction in Drawing of Three changed Roland's story forever, and despite the fact that he did not trust them at first, they eventually became the only people he ever would depend upon, especially in life-or-death situations.
#9 Cujo (1981)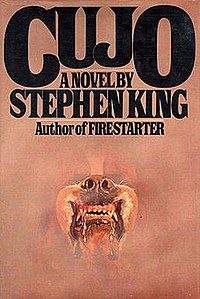 Synopsis:
Outside a peaceful town in central Maine, a monster is waiting. Cujo is a two-hundred-pound Saint Bernard, the best friend Brett Camber has ever had. One day, Cujo chases a rabbit into a cave inhabited by sick bats and emerges as something new altogether.

Meanwhile, Vic and Donna Trenton, and their young son Tad, move to Maine. They are seeking peace and quiet, but life in this small town is not what it seems. As Tad tries to fend off the terror that comes to him at night from his bedroom closet, and as Vic and Donna face their own nightmare of a marriage on the rocks, there is no way they can know that a monster, infinitely sinister, waits in the daylight.
I know that Cujo is pretty low on this list, but it's not because I don't like it. It's because there were way too many good book that came out this decade that I liked more than this one. I know I'm in the minority, but I actually felt bad for the poor dog. He wasn't as much scary to me as he was tragic. Not that I'd be inviting him over for coffee anytime soon, but still. He wasn't a bad dog. He was a good dog in a bad situation.
#8 Christine (1983)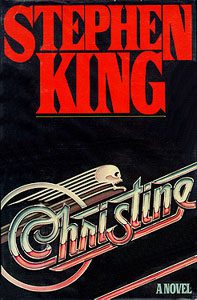 Synopsis:
It's love at first sight for high school student Arnie Cunningham when he and his best friend Dennis Guilder spot the dilapidated 1958 red-and-white Plymouth Fury for sale—dubbed "Christine" by its original cantankerous owner—rusting away on a front lawn of their suburban Pennsylvania neighborhood. Dennis knows that Arnie's never had much luck in the looks or popularity department, or really taken an interest in owning a car . . . but Christine quickly changes all that. Arnie suddenly has the newfound confidence to stick up for himself, going as far as dating the most beautiful girl at Libertyville High—transfer student Leigh Cabot—even as a mysteriously restored Christine systematically and terrifyingly consumes every aspect of Arnie's life. Dennis and Leigh soon realize that they must uncover the awful truth behind a car with a horrifying and murderous history. Hell hath no fury like a woman scorned, and heaven help anyone who gets in Christine's way…
As a teen, I could totally relate to Arnie and his lack of high school popularity and below average looks. I actually sided with him for most of the book. Who wouldn't want a gorgeous car that could take out your your enemies and repair itself on a whim? It wasn't until the end when Arnie turned into a brutal bastard that I started thinking, "Hmmm… this may not be worth it." But still.
#7 Misery (1987)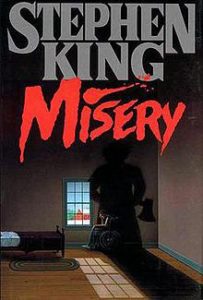 Synopsis:
Paul Sheldon is a bestselling novelist who has finally met his number one fan. Her name is Annie Wilkes, and she is more than a rabid reader—she is Paul's nurse, tending his shattered body after an automobile accident. But she is also furious that the author has killed off her favorite character in his latest book. Annie becomes his captor, keeping him prisoner in her isolated house.

Annie wants Paul to write a book that brings Misery back to life—just for her. She has a lot of ways to spur him on. One is a needle. Another is an axe. And if they don't work, she can get really nasty.
Imagine being strapped to a bed while the most insane person you've ever met is in charge of your care. No one knows where you are or if you're even still alive. Now pretend that, despite her insanity, she loves you and your books more than anything else in the world… and she just found out that you killed off her favorite character. Imagine, close your eyes and think, just what she might do to get that character back. Did I mention that she has a sledgehammer and a pair of bolt cutters at her disposal? Any writer who's ever thought about what it would be like to be famous is terrified of being in Paul Sheldon's position. Fame has its price…
#6 Different Seasons (1982)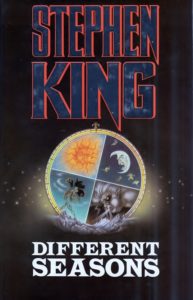 Synopsis:
This gripping collection begins with "Rita Hayworth and the Shawshank Redemption," in which an unjustly imprisoned convict seeks a strange and startling revenge—the basis for the Best Picture Academy Award-nominee The Shawshank Redemption.

Next is "Apt Pupil," the inspiration for the film of the same name about top high school student Todd Bowden and his obsession with the dark and deadly past of an older man in town.

In "The Body," four rambunctious young boys plunge through the façade of a small town and come face-to-face with life, death, and intimations of their own mortality. This novella became the movie Stand By Me.

Finally, a disgraced woman is determined to triumph over death in "The Breathing Method."
Three reasons and three reasons only… "The Body," "Apt Pupil" and "Rita Hayworth and the Shawshank Redemption." 'Nuff said.
#5 The Talisman (1984)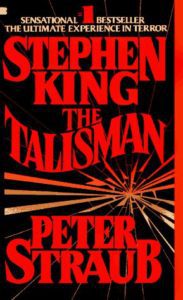 Synopsis:
Jack Sawyer, twelve years old, is about to begin a most fantastic journey, an exalting, terrifying quest for the mystical Talisman—the only thing that can save Jack's dying mother. But to reach his goal, Jack must make his way not only across the breadth of the United States but also through the wondrous and menacing parallel world of the Territories.

In the Territories, Jack finds another realm, where the air is so sweet and clear a man can smell a radish being pulled from the ground a mile away—and a life can be snuffed out instantly in the continuing struggle between good and evil. Here Jack discovers "Twinners," reflections of the people he knows on earth—most notably Queen Laura, the Twinner of Jack's own imperiled mother. As Jack "flips" between worlds, making his way westward toward the redemptive Talisman, a sequence of heart-stopping encounters challenges him at every step.
Jacks' journey to find the Talisman was a bright, adventurous coming-of-age tale that was as much happy and joyful as it was dangerous. The creatures in the Territories could be maniacal bounty hunters or they could be simple, endearing shapeshifters. You just never know. And that's why following Jack's experiences as he walked across the entire continental United States in an effort to save both his mother and her Twinner, the Queen of the Territories, you can help but root for him. Plus, there's Wolf, who's awesome.
#4 The Dark Tower: The Gunslinger (1982)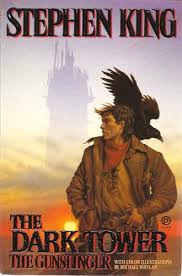 Synopsis:
The Gunslinger introduces readers to one of Stephen King's most powerful creations, Roland of Gilead: The Last Gunslinger. He is a haunting figure, a loner on a spellbinding journey into good and evil. In his desolate world, which mirrors our own in frightening ways, Roland tracks The Man in Black, encounters an enticing woman named Alice, and begins a friendship with the boy from New York named Jake.
Inspired in part by the Robert Browning narrative poem, "Childe Roland to the Dark Tower Came," the first Dark Tower book tells such a determined, headstrong story about the last gunslinger, Roland Deschain, and his epic quest to save the entire universe by reaching the mythical Dark Tower, that you become compelled to continue reading. The writing is so simple, dark and captivating, and the ties to the Old West with a future that happened thousands of years ago creates this surreal world that's constantly infused with dread and a sense of having to go, to move, to push forward on the journey, despite the obstacles in Roland's way.
#3 Pet Sematary (1983)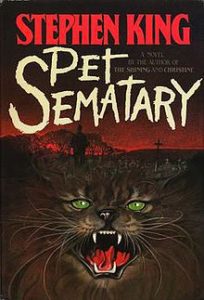 Synopsis:
When Dr. Louis Creed takes a new job and moves his family to the idyllic and rural town of Ludlow, Maine, this new beginning seems too good to be true. Yet despite Ludlow's tranquility, there's an undercurrent of danger that exists here. Those trucks on the road outside the Creed's beautiful old home travel by just a little too quickly, for one thing…as is evidenced by the makeshift pet cemetery out back in the nearby woods. Then there are the warnings to Louis both real and from the depths of his nightmares that he should not venture beyond the borders of this little graveyard. A blood-chilling truth is hidden there—one more terrifying than death itself, and hideously more powerful. An ominous fate befalls anyone who dares tamper with this forbidden place, as Louis is about to discover for himself…
As a parent, the gut-wrenching death of Gage is worse than anything else in King's entire collection of works. He's just three years old, and his short life ends soagonizingly. In the movie, Rachel's sister, Zelda, is a freaky character for sure, but nothing tops the death of little Gage. Of course, King doesn't let us grieve for him for long. Almost immediately, we're running away from him, his tiny hand swinging a silver scalpel, wanting to play in a way only an undead toddler in a King novel can.
#2 Skeleton Crew (1985)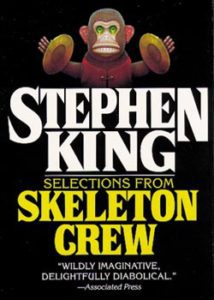 Synopsis:
A supermarket becomes the place where humanity makes its last stand against destruction. A trip to the attic becomes a journey to hell. A woman driving a Jaguar finds a scary shortcut to paradise. An idyllic lake harbors a bottomless evil. And a desert island is the scene of the most terrifying struggle for survival ever waged. This "wonderfully gruesome" collection (The New York Times Book Review) includes: "The Mist," "Here There Be Tygers," "The Monkey," "Cain Rose Up," "Mrs. Todd's Shortcut," "The Jaunt," "The Wedding Gig," "Paranoid: A Chant," "The Raft," "Word Processor of the Gods," "The Man Who Would Not Shake Hands," "Beachworld," "The Reaper's Image," "Nona"; "For Owen," "Survivor Type," "Uncle Otto's Truck," "Morning Deliveries (Milkman No. 1)," "Big Wheels: a Tale of the Laundry Game (Milkman No. 2)," "Gramma," "The Ballad of the Flexible Bullet," and "The Reach."
I could go on and on about the love I have for so many of the stories in this book. "The Mist" opens things up with bat-winged and tentacled creatures taking people out, in a grocery store of all places; I am always looking for a shorter route somewhere, so I could totally relate to "Mrs. Todd's Shortcut;" the idea of being alone with my own thoughts for 1,000 years is what makes "The Jaunt" so terrifying; the story, "The Raft," is one we all know and love from 1982's Creepshow, "Word Processor of the Gods" lets us imagine what it would be like if we could just type in changes to our own reality; and, last but not least, "Gramma" scared me so badly as a kid… just imagining being home alone with an undead witch – who also just happens to be my grandmother – as she called me from her deathbed… ugh, I still get the shivers.
#1 It (1986)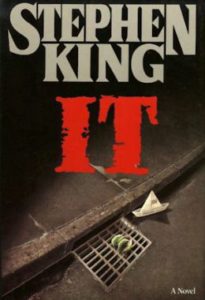 Synopsis:
Welcome to Derry, Maine. It's a small city, a place as hauntingly familiar as your own hometown. Only in Derry the haunting is real.

They were seven teenagers when they first stumbled upon the horror. Now they are grown-up men and women who have gone out into the big world to gain success and happiness. But the promise they made twenty-eight years ago calls them reunite in the same place where, as teenagers, they battled an evil creature that preyed on the city's children. Now, children are being murdered again and their repressed memories of that terrifying summer return as they prepare to once again battle the monster lurking in Derry's sewers.
Yes, IT is #1 on my list for this decade, but it is also #1 on my entire Stephen King list. The author has such a talent for getting into the minds of children and pre-teens. He incorporates the frustration with not being taken seriously by adults with the maturity of knowing that something is wrong with their world. Not only did the author create these realistic characters, he also managed to touch upon every kind of reader, reminding them of their own awkwardness and inadequacies as children. He took these kids and stuck them in a terrifying situation that would not only change their own worlds, but the lives of everyone in their town, and he forced them to do it on their own. Their nemesis, Pennywise the Dancing Clown, was not only horrifying in his own right, but he could also transform himself into the very thing that scared his victims the most, making him near undefeatable. On their own, these children were completely inadequate at taking out this bloodthirsty evil, but together, they could defeat him. Just imagine what would have happened if fate… karma… Maturin himself hadn't intervened.