Abattoir follows investigative reporter Julia Talben (Jessica Lowndes) who's sister and family are murdered one evening. Less than a week later, the house is already sold and something is missing. The entire room where the murder took place has been gutted from the house. After further investigation, Julia finds a string of other murders where the crime scene has been removed from the house. Where did they go? Who took them? That is one of many questions that will be answered by the film's shocking conclusion.
One of the great things about having so many horror fans as friends is the pages they like on Facebook. Every now and again, a movie will pop up on my timeline suggesting that I check it out based on the interests my friends have. Abattoir is one of those films that just never came to my attention on its own. In fact, had I seen the synopsis or the name, I think I would have passed on it. However, earlier today I saw that this film was directed by Darren Lynn Bousman (Saw II, Saw III, Saw IV). This sparked an interest, an itch if you will, that just begged to be scratched.
When I hear the name Darren Lynn Bousman, I think "elaborate story wrapped in a simple plot." His films always give us that "box inside of a box" feel that has both shocked and intrigued horror fans throughout his career. Can you remember how shocked you were by the ending of the original Saw film? Basically, we know while watching any of his movies that by the end, we are gonna be amazed at how little we figured out by the shocking reveal. I love that feeling I get after watching a film when I realize that they were distracting me the entire time. That is what Abattoir does. It is an elaborate distraction that lets you peek behind the curtain, every now and again, to keep your interest and then lead you down the next intriguing hallway of deception.
Conceptually, Abattoir is as original as they come. The trailer boasts that it is an entirely new spin on the "haunted house" genre, and it is. Be that as it may, the ghosts are the background music and it is the secrets that co-star with our unfortunate leads. Yes, the secrets are the peek behind the curtain and they will keep you hanging on until the final moments of Abattoir. Does the intrigue pay off or does curiosity kill the cat?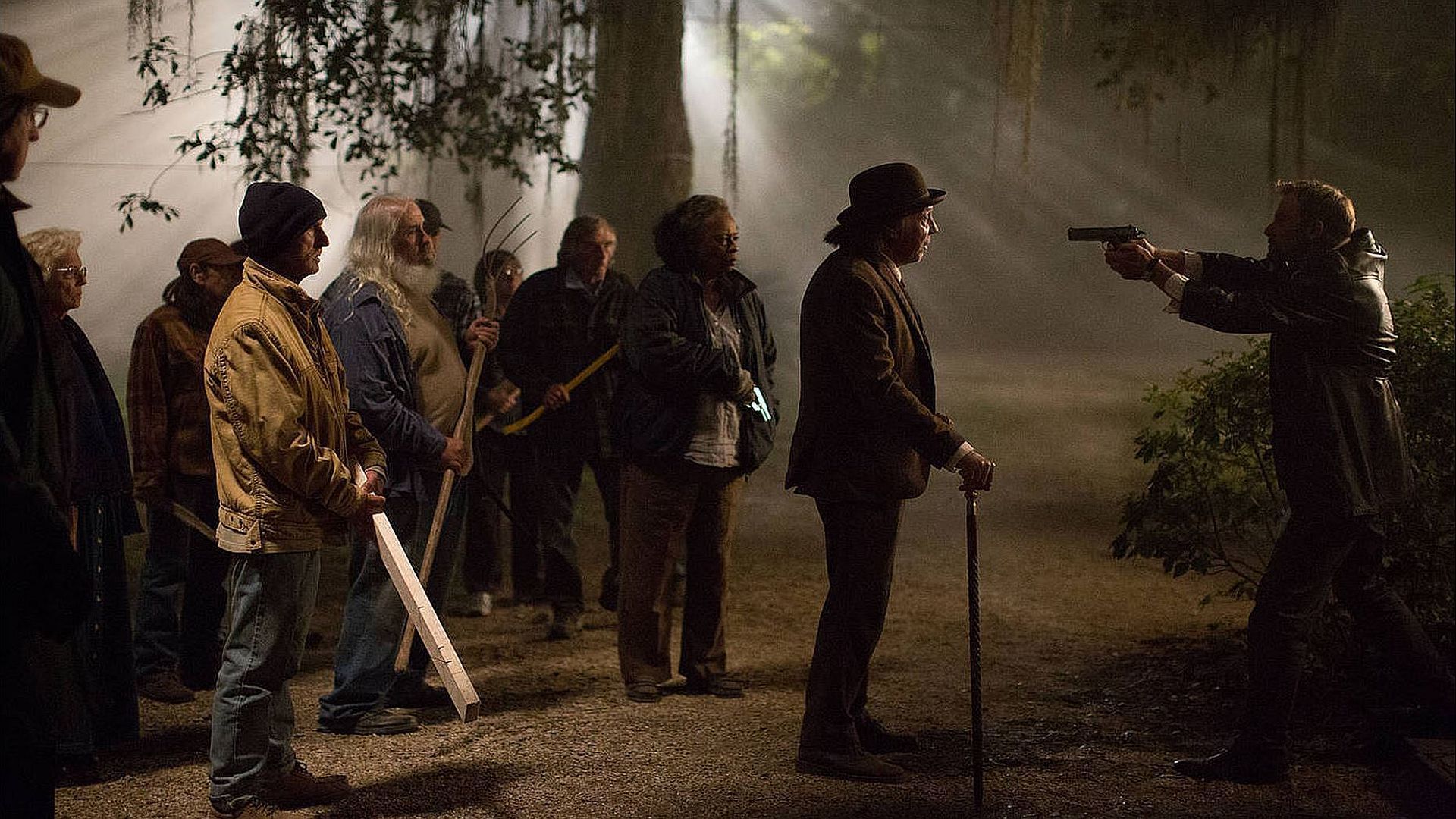 Abattoir's ending is a little bittersweet for me. I obviously can't tell you what it is, but I can describe why. First, we finally find out why the rooms are missing, but we knew that from the trailer. Visually, it left me feeling irritated. The ghosts are incredibly quick in movement and are shrouded by smoke which makes it very hard to discern what is happening. Second, it successfully delivers a major plot twist that makes you realize you were asking the wrong questions the entire time. Then, it takes that amazing feeling away within two minutes. The writer, Christopher Monfette, tries to shock you one final time and it just comes off feeling highly unnecessary.
Before anyone thinks that this ruined the entire movie for me, it did not. I really did like it and was impressed. Jessica Lowndes and Joe Anderson do amazing jobs as leads. The acting from these two keeps you very involved. The minor role, albeit pivotal, played by Lin Shaye, was well received and portrayed with a quirky realism that I loved. Displaying his craft in a scene-stealing manner was Dayton Callie. His performance as Jebediah Crone was as breathtaking as it was chilling. I was absolutely hypnotized every time he entered a scene.
Overall, I liked Abattoir a lot. I really wish I could have loved it, but that final moment could have been trimmed by two minutes and successfully won my heart. In saying that, I still would recommend the movie for a dark and stormy night. I enjoy films that take you down the rabbit hole and this one successfully did that. I think it deserves way more than the 4.4 stars it received on IMDb.com. I would give it a solid 7 out of 10 for originality and epic storytelling. Twisting one of my favorite lines from the movie, I leave you with this: "Heaven is built of many rooms, come see the Hell he built with so many more."