I've been following Troy Escamilla's work (read our interview with him here) since I first started writing for PopHorror, just after he had recently finished his first feature, Party Night.(you can read our review here). It wasn't long after that I backed his second feature, Stirring (read our review here), on Kickstarter. I absolutely loved the film, and it has finally been officially released, although under the updated moniker Mrs. Claus. Read on to find out why I love this film so much.
Produced by Fright Meter Films, Mrs. Claus is the latest film from writer/director Troy Escamilla. The cast includes Helene Udy (My Bloody Valentine 1981), Brinke Stevens (The Slumber Party Massacre 1982, Sorority Babes In The Slimeball Bowl-A-Rama 1988), Daiane Azura (House Of Pain 2018), Kaylee Williams (Ahockalypse 2018, Mama's Boy 2018), Mel Heflin (read our interview with her here), Hailey Strader, Billy Brannigan (read our interview with him here), Ryan Poole (Party Night 2017), Brandy Specks (How To Get Away With Cheating 2018), Jantel Fontenot (Blackmere Harvest 2017), Jace Greenwood (Hellraiser: Judgement 2018), and Drew Shotwell (Party Night 2017).
Synopsis:
A group of college students attending a Christmas party at a sorority house that has a sinister past are stalked by a bloodthirsty killer disguised as Mrs. Claus.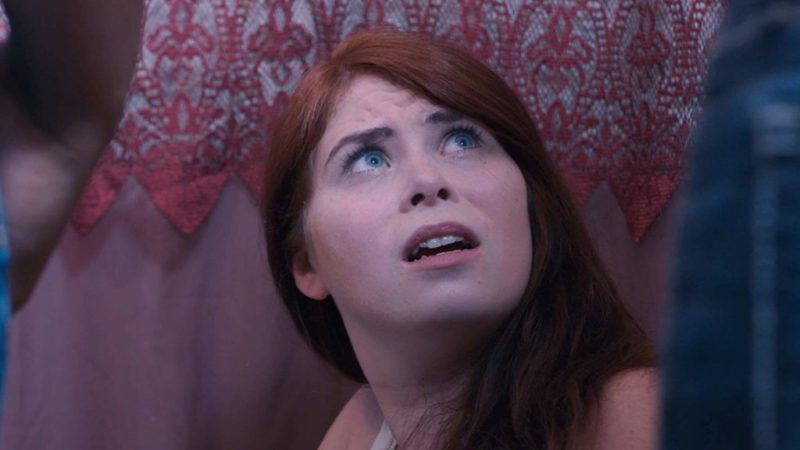 I really enjoyed all the characters in Mrs. Claus, even the ones who were kinda assholes or annoying in an endearing way yet still likable (except maybe Kaylee Williams' character, but without her, there wouldn't be a movie). The performances are great all around and every character gets the opportunity to shine, whether it be a defining story arc, a sweet moment, a hilarious one liner or just an epic death scene (which this movie has in spades). The actors have great chemistry and feel like real friends, not just a bunch of actors playing roles. The kills are extraordinarily gory, including throat slashings, stabbings, decapitations, garottings with Christmas lights and a double impalement via Christmas decorations (Friday the 13th homage?) – there was even a black dildo used in one shocking murder, all with plenty of the red stuff on display. I dug the story quite a bit as well. Granted, it was a fairly simple tale, as most revenge-centered stories are, but it was effectual. I was able to sympathize with the killer much more than I felt comfortable with.
Final Thoughts
Mrs. Claus shows Troy Escamilla's growth as a filmmaker. I feel that this film is an improvement over Party Night (which I did enjoy) in almost every way imaginable. The film benefits from better writing, stronger pacing and acting, and a much more complete story, while still being a fun-filled, gory good time. Highly recommended.