I recently heard a male filmmaker boast about how he does not view himself as a professional, that there is little room for it in creative fields, and further claimed it to be a detriment to the creative process. He went on to say that since filmmaking comes from a place of playfulness, that art is the result of an act of play, he feels no need to act professionally in his field.
This assertion is untrue.
I think his opinion on working with a lack of professionalism comes from a place of privilege. It is crucial to acknowledge that, as a white male filmmaker, he belongs to a demographic that is historically and culturally permitted certain behaviors that would label anyone else as silly, childish, or immature. As a female filmmaker, and especially a young female filmmaker, those are some labels that I make an effort to avoid. I want to be seen as a serious screenwriter. There is a constant fear nagging at me that someone will look at what I write – be it my fiction, poetry, or screenwriting – and, once they learn my gender or age, dismiss it. Not because of any actual flaws that may occur, but because I am not their idea of a "real" filmmaker.
And when I say "real" in this sense, I mean professional. I do not look like their idea of a person who does this work for a living. I do not look like their idea of a person who is taken seriously by filmmakers, and therefore must not work with people who respect me. At best, they have tolerated me… at worst, they have undermined me. This systematic anxiety is at the root of my diligent professionalism: I act the way I wish to be perceived. But I also the act the way I hope other filmmakers will act around me.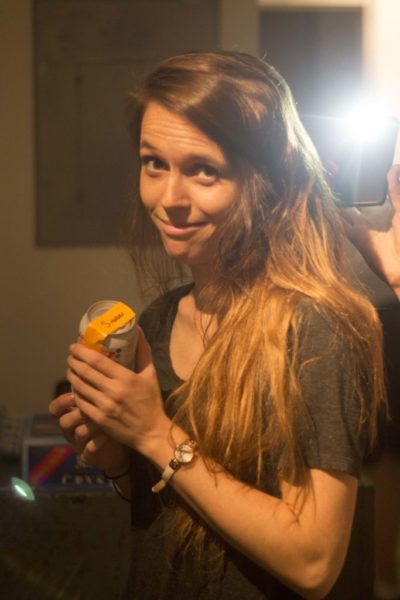 I had an amazing experience working with Simone Kisiel on Bugs: A Trilogy (read the PopHorror review of the film here), our horror anthology film. Though there were some bumps along the way, as there would be with any indie filmmaking process, the experience was, on a whole, wonderful. This was greatly due to the high levels of professionalism maintained and displayed by the cast and crew. We were told by some of the actors who had worked on higher budget films that this was, in fact, the most professional production they had worked on. We held ourselves to a high standard. Our collaborators held themselves to high standards. And it made for a completely rewarding experience.
My gut reaction was one of jealousy when I heard the filmmaker talking about how he never bothered to try to look professional. "It must be nice to be a working unprofessionalism." "I wish I could be childish on set." But the truth is, I do not want to be childish on set. I would not want to act unprofessionally, even if it was acceptable for me to do so. That honestly sounds like a living nightmare (and not the classy Wes Craven kind of Nightmare). I take pride in my work. And that does not mean I am less of a creative. It does not mean I have removed the joy from my art. It means that I do not take my craft for granted. It means that I am always striving to improve myself, to prove myself, and to be better.
This industry is full of unprofessional people who slide by on their talent, or sometimes just seem to slide by. Instead of resting on resumes, connections, and resistance to work ethic, I hope we all strive to be professionals. Those are the people I want to work with. That is the kind of filmmaker I want to be.
Bugs: A Trilogy and Housed, directed by Simone Kisiel and written by Alexandra Grunberg, can both be streamed for free on Amazon prime. More about Magic Dog Productions can be found at Magic Dog Productions. — Article written by Alexandra Grunberg