Sean King O'Grady's We Need To Do Something (2021) is coming to Blu-ray and DVD from RJLE Films! We really enjoyed it (read our review here) and we think you will, too.
Check out the trailer below, then read on for the details!
We Need To Do Something (2021) Synopsis
After Melissa and her family seek shelter from a storm, they become trapped. With no sign of rescue, hours turn to days, and Melissa comes to realize that she and her girlfriend, Amy, might have something to do with the horrors that threaten to tear her family – and the entire world – apart.
Sean King O'Grady directed the film. It film stars Lisette Alexis (Waltz of the Angels), John James Cronin (Second Act), Pat Healy (read our interview with him – HERE), Sierra McCormick (Land of the Lost), and Vinessa Shaw (The Hills Have Eyes).
Here's a look at the Blu-ray cover art!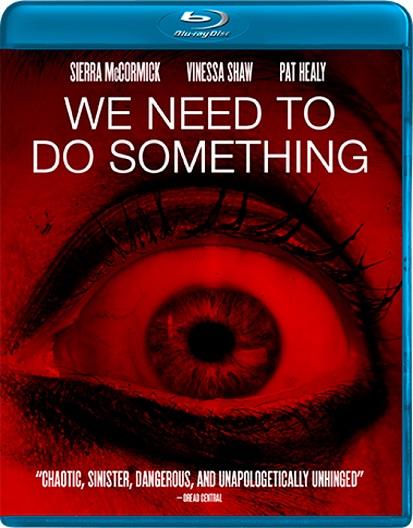 RLJE Films, a business unit of AMC Networks, is excited to announce the home entertainment release of WE NEED TO DO SOMETHING on DVD and Blu-ray on June 14, 2022. You can pre-order it on Amazon!
What do you think? Have you seen this one? Are you going to pick up the DVD or Blu-ray? Tell us in the comments!