I grew up with an older sister who loved sci-fi and horror films, so I was exposed to the Terminator franchise at an early age. I'm a huge fan of Terminator and Terminator 2: Judgement Day, and I also have a massive soft spot for The Sarah Connors Chronicles. I've seen the series go through various incarnations, multiple timelines, and massive retcons. When I first saw the trailer for Terminator: Dark Fate, I wasn't that impressed, but as more footage came out, I became cautiously optimistic. Recently, I had the chance to check out Terminator: Dark Fate and honestly, I was pleasantly surprised. Read on for my thoughts.
Terminator: Dark Fate is the latest film in the Terminator franchise. It was directed by Tim Miller (Deadpool 2016) from a script by David Goyer (The Unborn 2009), Justin Rhodes (Contract Killers 2008) and Billy Ray (Overlord 2018) from a story by Goyer, Rhodes, James Cameron (The Terminator 1984), Charles H. Eglee (Piranha 2: The Spawning 1981) and Josh Friedman (The Black Dahlia 2006). The film stars Linda Hamilton and Arnold Schwarzenegger reprising their roles from the first two films alongside Mackenzie Davis (Freaks of Nature 2015 – read our review here), Natalia Reyes, Gabriel Luna (Gravy 2015), and Diego Boneta (Monster Party 2018 – read our review here).
Synopsis:
In Mexico City, a newly modified liquid Terminator — the Rev-9 model — arrives from the future to kill a young factory worker named Dani Ramos. Also sent back in time is Grace, a hybrid cyborg human who must protect Ramos from the seemingly indestructible robotic assassin. But the two women soon find some much-needed help from a pair of unexpected allies — seasoned warrior Sarah Connor and the T-800 Terminator.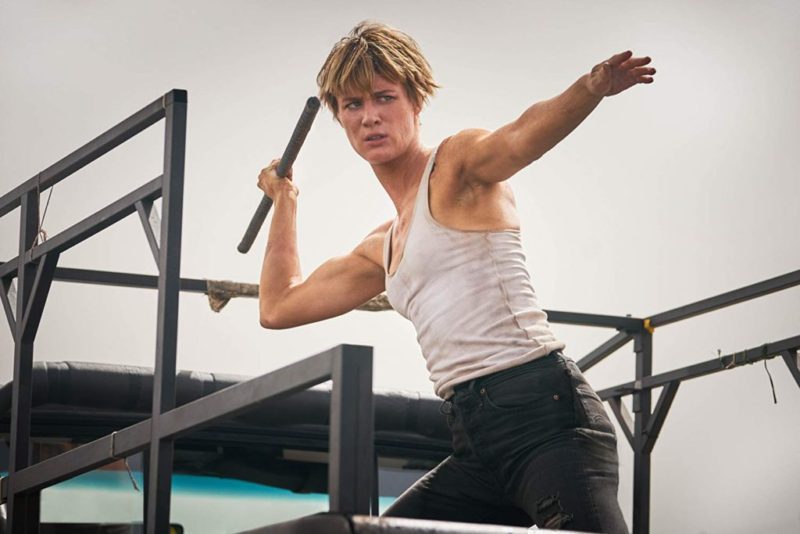 I've got to say this is definitely my favorite Terminator since Judgement Day. For starters, it was great to have Linda Hamilton and Arnold Schwarzenegger both back. Linda is just as much of a gruff badass as she was back in Judgement Day, though some of her dialogue is absolutely cringeworthy. Arnold appears to be having the time of his life as Carl and has some hilarious dialogue, especially the scene where he was talking about drapes for a little girl's room.
I've been a fan of Mackenzie Davis since I saw her as the vampire, Petra, in Freaks of Nature. I loved getting to see her as the enhanced human soldier, Grace, in this film. Her character has a lot of heart and kicks a ton of ass. The relationship that develops between her and Natalia Reyes' Dani grounds the film. Finally, Natalia Reyes is excellent. I loved seeing her gradually evolve from a scared, young woman into the badass she was destined to be. I look forward to seeing her in more roles in the future.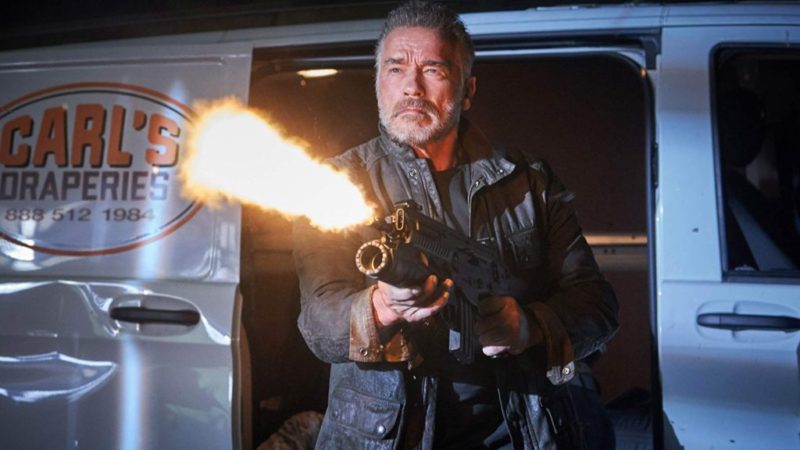 While the set up for the film is a bit of a groaner (another reboot plus the death of a main character in the first five minutes), I really dug the story for Terminator: Dark Fate. It builds nicely off Judgement Day, with the death of a certain character creating an alternate timeline complete with a new savior and a new cybernetically-enhanced guardian to protect them.
Problem is, there is now a terminator that can split into two separate terminators: A liquid outer shell with a robotic interior. This leads to all sorts of badass fight scenes, including several hand-to-hand combat scenes between enhanced Grace and the new Rev-9 Terminator. I loved the fight scenes and their choreography. They were fast-paced and intense.
My favorite aspect of the film was the interaction between the characters. Sarah is wary of everyone; Grace doesn't trust Sarah, nor does she think she is capable of protecting Dani; Dani just wants to live her life. To hell with saving the world. It was cool to see the characters gradually come to an understanding and work together as a cohesive unit. Unfortunately, Terminator: Dark Fate is tanking at the box office, so I doubt we will ever get a direct sequel. But luckily, it ends well enough that one isn't totally needed, though I would love to see one.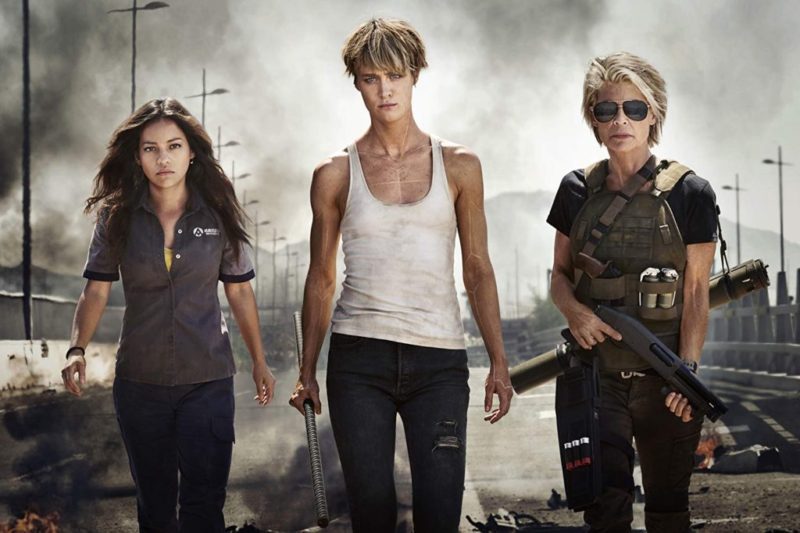 Final Thoughts
With badass fights scenes, a kickass cast of characters and a witty sense of humor, Terminator: Dark Fate is the T2 sequel I have been waiting for for my whole life. Do yourself a favor. Don't listen to the people who are shitting all over the film. It's honestly a really fun watch. Highly recommended.