At the end of its theatrical run in 2006, Slither had failed to recoup its production budget of $29.5 million (almost half of which was spent on marketing), and was therefore considered a "box office flop". Paul Brooks, president of the film's production company, Gold Circle, was "crushingly disappointed", blaming the poor gross on a lack of market for horror comedies; "I think that because it was comedy-horror instead of pure horror is where the problem lay. It's the first comedy-horror in a long time, and maybe the marketplace just isn't ready for comedy-horror yet. It's difficult to think of other explanations."
Official Synopsis: A small town is taken over by an alien plague, turning residents into zombies and all forms of mutant monsters.
10 years later, the reasons for Slithers initial failure are still difficult to reconcile. It wasn't universally panned upon its release; While Ebert and Roper famously gave the film "2 Thumbs Down", Entertainment Weekly ranked it  #1 on "The Must List; Ten Things We Love This Week" in April 2006. The film would go on to receive Fangoria's "Chainsaw Award" for Highest Body Count, and Rue Morgue named Slither the "Best Feature Film of the Year". So it's no surprise then that the film now enjoys cult status with legions of fans worldwide.
Slither was unfairly accused of being a "rip-off" of Night of the Creeps, a 1986 horror movie where alien slugs turned people into zombies. What these folks didn't seem to realize, though, is that Slither is an homage to at least a dozen classic horror flicks. Yes, Night of the Creeps is obviously one of them, but writer/director James Gunn also draws influence from heavyweights like David Cronenberg's Shiver and The Brood, John Carpenter's The Thing, George A. Romero's Night of the Living Dead, The Blob, and a slew of Troma offerings. And Slither becomes more than a sum of its inspirations, achieving success on many artistic levels; it's an excellent example of horror comedy, horror sci-fi, zombie/virus horror, and body horror.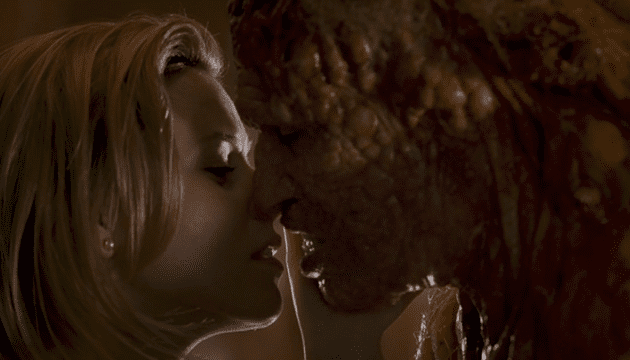 While horror comedies may not have been en vogue in 2006 (an era when the world was still readjusting from the events and aftermath of 9/11), there's been a major resurgence of the subgenre over the past few years. Films like Tucker and Dale vs Evil, The Cabin in the Woods, Bad Milo!, Cooties, and Zombeavers are just a few that can thank Slither for setting the standard that current horror comedies are judged by. If Slither had been released in 2015 as opposed to 2006, there is no doubt that it would have been a runaway hit.
Grant Grant (played by Michael Rooker) is a complex villain—an antihero even. During his hideous (and painful) transformation throughout Slither, he struggles to maintain a semblance of self. In many ways, the film becomes a metaphor for his May-December relationship: Grant fears aging, decreased sexual prowess, and the possibility of losing his younger wife, Starla (Elizabeth Banks). We genuinely feel sorry for the guy, even if he was a sleaze before he was taken over by an omniscient alien parasite.  That's right, even disgusting horror comedies can have intelligent subtext.
Slither sometimes shows its age on the production side; still, Gunn was smart to use CGI sparingly, relying mostly on amazing practical FX to communicate the film's grotesquery—with incredible results. The script is funny and irreverent, but also shows a penetrative understanding of human emotionality, best illustrated in the love triangle between Grant, Starla, and police deputy Bill Pardy (Nathan Fillion). Gunn even gives depth to town floozy Brenda Gutierrez (Brenda James), who turns out to be a terminally lonely single mother. Gregg Henry also deserves a shout-out for his gut-splitting portrayal of town Mayor Jack MacReady.
Thankfully, the factors that contributed to Slither's deficit in 2006 didn't bury the film. Horror fans are especially immune from movie critics' opinions and therefore, weren't swayed by the negative reviews. A passionate following and persistent word-of-mouth turned Slither from an under-achiever into a bona fide powerhouse and an exemplar of horror comedies. Quality endures. You just can keep a good movie down!
After the release of the film, 2014's Guardians of the Galaxy was a Slither reunion of sorts: James Gunn directed the film, which also features Slither alum Nathan Fillion and Michael Rooker. Elizabeth Banks has gone on to become a comedic actress of incredible talent.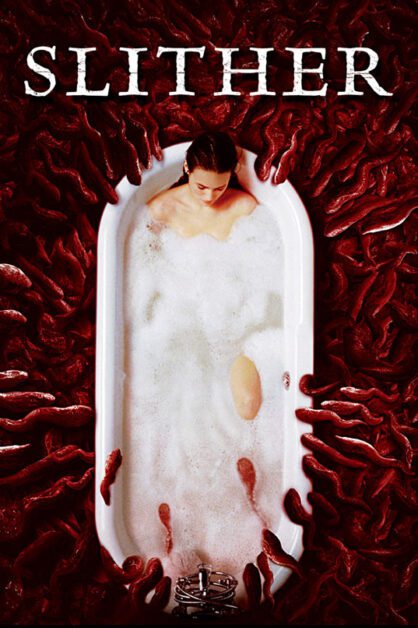 If you can't get enough of me here at Pop Horror, follow me on Twitter @josh_millican for quality horror articles worthy of your attention.