Part found footage film, part haunting mockumentary, Population Zero manages to balance the two movie genres deftly. Documentary filmmaker Julian Pinder (also the film's director) is sent an article from an anonymous source about a murder that took place in Yellowstone Park several years earlier. Three young men were camping in the area of the park that extends into Idaho. All three were murdered by the same man, Dwayne Nelson (Duane Murray), whom they had befriended earlier that day. This man turned himself in and freely confessed to the crimes with the same emotion as if he was confessing to a parking ticket.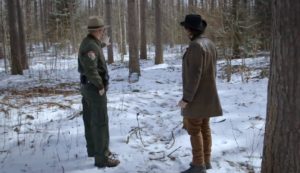 This film is based on a shocking (and real!) murder loophole that exists due to a flaw in the current law. Federal law states that serious crimes committed in Yellowstone National Park in the 50 miles that are in Idaho and Montana must have a trial by jury chosen from that 50 mile area. Unfortunately, the population in that area is zero. This makes a trial by jury impossible in this "Zone of Death." Because of this loophole, Dwayne Nelson walked away free from these murders.
Pinder and his cameraman decide to retrace the entire crime from beginning to end, interviewing witnesses, and entering the stark, beautiful wilderness of the park. The farther the filmmakers go, the darker the atmosphere gets. There is a feeling of dark, grim dread that hangs heavily in the air, along with one question: why?
This is a beautifully shot movie for a found footage film. The filmmakers have a confidant eye and a steady hand. The director knows how to ratchet up a sense of tension leading up to a very dramatic climax. But perhaps the most terrifying part of Population Zero is that the Zone of Death is real, and that is scarier than any fiction.