motions are a 4 piece post-metal outfit from Teesside, UK.  The band sent word about their new single and the release of their debut album, coming soon! What are they all about?
Check out their video for 'All Together All Alone,' then read on for the details!
From The motions Press Release
motions are set to release their brand new single 'DEAD SEEDS' via all streaming services on 3rd February 2023.

The apocalyptic lyrics (ie 'gazing out at the burning skyline') symbolise how the parent's fear causes them to catastrophes their internal monologue, leading to a vicious cycle of paranoia and anxiety.

The band state:

"The track is a mediation on the fear of parenthood, and it's told from the POV of a paranoid mother and father suffering with intrusive thoughts about their child coming to harm." "The track ends with the lyrics 'Dead Seeds I'll sew', a realisation that our anxieties are often our own doing, and we have control of our own fears."
The track is the third single to be lifted off the band's debut album 'Motions' which is due out on 28th April 2023.
Here's a look at the cover art!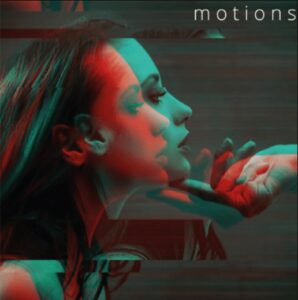 Press Release Continued
'Dead Seeds' features female vocalist Krsy Fox and Raging Speedhorn frontman Dan Cook. The savagery of Dave Anderson's main riff echoes such anxiety with its slow, sinister vibe – it's Deftones by the way of Pantera. Patrick Jordan's pounding drums are the heartbeat of the song, mirroring the pulsating nature of the song's theme. And Krsy Fox's soaring clean chorus wickedly compliments the pained screams of the verse.

Blending the heavy with the ambient and the aggressive with the melodic, motions' sound is geared to trigger and elicit pure emotion. The guitar tone is at once warm and crushing, whilst heavy bass lines and pounding drums come together to create an original, fresh yet familiar sound that blends the familiar with the progressive new.

In support of the album, motions have partnered with Press on Vinyl and Fairsound Music to release a limited edition run of blood-red vinyl. They need to reach 70-pre orders in 30 days to achieve this. Anyone who pre-orders the vinyl will get 20% off the next HVE NO RGRTS clothing purchase.
If you're a metal vinyl aficionado, you can grab that bad boy right here!
'Dead Seeds' is released on 3rd February 2023. Check it out below!
For more info about the band and their music and their shows and everything else, find them and follow them on Facebook!