Who doesn't love a good, chilling camping tale? I absolutely do, and do I have the perfect new must see movie from IFC Midnight called Killing Ground. What better time to have this movie be released then in the hot summer? Let me tell you why this film should be on your summer horror must watch list!
Written and directed by Damien Power, Killing Ground was released July 21, 2017. Only a few days since its release, the film already has a 6.7/10 rating on IMDb.com and holds an 84% positive rating on Rotten Tomatoes. Those are some pretty impressive numbers! Killing Ground speaks for itself, however, without even checking a rating guide. This is one film you are going to be hearing about for years to come.
Official synopsis of Killing Ground:
A couples' camping trip turns into a frightening ordeal when they stumble across the scene of a horrific crime.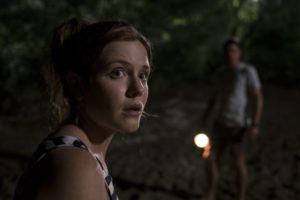 What Works:
The formula for Killing Ground is actually really cool as the story goes back and forth between two tales. I found myself becoming invested in both families; one is on a typical family on vacation while the other is a couple looking to get away. It was intriguing to see the different dynamics of both when facing the horrors that awaited them at the killing ground. The film is brutal in every aspect you could possibly think of and then some. It is somewhat along the lines of The Hills Have Eyes, The Last House on the Left, and I Spit on Your Grave…but Killing Ground does the unthinkable. I literally said to myself while watching, "Did they just really freaking go there?" The performances were stellar and very convincing. Tiarnie Coupland (TV's Love Child) played the "Why did my parents drag me out in the middle of nowhere… I just want to be on cell phone" teenager Em perfectly. Harriet Dyer, Maya Stange, Stephen Hunter, and Ian Meadows all delivered their own performances to a tee. Aaron Pedersen and Aaron Glenane had me biting my nails and cringing in my seat.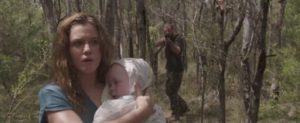 What Doesn't Work:
Killing Ground takes a while to actually get itself off the ground. The payoff is huge! However, it might be unsettling for some viewers. I understand the reasoning behind it being short on action because the last twenty minutes are in-your-face relentless. But that would really be my only gripe about this film.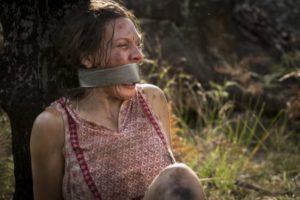 Final Verdict:
If you love slow burn movies that do the unthinkable, then Killing Ground is for you. I would recommend it even if you don't like slow burns. The film is well shot, has an amazing concept and brilliant acting, and tells a story that seriously punched me in the gut. Killing Ground is definitely going to go on my must watch summer list every year from now on.