I've said it before, and I'll say it again… I love practical horror movie Special FX. There's just something about knowing that someone created a thing so realistic, humorous, or terrifying out a bunch of miscellaneous arthouse supplies that blows my mind.. the more visceral, the better. Not only do they help move the film's story along in an effective, empathetic way, but beautifully created SFX bring also the horror to the forefront. You can really feel the pain the afflicted is going through, whether it's through wound or deformity. The more realistic the prop, the deeper you fall into that character's story.
So, when I had the chance to chat with the hugely talented Joe Castro about his 4 decades as a horror movie FX artist, I knew I had to take it. You're giving me a chance to pick the brain of one of the most prolific FX artists alive today? Hell, yeah!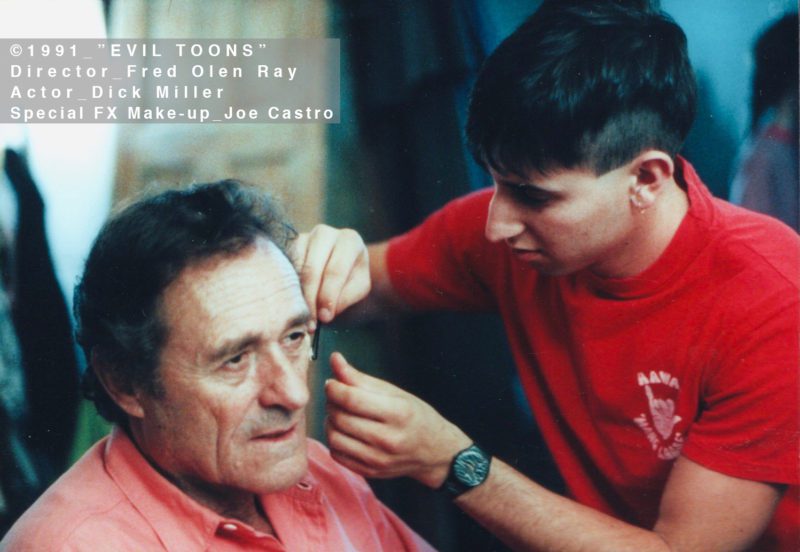 "I have found that being an artist in important, but also being a team player and using my artistic skills to enrich the lives of other people is far more satisfying. Being the person that can go into the mind of the director, the producer, the actor and help them bring out what's inside is far more important to me. It's taken me a long time to finally understand that."
I asked him how long he has been in the SFX industry.
"If you want to count from when I got my first paycheck, I was 12, so that's 39 years. But if you want to know when I wanted to make special FX and make films, that was '77, when I was 7 and saw Godzilla Vs. The Smog Monster." He goes on the tell the story of his dad, who had work to do on their goat ranch in Texas, sat him in front of the TV to watch the film that would create the creature artist he is today. Luckily for him—and for us—that first FX experience was not only kaiju but also pretty brutal. "Godzilla Vs. The Smog Monster is literally the darkest Godzilla film ever made," says Castro. "Hedora… almost kills Godzilla in it. The part where Godzilla goes into this pit and Hedora is like vomiting up all of this sludge, this toxic waste, on him, and he's choking… the Smog Monster shot him in the eye and the acid like blinded him on one eye, and Godzilla is rolling around on the ground."
The conversation turned to Joe's dad, who was, "always my biggest cheerleader. I grew up in a time in South Texas… I was a very confused but openly gay young male… There's actually videos of myself from when I was ten, eleven years old…. you could tell that I was abused, physically and verbally tortured by the people around me. I was very soft-spoken. I was constantly aware of what was going on around me because I was in fear all the time. Was I going to get beat up? Was I going to get ridiculed? Was I going to get hurt? And my father was the only person in my life who said, 'Son, the only reason I'm tough on you is because I don't want you to get hurt.' He had no problem with me being gay."
Joe then tells the story of an international special FX makeup contest he won when he was 15 years-old through the magazine, Famous Monsters of Filmland, edited by Forrest J. Ackerman, the man who coined the phrase "sci-fi." Director Joe Dante and FX artist John Carl Buechler picked young  Castro's effect as the winner. "When I won that contest, in San Antonio, it was kind of a big deal having a 15 year-old do special effects makeup. I got my picture in the paper. The local news stations interviewed me… up until I graduated high school, The March of Dimes and the Muscular Dystrophy Association would hire me… I would design their haunted houses every year."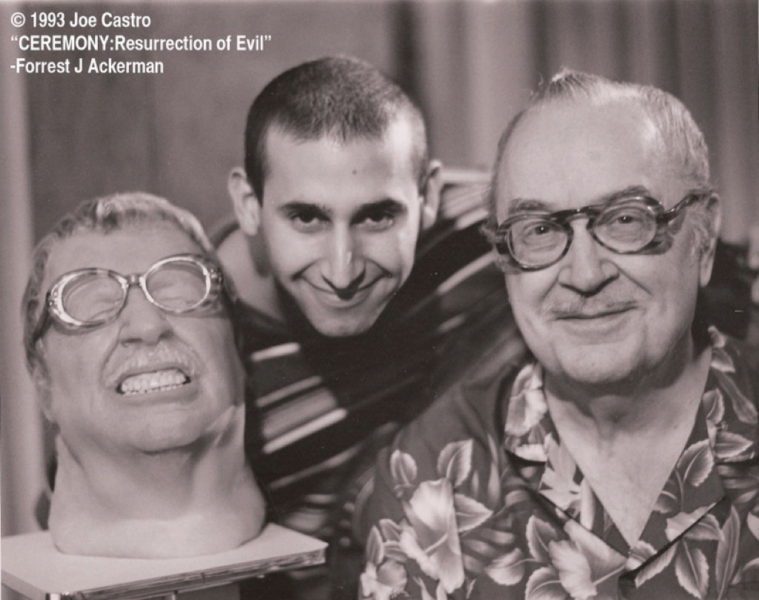 The talk then turned to the great state of Texas. "San Antonio, Texas… used to be the Heavy Metal Capital of the World. Not many people know that. Because it was the Heavy Metal Capital of the World, it was also the horror test market. Every horror movie released in the United States was test marketed in San Antonio, Texas. I got to see The Toxic Avenger the day it was released! I got to see Gates Of Hell—City Of The Living Dead—and it was actually called Twilight Of The Living Dead… and George Romero made them change the title because it infringed upon "Of The Living Dead," which he owned the trademark on… I got to watch Texas Chainsaw Massacre 2 with the director [Kim Henkel] and Tobe Hooper the Friday before it was even released!"
"My parents… they didn't know what to do with me. My mother and my grandmother were like, 'Well, we can teach him how to cook!' so I could be someone's husband one day. They did their best. But they let me do whatever I wanted to when it came to all of that horror stuff." Joe told stories about his cousins, Eddie and Ernest, who introduced him to horror during a family reunion and ended up taking him to his first record convention. "That's where I saw a pirated version of The Rocky Horror Picture Show.
"You've got to understand. I grew up in a town with a population of 1,400. I didn't even know there was another gay person in the world until I saw Boy George sing 'Do You Really Want To Hurt Me?' on MTV. Eddie made me a pirated copy of City Of The Living Dead, and at the end of the movie, he put that video on there. Because I had no idea that there was another gay person in the whole wide world…. And he bought me my first book and taught me how to make a rubber mask. Between the time when I was 12 and when I was 14, I had gone through his entire VHS collection of every depraved horror movie you could possibly watch. I don't know if I would recommend that for your average kid, though!"
Always full of good humor, Joe tells a story of the time he watched a scene in Xtro when a woman gives birth to a full grown man… in front of his parents and grandparents. "I hear my mother say, 'Turn that shit off!' And I'm sitting there, quietly grinning from ear to ear."
We talked about creativity and how important it is to take all thoughts and ideas of the director and producer into consideration when creating something for someone else's vision. "I want [the filmmakers'] feedback. I want them to feel like they're involved, and that they're getting exactly what they need. If I assume that I'm already giving them what they want, them I'm already making a mistake…. Imagine there's a bigger picture over here that I'm not filled in on or was involved in what I was doing. 'Oh, I see now why you wanted it to be this color, or why it needed to look this way.' It's not a good way to operate."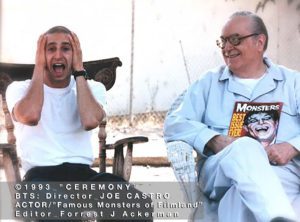 Joe has even dipped his toes into the reality TV pool, although it wasn't a good experience. "About 8-10 years ago, I was on a program called Face Off, and I was the only contestant to ever walk off the show. I was on Season 3, and I walked off during the first episode. I didn't know everybody on that show, but I could see that I had more experience than everyone else combined. And right away, I could see what was going on…. I could see that the show was not really an actual competition show; it was rigged. I could tell who the winner was going to be. I saw how they were grooming this person to be the winner. I literally ran from the studio because I knew they were going to try and stop me. But I didn't want to be a part of a fake competition.
"It was almost career suicide for me. I didn't work for four years after that. They tried to silence me. I knew who the winner of the season was going to be. So they actually had to go back and reshoot the last four episodes to change the winner. But I wasn't going to let them get away with it."
Despite being burned by people in the industry, Joe does have some advice for SFX artists just starting out. "I tell them go find CineMagic #6, the magazine my cousin first bought me when I was 11 years-old. If you can do the first tutorial in the magazine, take a picture and send it to me, and we can talk."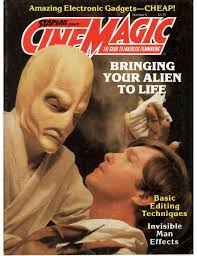 There's also jealousy among the ranks of makeup artists and SFX artists. Who knew? "Special FX artist and makeup artists are always butting heads…. I come onto a movie set with my own set of tools. Makeup artists like to say, 'No, that's not right. That's not how I was taught.' I can't tell you how many times on a movie set that I've been blindsided by the makeup artists with the producers. 'You know, I don't think Joe knows what he's doing. That's toxic! That shouldn't go on that guy's face.' I've been doing this for 39 years. If I thought it was going to hurt them, I wouldn't do it. I learned that simply asking questions: do you have any allergies? Does this burn? Is this okay to put on you? Are you comfortable? Can you breathe?
"For example, I worked on this movie called Exorcism At 60,000 Feet [2019], a parody of Airplane! meets The Exorcist. Bill Moseley, Adrienne Barbeau, Bai Ling, all of these great horror icons are in it. There's a scene where a man is having sex with a woman in an airplane bathroom, and she's possessed by a demon. She's screwing him so wildly that she makes him melt. The actor was like, 'I have to be out of here in an hour. I'm getting on a plane.' But I needed two hours to do the makeup on him. So the producer comes over to me and says, 'Joe, we have 15 minutes.' 'What do you mean! I made the appliances and the tubing!' So I had to come up with a whole new way to do the melting sequence.
"So, what's the first thing that I do? I run over to the craft services table—Hershell Gordon Lewis taught me how to do this—and I got creamer, I got coffee, and I mixed it together to make it look like dripping flesh. Then I got Italian salad dressing and some mashed potatoes and some pieces of a chicken skin. I mixed it all up and added some blood. I just poured it over his head. It worked great. Instead of gluing the appliance down, I just put some spray glue on it and just stuck it on his face. And the director says, 'Now scream!'
"But the whole time, the makeup artists were like, 'You can't put that on his face! It has vinegar in it! It will hurt his eyes!' So the director walks right up to the guy, pokes his finger at his face, tastes it and says, 'Yup, that's salad dressing. Let's keep going!' Then I went to pour the blood on him, and the makeup artist says, 'What kind of fake blood is that? That's not mouth-safe blood!' I said, 'It's just pancake syrup.' So the director tasted it and said, 'Yup, it's just pancake syrup!'"
"A movie is neither good nor bad. It either entertains the person watching it, or it doesn't."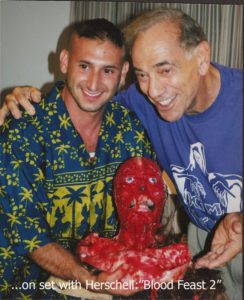 Joe talked a bit about his childhood as well and how the things he experienced helped to shape him into the horror fiend he is today. "Growing up on the goat ranch, I saw all kinds of horrendous stuff…. When I go back home, and I see all of my uncles and the property and a houseful of dead animals on the walls. Everything you touch is deer hide fur or animal bone. I grew up with the Texas Chain Saw Massacre family.
"One of my best friends from high school, Rudy Baili—he actually co-wrote my first three films. We went over to my grandparent's house to have dinner. We walk in, and my grandfather is sitting at the dining room table with a full, cooked goat head on a plate in front of him, and my grandmother is walking over to the table with another goat head on a plate. Eyeballs, the whole bit. My grandfather has a screwdriver and a hammer to crack it open. And he looks at us and says, 'Hey, y'all! You want to eat?' 'No, we just wanted to stop by and say, "Hello!" Thanks!'
"One year for Easter, the family got together…. We went over there to my dad's side of the country highway to have Easter dinner. Big Roman Catholic family. And they'd bring out a calf, the pet calf, right? It had a name. We all knew who it was.  And they shot it in the head in front of everybody. So now we're going to eat the calf. And they start to skin it and gut it… and it stands back up. It's not dead. So someone had to go back inside to get the gun to shoot it again. At that point, I don't even remember… I think I just left. I think I just walked away. I just turned around and walked back home. What does that do to someone's brain?"
It turns them into a special effects artist, apparently. "All of the people on my father's side were extremely talented—artists, painters, carpenters, taxidermists, that's where I got all of my skills from. But it came at a very dark, dark price."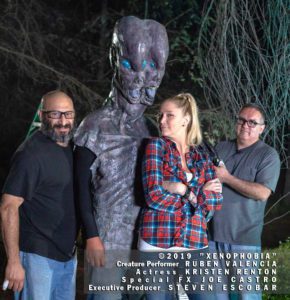 On a lighter note, talk turns back to Hershell Gordon Lewis. "Hershell taught me a lot. I was very close to Hershell. I actually have the blood formula for the original Blood Feast, the very first slasher movie ever made. He gave it to me before he died. And I created the special effects for the sequel, Blood Feast 2: All U Can Eat [2002]. He's the one that taught me the trick of using salad dressing and all that stuff."
And then there are Joe's adventure with SFX master Tom Savini. "Remember calling 411 to get someone's phone number? Back when I was 11, 12 years-old, I could call 411 and ask for Pittsburgh and then say, 'Tom Savini,' and they would give me his phone number. And I would call him. 'Hey, Tom. My name is Joey Castro, and I live in Texas.' He would talk to me for hours! One time we talked for two hours straight when he was trying to explain to me how to do the top of a head being cut off by a helicopter blade, and how to load a chemical fire extinguisher with air. He taught me all that over the phone. That was back then.
"Now, people will say, 'Oh, I got my autograph from him, and he was just rude!' But I know why that is. Over the years, everybody has taken for granted everything that he taught to everyone. He was literally the creator of putting a tube behind the neck for the blood to squirt and of using the chemical fire extinguisher. He was the first person to show us how to make vampire teeth. He was the first person who figured out how to do all of this stuff, and now everybody runs around, 'Hey, look at me! Look what I can do!' and they don't give him any credit for it…. I just hope people learn to appreciate Tom more while he's still alive."
Joe is nothing if not humble. "I'm so lucky I can do what I do. When I worked with Shane [Bradford – read the PopHorror interview with him here] on his film, Country Club, he just let me run with it. We had two days of filming there with him. I had the chance to be in it. It's such an honor and a privilege.
"I once Googled how many movies have been made since the beginning of time. There are only approximately 500,000 movies in currently in existence. Which means we're still in this bad boys' club to be involved in a movie…. sometimes, people I talk to who made a movie, they're really hard on themselves. They think it wasn't successful. And I'm like, 'You don't realize that what you've done is simply magical. There are so many people who want to do it, and they can't do it.'"
"I tell young filmmakers, 'You can make a movie, and if you're happy with it, then you did it right.'"
Something I've learned while interviewing Joe Castro is that you never know just what will come up. "Did you know I'm in the Guinness Book Of World Records for Highest Body Count In A Slasher Movie? I have the certificate hanging up on the wall over here. It's 155 kills for The Summer of Massacre [2012]. It was also the most pirated movie on YouTube for the two months after its release. Of course, horror fans hated it. It has a lot of CGI, and they just ripped away at it."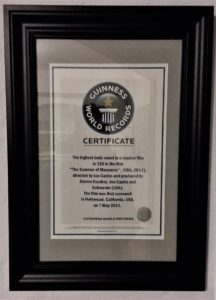 We talked about how much we love that horror fans are able to get together at conventions and festivals. "I used to do these things at conventions called the Italian Zombie Makeover. I would have the convention give me somebody from there, and I would bring them up on stage. I'd have them dress in a unitard, just strip down. And I would turn them into a zombie. In 30 minutes I would do this, but only using the tools that were available back in the '70s or '80s. I would use like house paint and latex and fishing worms and food products and tape. Actual dirt and mud. Actual animal bones and teeth. Stuff like that. Always a winner! Always a winner watching somebody get covered in crap. I hope I get to do it again."
Does Joe still get star struck? "Yes, I still get star struck. I remember I was working with Adrienne Barbeau on the set of Exorcist at 60,000 Feet. I had to put blood on her. I made this puppet taxidermy dog. She's supposed to be carrying around this taxidermy dog. The dog comes to life and rips off her scalp. And, of course, there wasn't going to be any time to glue anything to her head. So I made a little scalp hat that she could wear on her head, and I made another hat of hair to sit on top of it.. I was like, 'How am I going to hold that down?' So I had to use this little wire and my assistant had to crouch behind her holding these two wires holding it to her head.
"I put a little blood coming down on the side so it wouldn't get in her eye. The director was like, 'Come on!' But I didn't want to just pour blood on her head! It would be all over her face and have it run down into her eyes! She was already calling me on a first name basis. 'Joe, what is that? Joe, what are you putting on me?' So the director says, 'This is the last one! We're going to go all out and do it right this time.' I had an entire cup of blood, and I just dumped it on her head, and then I ran away and just ducked down. 'Joe, what did you put on me?!?' I was already so nervous to begin with. But yeah, I still get star struck."
After keeping Joe hostage for over two and a half hours, it was finally time to let him go. I am floored by how much he opened up to me, and I will remember some of these stories for the rest of my life. Thank you, Joe, for your time, your honestly, your humility and your talent. The horror world will forever be grateful.