As we exit 2019, we look back on a very high-quality year for horror. This past year has spawned mainstream and indie hits alike. But, before you finalize your "Best Of" lists for the year, you might want to consider the psychological thriller, Daniel Isn't Real, which made waves at SXSW back in March. Trust me, it's just as eye-catching here in December as it was back then. Let's delve into why this movie is worthy of top-line praise.
Daniel Isn't Real is directed by Some Kind Of Hate's Adam Egypt Mortimer (read our interview with him here) and written by Mortimer and Brian DeLeeuw (Paradise Hills 2019). The script was based off of DeLeeuw's novel, In This Way I Was Saved. It was also made by the producers of Mandy (read our review here), so you know it's going to be laced with trippy metaphors. Daniel Isn't Real is a dark, indie take on schizophrenia and the lingering effects of trauma. A young introverted boy escapes his harsh reality by creating an imaginary friend, a decision that would effect every aspect of his life for years to come.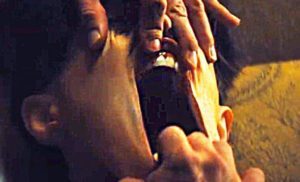 For a potentially heavy film like this to keep its audiences connected, the acting is paramount. The protagonist, Luke, was played by Miles Robbins (Halloween 2018 – read our review here), and his darker half, Daniel, was portrayed by Patrick Schwarzenegger (Grown Ups 2 2013). If that last name looks familiar, then yes, Patrick is the son of Arnold. These two characters are extremely well defined, and they have silky smooth chemistry together. Luke is the passive homebody, while Daniel beams with charisma as the daredevil influence. While this film has vibes of American Psycho, Fight Club or Bates Motel, it finds a way to stand purely on its own. There's a poignant message about mental health in this film, but it never beats you over the head with it. Instead, it beats you to the twists and turns with this innovative creature's fight for survival.
The effects and cinematography should be praised here. This film finds the delicate balance between past and present, as well as between story and metaphor. The flashbacks are used briefly and purposefully, and the effects made for timely scares. The editing in this film is, perhaps, the best I've seen all year. This movie doesn't just take us through a battle of different characters, it points us through a labyrinth of good versus evil. You will find yourself truly cheering for one side. The way it was executed makes you feel like you're a part of the final showdown. I don't want to say too much, as this is a film that is at its best when very little is spoiled. Maybe Daniel Isn't Real, but it may have a real presence in your 2019 horror favorites.