This past week was the 2018 Brooklyn Horror Film Festival. I had the opportunity to view the horror short film block called Creeping Terror. The films were all just amazing. They all encompassed a feeling of terror and impending horrors and scares. Here are the films and my thoughts on each.
Blood Runs Down, dir. Zendashe Brown (USA)
Synopsis:
When a woman undergoes a frightening transition, her vigilant five-year-old daughter must decide between saving her or protecting herself in this haunting tale of inheritance, daughterhood, and demons.
My Thoughts:
This film not only had some dark and creepy moments, but it touched my heart as well. It captured a mother and daughter relationship so perfectly. I enjoyed the twist that I didn't foresee.
Circle, dir. Martin Melnick (USA)
Synopsis:
Loosely based on the myth of Eurydice, this off-kilter, genre-bending allegory follows a woman whose past traumas send her on a fateful and dangerous trip through Purgatory.
My Thoughts:
This film was definitely a mind-bending trip. It was disturbing on all levels and made you think about life and death.
Acid, dir. Just Philippot (France)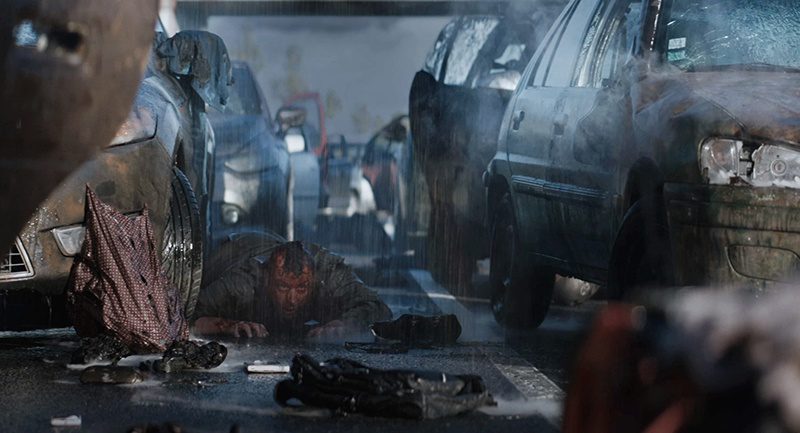 Synopsis:
Without any warning, a cloud forms over an entire city, dropping deadly acidic rain on the unlucky people who can't seek shelter in time.
My Thoughts:
The first time I read about acid rain, the thought absolutely terrified me. Can you imagine being pelted by acid rain? This film effectively delves right into that very topic. Terrifying!
Essere Amato, dir. Nathalia Bas-Tzion Beahan (USA)
Synopsis:
A young and expecting mother suffers a horrific abandonment as she understands the cost of what it means to love and be loved.
My Thoughts:
I wasn't sure about this one at first. But this film captured so many emotions, mostly abandonment and love issues and how those can be just as terrifying as made up horrors. Living in your own head can evoke intense fears, as this film demonstrates.
Bye Bye Baby, dir. Pablo S. Pastor (Spain)
Synopsis:
In a clever and surprising riff on Scream's opening sequence, a young woman who's home alone one night gets the sense that someone, or something, is targeting her.
My Thoughts: 
This film is my favorite out of the block. The feel and look of it is like an '80s horror film. So many quirks and startlingly grotesque moments, all with an ending I absolutely loved!
I relished all of these films. They unquestionably belong in the Creeping Terror Shorts Block! There's something for everyone, so if you get a chance to check any of these shorts out, please do! Has anyone seen these? Be sure to drop a comment below and let us know your thoughts!