It's always a thrill to go to conventions, whether they're horror, sci-fi, comic, film or anything in between. When I was offered the chance to go to the Rhode Island Comic Con once again (here's our coverage from last year's event) for PopHorror, where all genres are covered, I knew I couldn't pass it up. Read on to find out who was there, what happened in some of the panels and see some awesome pics of the show.
Some of the cool stuff I stumbled upon at Rhode Island Comic Con 2018…
This year, I thought I'd offer you guys a highlight reel of what happened at the 2018 Rhode Island Comic Con, starting with the celeb lineup.
This is not a complete list by far… just the more recognizable names. Highlight reel, right?
This is about half of the celebrities that were scheduled to be at the 2018 Rhode Island Comic Con, although there were a few cancellations:
Tim Curry (Dr. Frank-N-Furter from Rocky Horror Picture Show, Wadsworth from Clue)
Kiefer Sutherland (David from The Lost Boys, Ace Merrill from Stand By Me)
IT kids Chosen Jacobs (Mike), Jack Dylan Grazer (Eddie), Jeremy Ray Taylor (Ben), Jaeden Lieberher (Bill), Sophia Lillis (Bev) and Wyatt Oleff (Stanley)
The Walking Dead's Laurie Holden (Andrea), Michael Rooker (Merle), Steven Yeun (Glenn), Sarah Wayne Callies (Lori), Lennie James (Morgan), Tom Payne (Jesus), Steven Ogg (Simon), Cooper Andrews (Jerry) and Jeremy Palko (Andy)
Stranger Things' Noah Schnapp (Will) and David Harbour (Jim Hopper)
The Office's Creed Bratton (Creed), Oscar Nunez (Oscar), Angela Kinsey (Angela) and Kate Flannery (Meredith)
Smallville's Tom Welling (Clark Kent), Laura Vandervoort (Supergirl) and Michael Rosenbaum (Lex Luthor)
Hayden Christensen (Anakin Skywalker from the Star Wars franchise)
Tom Felton (Draco Malfoy from Harry Potter franchise)
Alan Tudyk (Wash from Firefly, Tucker from Tucker & Dale vs Evil)
Zach Galligan (Billy from Gremlins, Mark from Waxwork)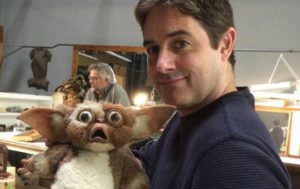 Randy Quaid (Cousin Eddie from National Lampoon's Vacation, Russell from Independence Day)
Katrina Law (Nyssa al Ghul from Arrow)
Lance Henriksen (Ed Harley from Pumpkinhead, Bishop from Aliens, Jesse Hooker from Near Dark)
Dylan McDermott (Ben Harmon/Johnny Morgan (Bloody Face, Jr.) from American Horror Story, Bobby Donnell from The Practice)
Levar Burton (Geordi on Star Trek: The Next Generation, host on Reading Rainbow)
Lou Diamond Phillips (Ritchie from La Bamba, Chavez from Young Guns)
Billy Zane (The Phantom from The Phantom, Cal Hockley from Titanic)
Jason Patric (Michael from The Lost Boys)
Impractical Jokers' James Murray
Gwendoline Christie (Brienne of Tarth from Game of Thrones, Captain Phasma from Star Wars: The Force Awakens)
Billy Boyd (Pippin from the Lord of the Rings trilogy)
Samantha Smith (Mary Winchester from Supernatural, Sarah Lennox in Transformers)
Elvira: Mistress of the Dark AKA Cassandra Peterson
Ron Perlman (Hellboy from Hellboy, Clay Morrow from Sons of Anarchy)
Finn Jones (Loras Tyrell from Game of Thrones, Danny from the Iron Fist TV series)
Jessica Henwick (Colleen from Iron Fist, Nymeria Sand from Game of Thrones)
Michelle Trachtenberg (Dawn Summers from Buffy the Vampire Slayer)
Joe Pantoliano (Francis Fratelli from The Goonies, Gabe Ugliano from Percy Jackson & The Lightning Thief)
Musicians Dee Snyder, Meatloaf and Joey Fatone
OG MacGyver Richard Dean Anderson
Danny Trejo (Machete from Machete, Razor Charlie from From Dusk Till Dawn)

Danny Trejo in 'Machete'
Zachary Levi (Chuck from Chuck)
Ben McKenzie (James Gordon from Gotham, Ryan Atwood from The O.C.)
Barry Bostwick (Brad Majors from Rocky Horror Picture Show)
Bam Margera (Bam from Jackass and Viva La Bam)
Voice Actor Tara Strong (Twilight Sparkle from My Little Pony, Bubbles from The Powerpuff Girls)
Ice-T (Officer Finn Tutuola from from Law & Order: SVU)
Jason David Frank (Tommy Oliver the White Ranger from Mighty Morphin Power Rangers)
Emilio Rivera (Marcus Alvarez from Sons of Anarchy and Mayans)
Professional Wrestlers Diamond Dallas Page, Ric Flair, Sgt. Slaughter, Jimmy Hart, Nathan Jones, Ted DiBiase, Velvet Sky, Angelina Love, James Ellsworth, Sean Waltman, Animal, Kevin Nash, Ken Shamrock and Scott Hall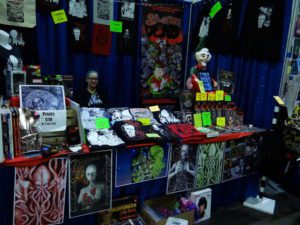 The crowds were insane, and it was near impossible to get anywhere close to most of these bigger names without having to wait in long, long lines. It was tough to get anywhere at all, since there were so many people. I think they might have sold a few too many tickets this year, but I digress. The cost to get a pic or an autograph with any of the talent was about average, as far as I know… $40-100, depending on who you wanted to see. Professional shots were more, but totally worth it just for the fact that you got your photo printed out for you right there and could turn around and have the celeb sign it if you wanted. We were not allowed to take pictures or video during the panels or shots or shots of anyone behind a blue table, so I was unable to get any candid pics of celebrities. The event spokespeople said they'd have video and pictures available after the con, so I didn't bother trying to sneak anything. I just found out that Rhode Island Comic Con doesn't have permission to post anything that they took, so I guess we're SOL. Sorry, guys. I will let you all in on what I learned during a few of the panels I attended, though.
Tim Curry Panel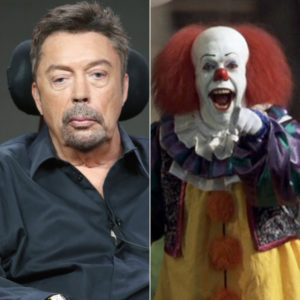 When Tim Curry was announced, he got a standing ovation from the crowd… the only one that I witnessed during Rhode Island Comic Con 2018. He's still in a wheelchair (he'd had a stroke in 2012 and still hasn't fully recovered), and it was a bit disconcerting to see Dr. Frank-N-Furter looking so fragile. But once he began to talk, it was clear that, though physically disabled, Mr. Curry is still shocking crowds with his whip crack humor and eyebrow raising stories. He mentioned his first role was in the London musical, Hair, in 1968 (yes, he was naked), and his favorite role was playing Mozart in Amadeus on Broadway. With a mischievous laugh, he admitted that the best scene to shoot in Rocky Horror Picture Show was the Floor Show, since "it was all for me. And it was sexy." Although he's been nominated for 4 Tonys for 7 Broadway shows, he's never won one. He thinks the IT remake was "rubbish" because every time you see Pennywise, he's 90% CGI. He then admitted that he got so drunk on sloe gin (not fast gin) with Diana Riggs during the filming of his wizard dance scene in The Worst Witch that the scene had to be reshot in London months later.
About ad libbing, he said, "I don't really like improvising. Too much work. It's hard enough memorizing what they actually wrote." He admitted he was almost in Alien but lost the role to John Hurt (Tim Curry and a chestburster!). He mentioned offhandedly that the cast and crew of Legend burnt down the James Bond soundstage while filming. Before the end of the panel, Mr. Curry talked about filming The Three Musketeers. "Charlie Sheen and Kiefer Sutherland were bad little boys. They used to go out and get ripped to tots every night. Security would have to drag them out of the brothels." I'm sure Kiefer Sutherland (who was at Rhode Island Comic Con this year) would have been thrilled to hear this story if he had come down to the panel room.
The Kids From IT Panel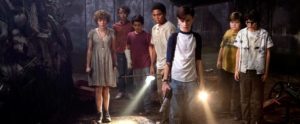 The Kids from IT panel had Chosen Jacobs, Jack Dylan Grazer, Jeremy Ray Taylor and Wyatt Oleff (Sophia Lillis and Jaeden Lieberher cancelled the con). They were all comfortable with one another and even rubbed each other's shoulders or hands during the Q&A. Jeremy had drawn a picture of a clown on the back of Jack's hand, which was mentioned during the many times that Jack forgot to talk into the mic while answering a question. Wyatt wants to be in Chosen's music video for his song, "Spell," and admitted that the scariest scene to shoot in IT was the one where they all cried together. Chosen mentioned that, during one of the hangouts that would last overnight (definitely not sleepovers), the other guys filled his ear with Nutella while he was sleeping.
When asked who – living or dead – they would like to meet, Chosen said Oprah, Jack said skateboarder Rodney Mullen and Jeremy said Mohammed Ali. Ten minutes later and in the middle of another question, Wyatt looked out into the audience and said, "Freddie Mercury." Jack admitted to hearing something that sounded like someone whispering Spanish underwater during filming, and the others insisted he heard ghosts. Chosen confessed he uses the Twinkle Twinkle Sleeping Technique after watching horror movies (which consists of watching a bunch of comedy so you don't have nightmares). As Pennywise himself walked into the panel, making Jack scream, Jeremy said that it was actually freakier to see Bill Skarsgard in full makeup doing ordinary things like smoking a cigarette or eating a hot dog than it was when he was trying to be scary. The wrap of IT: Chapter 2 was "bittersweet" (Jeremy), "closure" (Jack), "exhausting" (Wyatt). Keep your eyes peeled, IT fans, because Wyatt is working on his own short film.
Michael Rooker Panel
Michael Rooker has got to be one of the most insane people ever, and I can't imagine what it would be like to be stuck in a car with him on a long road trip. He never stops moving, always hopping around and cracking jokes. If you want to know what it's like to follow him around, check out the above Rhode Island Comic Con 2018 video from YouTuber AllHail KingRooker.
Rooker didn't even let the announcer explain the rules of the panel before bounding out from behind the curtain and saying, "Are you serious? Who is this guy?" After complaining about the broken buckle on his leather jacket and being told to get it fixed at the Cosplay Repair Booth, he noticed the big screen behind him where the panel was being broadcast and asked, "Am I standing in my own way?" Then he proceeded to try and turn around fast enough to see if he could catch himself looking at himself. He didn't sit on stage like every other panelist, but instead walked around with a mic and stuck it in people's face to see if they wanted to ask him a question. When he found Wonder Woman, he made her try to crack her "whip," but it didn't work until the audience said, "Whih-CHAW!" as he snapped it back and forth. When he found a younger Wonder Woman, he asked her, "Why didn't you develop your whipwork? You're really bad at it!" Then he let her lasso him.
He mentioned that the makeup on Slither was "so painful!" First, it took 7-8 hours to put on, and then it messed up his neck because he wasn't always aware of when they would move one of his tentacles and the motion would yank his head. His neck still pains him to this day. He said he got to drive 205MPH on Days of Thunder, and that his favorite thing to do on The Walking Dead set was sleep, although Merle's hand knife apparatus made a few people nervous, especially when he sneezed. "I'm a full body sneezer!" He admitted that it took "too long" in the makeup chair for Guardians of the Galaxy, and that they use blue screens instead of green screens in filmmaking now. "How could they see Yondu in front of the blue screens then? Yondu is blue," a kid in the crowd asked. "I don't know. Let's call James Gunn and find out… Siri, call James Gunn's cell phone, but not out loud." He put it on speakerphone for the crowd to hear, but the director did not pick up, so Rooker left a message asking the kid's question. Unfortunately, Gunn did not call back before the end of the panel.
He admitted that he feel asleep during Yondu's funeral scenes because he had to lay still for so long. As the panel wrapped up, a baby dressed as Robin started crying, so Rooker ran down to him and asked if he wanted chocolate. The baby stopped crying and Rooker said, "Just kidding!" This was definitely the most energetic panel I've ever been to. I loved it!
Alan Tudyk Panel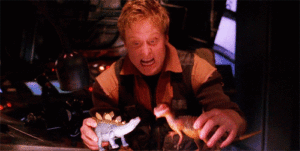 Alan Tudyk showed up for his panel with what he called his Bag of Crap, which was full of dry cleaning receipts, maps of Georgia, room keys and gift cards to local restaurants (which were given to him in a gift basket) that he autographed and handed out to anyone who asked him a panel question. He talked about his upcoming role as Mr. Nobody in Doom Patrol and how he loves to walk up to people who were in Star Wars and say, "Yeah, I was in one, too." (He played the 7-foot tall droid, K-2SO, in Rogue One) He said he would love to play a weird version of Aquaman who smells like fish and drowns people, a character that Aquaman actor Jason Momoa agreed to wholeheartedly.
The best story of the panel was when he talked about stealing the prop button from the "Out Of Gas" episode of Firefly. In the ep, rather than die on the flogging Serenity, Captain Mal (Nathan Fillion) shuttled his crew members off the ship. Confident that Mal would solve the problem, Wash (Tudyk) pointed to this particular button in the ship's controls, saying, "When your miracle gets here, you just pound this button once. It'll call back both shuttles." A few years later, when Joss Whedon was having trouble trying to pull together the funding for the film Serenity (which would wrap up the series' storylines), Alan dropped the button off in his office with a note that said, "When your miracle gets here, you just pound this button, and we'll come right back."
When it was my turn to ask a question, I asked what he thought Zoe (Gina Torres) and Wash's baby was doing right now (it was discovered that Zoe had been pregnant when Wash was killed in the first issue of the Serenity comic book, which was written by Joss's brother, Zack Whedon). His answer: "Meth… I mean, he has no father! What chance does he have?" Then he gave me a signed gift card for the local business, The Malted Barley. Yes, I melted. He said his most fun on any set was with John Turturro and John Malkovich when filming Transformers 3, and even though his character, King Candy, was killed off in Wreck-It Ralph, he still got to do the voice of KnowsMore in Ralph Breaks the Internet. He's currently pitching the idea to Disney's John Lassiter of an album of old vaudeville tunes sung by King Candy, and admits that his perfect role would be the guy who's trying but not effective, but who eventually comes through. What animal would have his voice? The naked mole rat, of course.
There were other panels that I went to, including a Dunder-Mifflin panel with Kate Flannery and Creed Bratton (Angela Kinsey and Oscar Nunez cancelled the con) and an Iron Fist panel with Finn Jones and Jessica Henwick, but this article is getting pretty long, so I'm only concentrating on the more horror-centric ones. I do want to mention some of the awesome people I met at Rhode Island Comic Con, including the folks running an amazing Harry Potter school over at The Imaginorium Education Collective, the authors at the New England Horror Writers booth and the incredibly helpful Danny Mancini, owner of MTC Toys, where I got my new favorite Killer Klowns From Outer Space t-shirt.
Check out some of this awesome cosplay!
There was even stuff for the kids…
Merch! Merch everywhere!
Can you spot any celebs in the crowd?
That about wraps up my review of this year's Rhode Island Comic Con. Did you go to the event? Who did you meet? Who would you have wanted to meet? Let us know in the comments!