I never know what to expect when entering an M. Night Shyamalan (Old (2021), Servant (2019-23) movie. For years, the Sixth Sense (1999) and Signs (2002) were high water marks of entertainment in my imagination. Meanwhile, the scars of The Village (2004) and The Happening (2008) hinder my eagerness to be excited. I'm not bitter, YOU'RE bitter. We can usually expect a star cast, intense acting, story twists, bizarre supernatural scenarios, or an end-of-days plot straight out of a science fiction novel. In his latest feature, Knock at the Cabin, M. Night Shyamalan adapts Paul Tremblay's (Head Full of Ghosts (2015), Devils Rock (2016) horror novel A Cabin at the End of the World (2018) to the big screen, and I'm all in.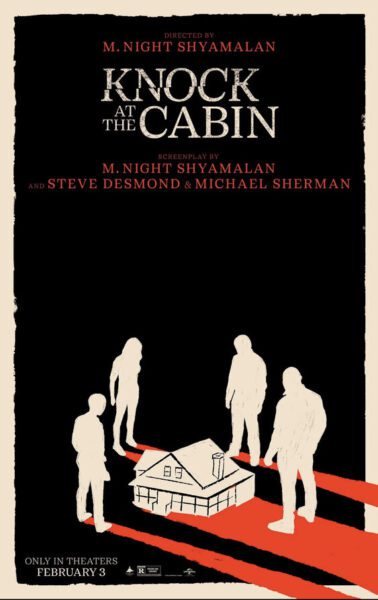 The Setup
Eric (Jonathan Groff Mindhunter (2017-19), Andrew (Ben Aldridge Our Girl (2013-18), and their daughter Wen (Kristen Cui CaliStar (2022) procured an idyllic cabin rental. A typical "no cell phone reception or neighbors in a desolate dense forest" scenario. What could go right?
"I don't have a scar like you, but if you look inside, you can see my heart is broken." –Leonard (Knock at the Cabin)

Wen (Kristen Cui) is approached by a stranger from the woods
Wen is catching grasshoppers in the lush woods when a courteous stranger appears. He introduces himself as Leonard (Dave Bautista Guardians of the Galaxy (2014). Wen asks what's his purpose for walking in the middle of nowhere. Leonard reluctantly confesses that he has a broken heart because of what he has to do there today. He looks over his shoulder as three more strangers appear from the trees holding medieval-looking weapons. Leonard mentions that today he and his acquaintances have the most important job in the history of the world.
Naturally, Wen flees to the cabin. Leonard pleads with Wen to tell her fathers to grant them access. Eric and Andrew aren't quick to believe what their daughter has encountered. Until there is a – wait for it – knock at the cabin.
"Speaking through a door is making a difficult conversation near impossible." –Leonard (Knock at the Cabin)
A quick conversation leads to an abrupt forceful entry by the outsiders. A vain confrontation leaves the married couple restrained to chairs with Wen in Eric's lap. The intruders begin humanizing themselves. Describing their backgrounds, professions, and their children. Wait, aren't the hostages supposed to do this?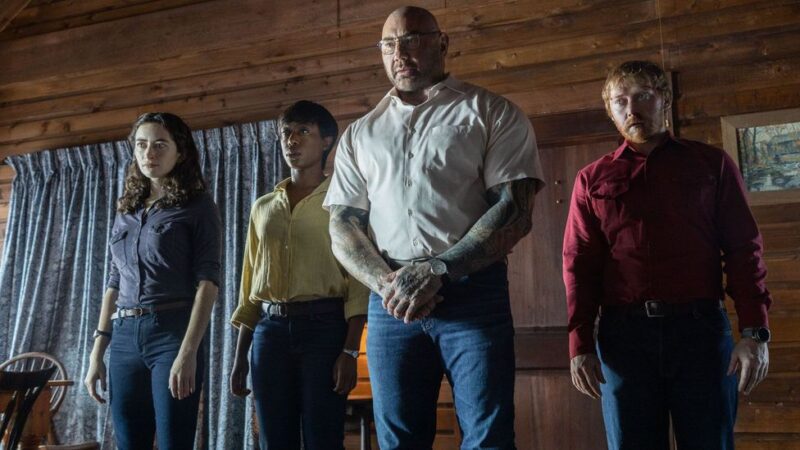 Leonard confesses he is a second-grade teacher who runs the after-school program. There's Sabrina (Nikki Amuka-Bird Old (2022) a post-op nurse. Redman (Rupert Grint Servant-2019-2023, Cabinet of Curiosities-2022) works for the gas company, and Adriane (Abby Quinn Torn Hearts-2022) is a line cook at a Mexican restaurant.
"Trust in something more than you." –Sabrina (Knock at the Cabin)
This motley crew of working-class intruders reveals they did not know each other until a few days ago. The common thread is they all had similar visions that brought them together. Random fact time: Did you know there are over 10,000 cults in the United States currently? Just sayin'.
Their collective premonitions of the apocalypse guided them to the cabin where Eric, Andrew, or Wen can prevent the end of the world by sacrificing a member of their family.
With every timely "no" they answer. Leonard, Sabrina, Redman, and Adrian will unleash a plague on the world. The young family grows doubtful as evidence begins to reveal this could either be a hate crime fueled home invasion, or a biblical, judgment day reckoning.
"We're supposed to give up our love for them?" –Andrew (Knock at the Cabin)

Eric (Jonathan Groff), Andrew (Ben Aldridge), and their daughter Wen (Kristen Cui)
The Payoff
The dialogue and performances were the biggest rewards of this film. Dave Bautista's direct, soft-spoken demeanor was chilling and is the main artery that delivers life to each scene. I couldn't take my eyes off his character or wait for him to speak again. The complete cast of characters was eclectic and convincing.

I felt Eric and Andrew's relationship was a token metaphor expressing the duality of mankind. There was an emotional dialogue sequence between the married couple coming to grips with the situation in the third act. I found it reminiscent of the banished angels, Bartleby and Loki, from Kevin Smith's Dogma (1999). Wait, I thought this was supposed to be about horror?!
The set location; a cabin in the forest, is absolute horror royalty. We have legions of horror tales taking place in this setting. However, the cinematography illustrates a warm beautiful season in broad daylight, that quickly deteriorates into a nightmare. It forced me to consider how fragile moments can shift or shatter. Even while the sun is still out. Sorry, no book of the dead or camp counselors here.

Knock at the Cabin– Final thoughts
I caught myself compellingly participating in the cat-and-mouse game of believing the hostages, to imagining the intruders were genuine. Knowing M. Night Shyamalan is the man behind the curtain, I'm ready for the trap door beneath the audience's feet any second to open up. And *drumroll* it's subtle. It's thought-provoking. Maybe the biggest twist here is, don't paint an artist into a corner.

The heaviest takeaway from Knock at the Cabin is that David Bautista is the real deal. He is far from just an action comic book movie caricature. I'm definitely looking forward to seeing him in more dynamic, elevated roles.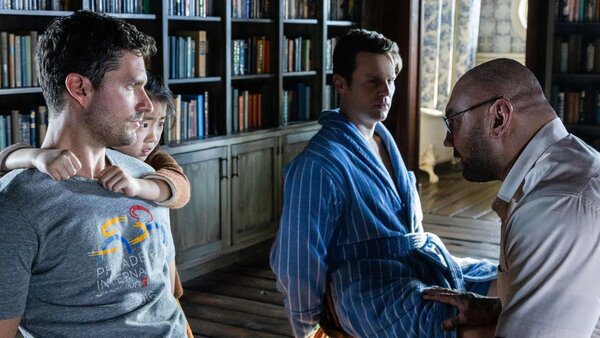 M. Night Shyamalan has proclaimed his movies as having teeth. That's how I'd describe Knock at the Cabin. It's not the sharp bite I wanted it to be; however, a deeper parable of introspective interrogation of our own humanity and sacrifices, that I believe audiences will be split on. Leave a comment and let me know what you thought of Knock at the Cabin.
Check out the trailer below! You can catch Knock at the Cabin in theaters now or you can rent or own it on digital platforms!