From Executive Producer Roger Corman comes VIRTUALLY HEROES! The film premiered at Sundance 2013 and was…promptly lost? We're not really sure how that happens, but guess what? It's back! And it's coming to video on demand soon for your viewing pleasure.
Check out this gloriously ridiculous trailer, then read on for the details!
VIRTUALLY HEROES (2013) Synopsis
Two self-aware characters in a Call of Duty-inspired video game battle endless enemies and their own existential crises when Sgt. Books seeks help from a straight-talking Monk (Mark Hamill) who teaches him the cheat codes of life. Now he can finally break free from the game's endless battles, take a break from saving the girls at the end of each level, and convince his fellow warrior Lt. Nova that not everything in this game world is as awesome as it seems.
GJ Echternkamp (Frank and Cindy, The Car: Road to Revenge) directed and produced the film. It stars Robert Baker (Indiana Jones and the Kingdom of the Crystal Skull, Out of Time), Brent Chase (Shameless, I Am the Night), Katie Savoy (How I Met Your Mother, NCIS: New Orleans), and Mark Hamill (Star Wars).
Here's a look at the poster art!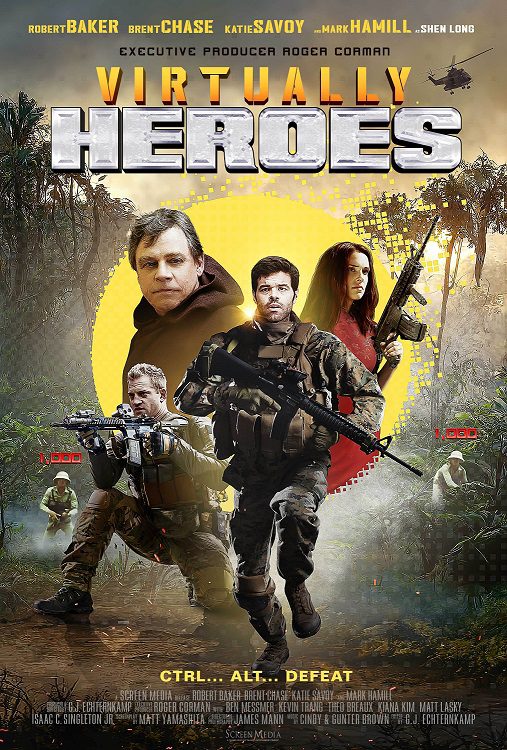 VIRTUALLY HEROES hits video on demand on January 17, 2023. Watch for it!
This looks hilarious! We can't wait to check it out. What do you think? Are you going to give it a try? Tell us in the comments!