2022 was another great year for horror titles, so it wasn't easy when I had to pick just one. However, one film that I couldn't stop talking about as soon as the credits rolled was Zack Cregger's (Whitest kids you know, Wrecked) Barbarian.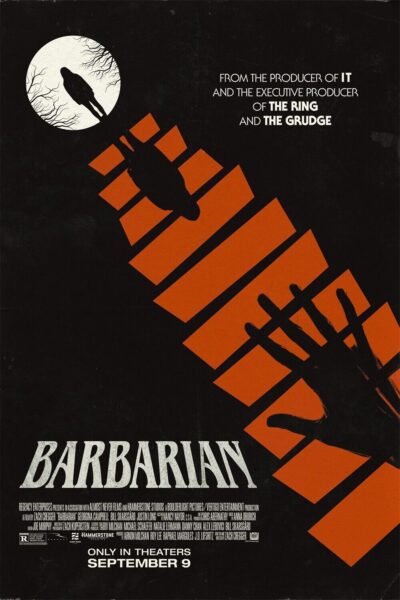 The Setup
Right away we meet Young Tess (Georgina Campbell – Black Mirror, Suspicion) who is out of town for a job interview. Tess arrives at her Airbnb at 476 Barbary on a late rainy night in the blight of Brightmoore Michigan, she quickly discovers that the home has been double booked by the charming and disarming Keith (Bill Skarsgård –  IT, Villians). She isn't left with many options, but to stay against her better judgment. As time goes by, she's convinced she isn't safe when she explores the house's basement.
'Do I look like some kind of monster?' – Keith (Barbarian)
Later on, we meet AJ (Justin Long – Jeepers Creepers, Tusk), a young, upcoming actor and the owner "at least on paper" of 476 Barbary cruising down the colorful pacific highway in a red convertible singing Riki Tiki Tavi without a care in the world. Welp, his life is also about to change when some serious allegations from an actress are going to make him have to visit his Michigan property sooner than later. (Note: Justin Long was named "Scream King" in our 2022 Bloody Pop Awards.)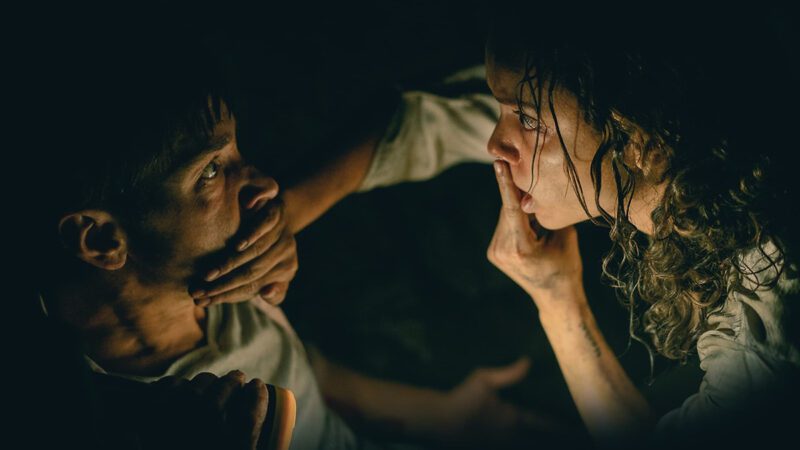 'I might be a bad person. Or maybe I'm a good person who just did a bad thing. I can't change what I've done. I can just try and fix it.' – AJ (Barbarian)
We also get an earlier look at the Barbary home, in a colorful flashback shot in pillar box 4:3 screen for that nostalgic 80's feel. They recount when Brightmoor Michigan was thriving. We also get to meet the original owner Frank (Richard Brake – 3 From Hell, 31, Doom) who clearly has some secrets and agendas with the home just before the neighborhood goes to hell.
The Payoff
Barbarian was an unpredictable ride that combined elements of misdirection and disarming convictions of what characters you could trust and what villains you could assume. I could carpet bomb the cliche "I didn't see that coming" all over the Barbarian experience. However, it was not choppy. These shifts of perspective were smooth as sleight of hand.
It wasn't just the unpredictable ride I found refreshing about Barbarian, I loved the look and feel of this movie. There are well-balanced shots and sets that really illustrated where something like this could take place. The score and sound design were on par. There was a Kubrick feel of strings right out of the gate at the opening credits. I knew they had me.

The film features stimulatingly believable performances by a modest cast. The realistic responses of Georgina Campbell and the hypnotic Bill Skarsgård with the light dramatic humor of Justin Long balance out the intensity like sweet and sour.
Check out the trailer below!
Barbarian – Final Thoughts
Overall after watching Barbarian I'm going to be looking out for more of Zack Cregger's work. I'll also definitely Google Earth my next Airbnb neighborhood before I travel. You can watch Barbarian on HBO max and on demand now.
 What did you think of Barbarian? Tell us in the comments!