You're gonna need a bigger table! As we head into Shark Week, we're going to need the perfect snacks and desserts to properly celebrate the occasion. Don't know what to make? Here are some Shark Week recipes to sink your teeth into! 
1. Twinkie Sharks
Ingredients:
6 Twinkies
1 Tub Vanilla Frosting
Fruit Roll Up
Black Icing
12 Mini Chocolate Chips
3 Oreos
2/3 c. Whipped Topping
6 Popsicle Sticks
2. Shark Week Snack Mix
Ingredients:
Gummy Fish
Goldfish Crackers
Frosted Cheerios
Cheesy Whale Crackers
Shark Bites Fruit Snacks
3. Shark Punch
Ingredients:
2 Strawberry Fruit Roll Ups
4 c. Vanilla Ice Cream
4 c. Blue Hawaiian Punch
4 c. Sprite
3 c. Vanilla Vodka
1 Gummy Shark (optional)
4. Shark Attack Poke Cake
Ingredients:
1 Box Cake White Mix (Plus All Ingredients On The Box)
1 1/2 c. White Chocolate Chips, melted
Black Food Coloring
1 Strawberry Fruit Roll Up
3 Mini Powdered Sugar Donuts
2 c. Marshmallow Fluff
1 tbsp. Water
3 c. Whipped Topping
5. Cake Batter Shark Bait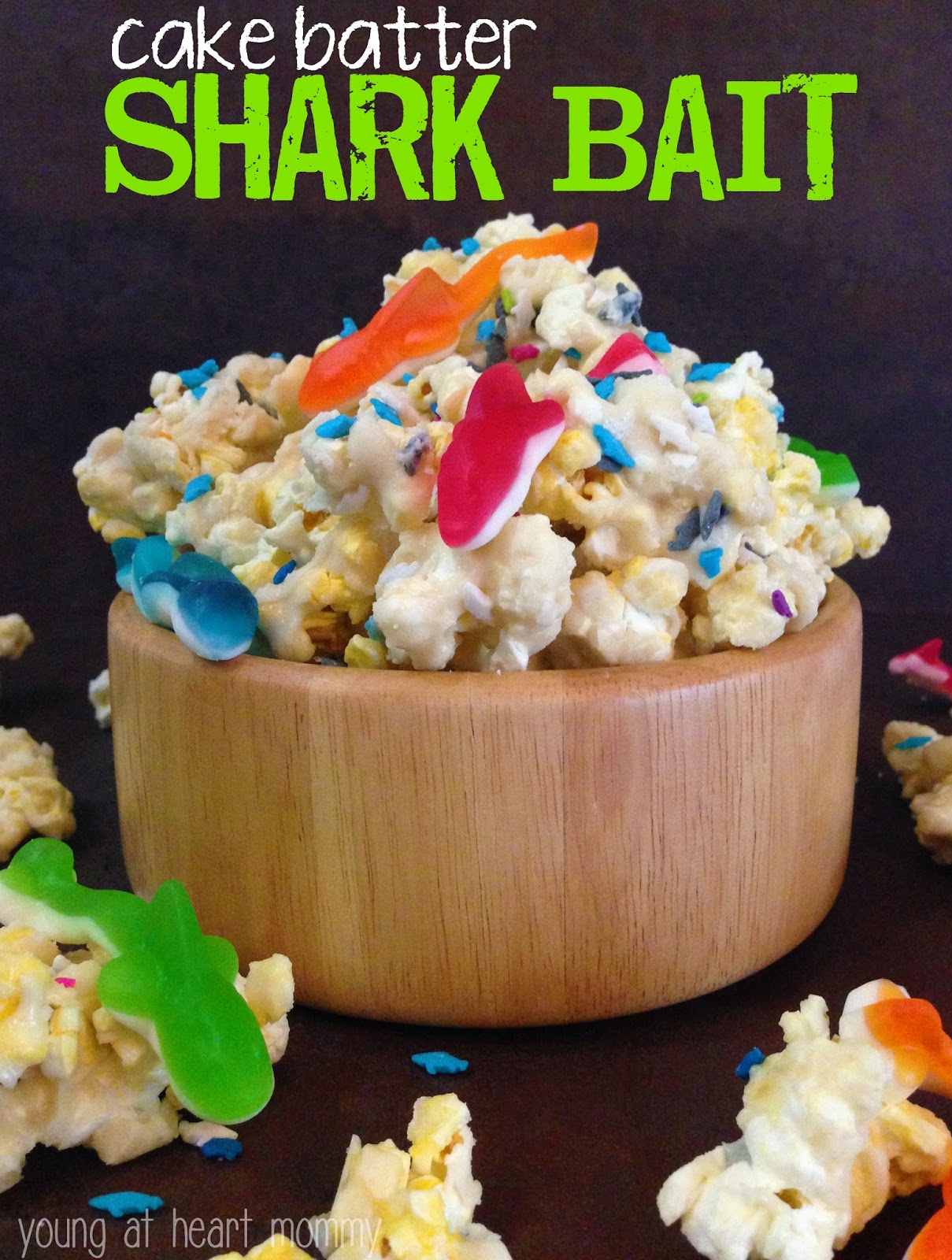 Ingredients:
2 Bags Of Popcorn (White-Butter-Kettle corn)
1 1/2 Cups Of Cake Mix
1 1/2 Cups Of White Chocolate Chips
1/4 Cup Of Vegetable Oil Or Shortening
1/3 Cup Of Shark Or Fish Sprinkles
Gummy Sharks
6. Chocolate Shark Bark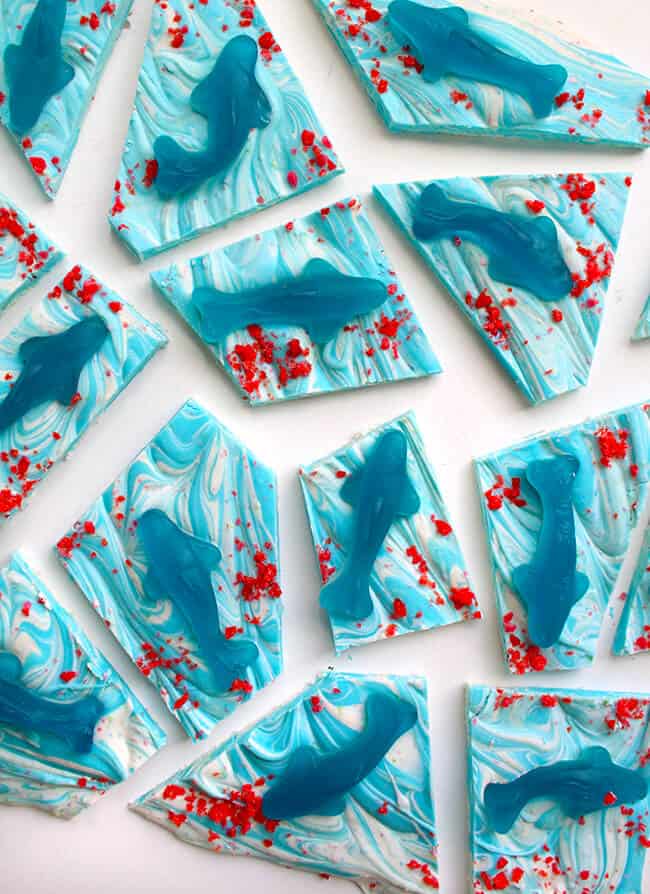 Ingredients:
2 Colors Of Chocolate Melts
Shark Gummies
Pop Rocks (or Sprinkles)
Parchment Paper
1 Toothpick
7. Sharknado Cupcakes
Ingredients:
1 Box White Cake Mix
1 Can Butter Cream Frosting
Blue Gel Icing Color
Vanilla Candy Melting Wafers (1 Bag Each In White, Light Blue, And Dark Blue Colors)
12 To 24 Small Sugar Cones
Blue Gummy Sharks
Wax Paper
3 Small Microwave-safe Bowls
1 Deep Glass Or Microwave-safe Cup
8. Shark Sand Cups
Ingredients:
1 Big Box Of Instant Vanilla Pudding
1 Big Box Of Vanilla Wafers
1 Tub Of Whipped Topping
3 Cups Of Milk (Or Whatever Your Direction On The Pudding Calls For)
Shark Gummies
Bowls/Cups To Mix Your Treats Into
9. Shark Fin Jell-O Cups
Ingredients:
Blue Jell-O
Whip Topping
Small Dessert Cups
Gray Craft Foam
Plastic Spoons
Tacky Glue
Pencil
Scissors
10. Shark Watermelon
Ingredients:
1 Oblong, Seeded Watermelon
Dry Erase Marker
Large Knife
Smaller Utility Knife
Large Spoon
Paring Knife (or the tip of a vegetable peeler)
2 Large Cherries Or Grapes
Toothpicks Or Wooden Skewers
Swedish Fish Candies
Have you created any special Shark Week treats? If you have, share them with us on our Facebook page! Also, be sure to follow PopHorror on YouTube, Facebook, Twitter, and Instagram!