Low-budget indie filmmaking is all about passion. One person (or a small group of people) charges forth in the relentless pursuit of a dream. A dream to make a movie! That passion is evident in every low-budget indie film I've ever watched, and it is certainly evident in Z-ERO (2022), an independent Zombie film coming soon from Bran-Man Pictures and Director Wesley Spangler.
We covered their teaser trailer release a while back, so they were kind enough to send us a copy to review. What did we think?
Check out the teaser, then read on for our review!
Z-ERO (2022) Synopsis
A seemingly average man living in a world being overrun by zombies, is infected by a newly discovered alfa-zombie. He discovers after he is attacked by the alfa, he not only survived the attack without turning, but that he has super-human abilities!
Wesley Spangler is the BRAAAAAAINNNNS behind the operation here. He wrote, directed, and stars in Z-ERO! The film also stars Sharah Trigger, Russell Sage Patrick, Russell G. Voelker, Michelle Mullins, and Rita Christine. Guest appearances by Jim Krut (Dawn of the Dead, 1978), Jeremy Ambler (The Walking Dead), and Sonya Thompson The Walking Dead). Plus a whole lot of zombies and victims!
Here's a look at the poster art by Avery Crumley!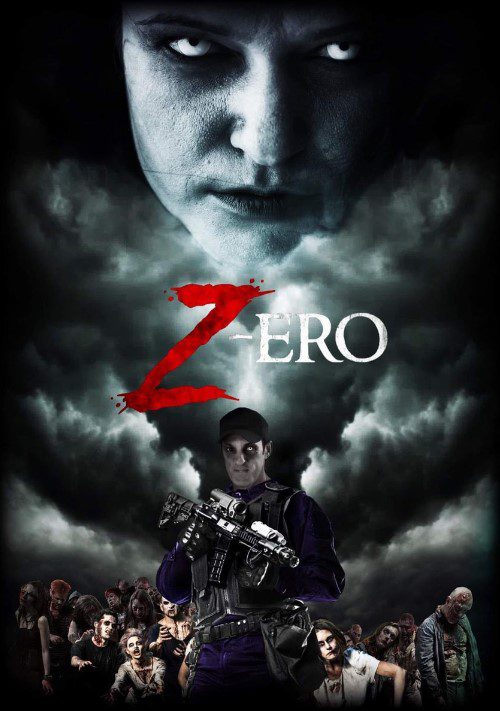 The Dead Walk
Z-ERO (2022) tells the story of an ordinary man, Johnny Barnes (played by Director Wesley Spangler), who finds himself in the middle of a pandemic. "The infected" are walking around, wreaking havoc in East Coast suburbia, and Johnny's been bitten. But he's different. He's not your typical "coldbody" shambling in the streets. Johnny is suddenly capable of superhuman feats of strength, speed, and agility. A Zombie superhero movie? Now that's something I've never seen before!
The infected are led by a deadly female (Sharah Trigger) they call "The Alpha" The Alpha is not someone to be trifled with, as she pretty much kills or wrecks (or kills AND wrecks) everything she encounters. It's not surprising, then, that the President, the military, and a whole lot of scientists are interested in stopping the Alpha and the infected. But do they also have more devious motives?
As the story progresses, the media anoints Johnny as an "Alpha" as well. With the help of his friend Vikk (Rita Christine), Johnny unravels the mystery of his dark past and makes it his mission to hunt down the female Alpha and kick some Beta Zombie (and scientist) ass along the way.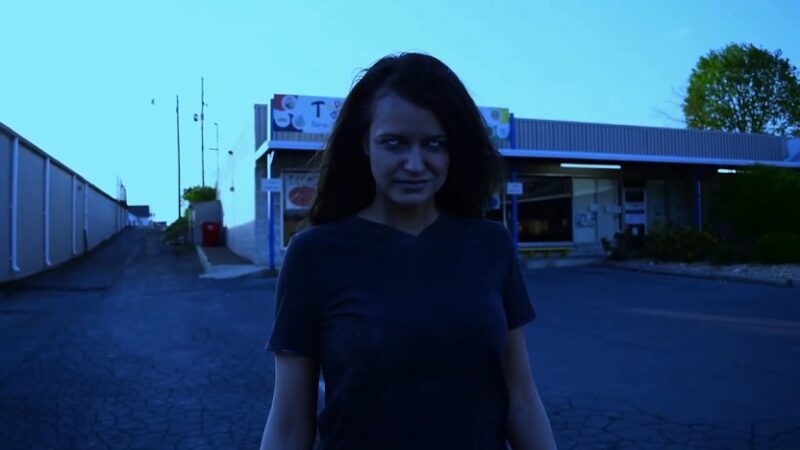 The Indomitable Indie Spirit
There's a quote I love that's often attributed to President Theodore Roosevelt: "Do what you can, with what you have, where you are." That sentiment embodies the essence of Z-ERO. Spangler is from Maryland, and that's where this was filmed. Hagerstown, Maryland, Waynesboro, Pennsylvania, and Martinsburg, West Virginia…all within a 35-mile radius. Looking at the cast and crew, you see a lot of matching last names. Family! That's what it takes to get a movie like this made: family and friends. A community coming together to complete a passion project.
Unless you've been living on a desert island, you may have noticed there's been a pandemic going on for the past several years. This movie seems to channel that COVID mood, and effectively satirizes it. This is done particularly well through the scientists and their freaky agenda and the wonderful WZKZ Channel 32 newscasts that play throughout. The government and CDC are not immune to this satire, but it all plays as good fun. Or, you know, as "fun" as a pandemic or a horde of zombies CAN be!
Wesley Spangler is a country singer (check out his music here) by trade. Not surprisingly, the music is a great strength of the film. The guy wears many hats here: Director, Star, and Composer! John Carpenter would be proud. And it's not just the rockin' country music that stands out. The score is pretty rad, too. Particularly during the fight sequences! It definitely has a superhero energy that really adds to those scenes. On a related note, the audio cues for the aforementioned WZKZ newscasts feel straight out of RoboCop or Starship Troopers, and that's a nice touch.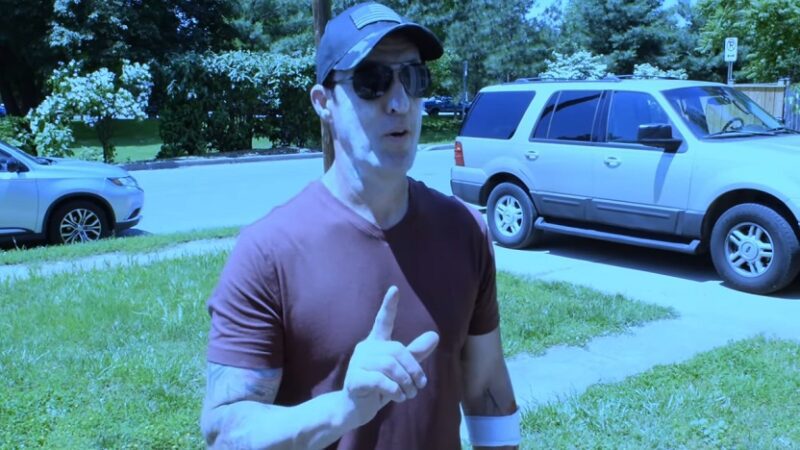 A Shoestring Budget
When I say "indie," I definitely mean indie. There aren't a ton of zombies here, but they do a nice job of making a small group of people look like a horde when they need to. They also do a great job of maximizing minimal zombie makeup for those scenes, saving the more complex makeup and blood for the closeups. The minimal budget and aggressive shooting schedule show in the costuming (soldiers wearing tennis shoes) and the overall production design.
There's a straightforward, functional utility to the cinematography, but I gotta say they did some nice stuff with the flashbacks, in terms of the sepia tone and the flowing visual effects. I thought those scenes were really well done. It's tough to make things look great when you are filming 90% of the film in broad daylight. Sunlight, to boot! But again, it all goes back to doing what you can with what you have where you are. You have to admire that they put it all together and got it to the finish line with such obvious resource limitations.
Don't expect John Wick-level fight scenes here. They are, perhaps, more akin to a classic episode of The Six Million Dollar Man. But that's all part of the charm. They get the point across and there's a good bet no one got hurt along the way. The acting is serviceable. I think Spangler does pretty well as the front and center focal point of the film's hero journey. The lovely Sharah Trigger is suitably menacing and believable enough as the Alpha. The real standout performance, in my opinion, is Russell Sage Patrick as "Ash." Ash Williams. Yes, they went there. I have to imagine "Johnny" is also a wink and a nod.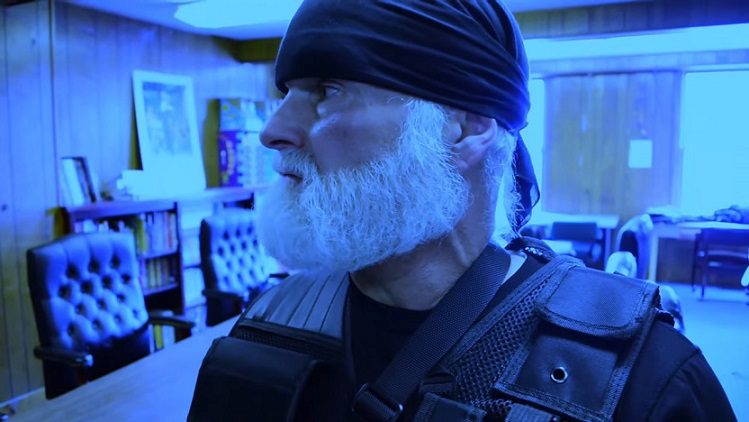 Final Musings About Z-ERO
I had a lot of fun with Z-ERO, and you can tell the cast and crew did, too. There's a scene in the middle where two friends are heading to a 55th-anniversary screening of George A. Romero's Night of the Living Dead (1968). (See? Johnny!) Romero and his films undoubtedly inspired the making of this one, either directly or indirectly, so it was a nice homage. It's also a bit of a coup, from my perspective, to be able to say you got appearances from Dawn of the Dead (1978) and The Walking Dead actors in such a small production.
I recommend watching this one, and be sure to watch all the way through the credits for some fun outtakes and, even better, the promise of a sequel! Do you see? Passion! I'm looking forward to seeing what Spangler and his crew come up with next time out, now that they've gotten the full experience of making a first feature film under their belts.
Z-ERO is making its world premiere (outside of my living room) on February 18, 2023 at the Waynesboro Theater in Waynesboro, Pennsylvania. A second showing is scheduled for February 23, 2023 at the Alamo Drafthouse in Winchester, Virginia! Congrats to you and your whole cast and crew, Wesley Spangler. You deserve it!
If you are in the area, get out there and support independent cinema! You can find more details about the film and the upcoming shows on Facebook. Check it out!