I recently watched the Shudder exclusive 2016 movie, We Go On, expecting a run-of-the-mill horror flick. Now I realize I was proven wrong. This film has seriously been haunting me for days. Prior to watching, no horror movie had really cut me to the core, making the hairs on the back of my neck stand up or sending shivers down my spine. In other words, horror movies were just entertaining. Since watching We Go On, I realize that my expectations have changed. Let's discuss!
In their sophomoric film, directors Andy Mitton and Jesse Holland (YellowBrickRoad) bring us another mind-bending film in We Go On. There is certainly something to be said about Mitton and Holland as a duo, as they have yet to disappoint me. Some may not like their stylistic choices. I, for one, adore them. I'm not sure if "adore" is the proper word since the movie they made that literally gave me nightmares, but you get the point.
We Go On also has a stellar cast. Clark Freeman was the perfect choice to play Miles, effortlessly portraying the timid, unknowing skeptic. This film serves as a mini reunion to one of my favorite shows of all time, Smallville, as it has Annette O'Toole, John Glover, and Cassidy Freeman. Their performances in We Go On were as excellent as I would have expected.
Official Synopsis of We Go On:
Paralyzed by his fear of dying, Miles Grissom is offering reward money to the first person who can show him a ghost, an angel, a demon – anything to prove to him that we go on after our deaths. He narrows the responses down to three viable candidates – a scientist, a medium, and a worldly entrepreneur. And along with his protective mother, he embarks on an adventure through Los Angeles that will spiral into an unthinkable nightmare.
It is honestly so hard for me to find the right words to do this film justice – I loved it that much. Not only do I not want to spoil anything but I also want to say the perfect words that will make someone want to immediately go watch this movie. The mother and son relationship between O'Toole and Freeman is remarkable. It may be the most believable, sometimes hilarious, on-screen mother/son ensemble I've seen in quite some time.
However, the standout performance certainly has to go Jay Dunn as Nelson. He has been haunting me in my dreams ever since I first laid eyes on him in We Go On. There was something just so clever about this script; I actually felt connected to the film from the beginning. Mitton and Holland take away your breath frame by frame, toying with fears you didn't even know you had. Well done!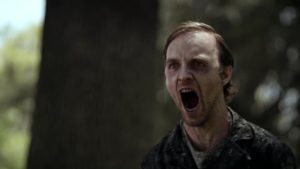 Final Thoughts:
We Go On has crept its way onto my top 5 favorite horror movies of all time. Although this film came out last year, this is by far the best horror film I have seen in 2017. It's a movie that answers the age old questions – Is there life after death? Is it something you actually want to know about? This is the first film that has actually terrified me in ways I have never felt before. Ghost stories and tales about things that I can't see have always been what bother me most in the horror genre and We Go On  takes that to a whole other level. Do yourself a favor and watch this film when you get the chance. It's fantastic!