Do you want a great, mind-bending, psychological thriller that will make your skin crawl and have you contemplating the real meaning of death? The Man In Room 6 is a rollercoaster of a film will enlighten and thrill you from each scene, but be wary; do NOT turn your eyes or ears away! This is one of those films that will catch you off guard if you do not pay attention to the timeline.
Synopsis:
Carrie, a young schizophrenic, is tasked with recording the tales of an elderly man in a nursing home who claims to be cursed with immortality. When the man mysteriously disappears, Carrie is accused of murder and committed to a girls' psychiatric ward.
The Man In Room 6, written and directed by Trevor Juenger (Coyote 2014), stars Jackie Kelly (Tennessee Gothic 2019) and Emmy Award winner Bill Oberst Jr. (The Good Things Devils Do 2020 – our review). The two actor's give off pure chemistry throughout the film that is both grim and unrelenting. I will not tire your reading eyes looking for signs of spoilers (there are none here), but I will tell you that you need to get your rear in a seat and watch this film. Black magic, death, horror… it has it all!
All the while, Carrie, played by Jackie Kelly, learns of William's horrific past and becomes bewitched with him throughout the story. Although due to my undying love for Mr. Oberst, one of the kings of horror, I admit to feeling anger and protection toward his character, William. The Man In Room 6 gives a hint at how traumatic and cursed love could become, creating a parallel universe of betrayal and wonder. The cursed were treated appallingly and doomed to never rest in peace even after death due to black magic, and end brings a sense of despair. I utterly enjoyed this film; everyone involved with the creation of The Man In Room 6 should be recognized for their talent in the craft.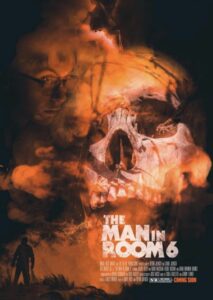 Check this film out when you can. You will not be disappointed.