Have you ever seen a movie before anyone else and were literally so excited about it that you just wanted to discuss how amazing it was? However, you couldn't because no one else has seen it yet and you didn't want to ruin it for everyone else? This is exactly how I feel how Split. M. Night has come back with a vengeance! Let's discuss. Well, as much as I can without spoiling!
M. Night Shyamalan wrote and Directed Split. For its Thursday night pre-release preview, Split grossed over $2 million, $1 million more then 2015's The Visit. On its official opening night, it made $14.6 million and for weekend, the film is expected to make anywhere between $30-37 million. Not too shabby for a $10 million dollar budget! As of right now, Split has a 76% approval rating on Rotten Tomatoes, certifying it fresh. After viewing the film, I believe the RT rating should be at 100%, but what do I know? Only that this film is flipping fantastic!
Official synopsis of Split:
After three girls are kidnapped by a man with 24 distinct personalities, they must find some of the different personalities that can help them while running away and staying alive from the others.
It's really hard for me to go into describing the plot for this film because I just want to explain everything, but I don't want to spoil this movie for anyone. Although you can watch the trailer to kinda know what the film is about. What I will say about the plot is that it makes you question the whole film from the get go. Don't tell me that, just by watching the trailer, you weren't already thinking that James McAvoy might be pulling an Edward Norton from Primal Fear. But I'm not telling!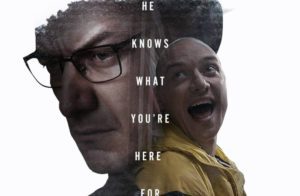 Since I can't really go into depth about the plot for Split without myself spoiling it for you, I'm going to give you 5 reasons why you need to "Bust a Move" like Hedwig and go see this film immediately.
1. James McAvoy! Did he ever blow me away in this multifaceted roll! He is reason alone enough to see this film. Sure, all the other characters are great. However, they are completely overshadowed by McAvoy's brilliant performance. Sorry girls, but Mr. McAvoy really did take the cake. It's hard to imagine anyone else in this role – especially considering since McAvoy actually replaced Joaquin Phoenix.
2. The females in this film are more self aware of their situation than in any horror film that I've seen before. M. Night used some clever casting to bring them to life. It is such a refreshing change to see people – especially females – not being made to play dumb in a horror movie.
3. I also loved the fact that it didn't have to be bloody to be good. This is a PG-13 rated film. It is probably the most spectacular PG-13 film I've ever seen.
4. The use of humor in a terrifying situation was a bit bonus. M. Night does this flawlessly in this film, while at the same time building suspense. Does he really have a split personality disorder? Is there really a 24th personality in this guy's head? Is there really a beast? Are the girls going to escape? It constantly keeps you guessing.
5. The Twist.
Final Thoughts:
If you are not a huge M. Night Shyamalan fan, I believe you will still appreciate Split. If you are a huge fan, you're going to love it without a doubt. This is exactly what M. Night does best and should continue to do. Seriously, it's the best twist yet. The fact that he wrote McAvoy's characters years ago and kept them secret for all these years, only to release it now, is mindblowing. I must agree with him and say the timing couldn't have been more perfect. To you naysayers of Shyamalan, you just wait – he's going to be the one laughing all the way to bank because he is BACK! As the film ended, I will admit I was confused for a "split" second and then – BOOM! I freaking loved this movie.