It's after Halloween but before Christmas, horror fam. You know what that means… it's time for Rhode Island Comic Con! Celebrating their tenth year and happening through Altered Reality Entertainment and Cardi's Furniture, this year's event was a big one, with a ton of celebs, artists, writers, wrestlers, photo ops, autographs, vendors, cosplay, panels, tattoo artists, after parties and even a complete kids' con within the bigger event. You could ride He-Man's Battlecat or Panthor, relax in the mouth of Little Shop Of Horror's Audrey II, take an immersive trip to the Stranger Things' Upside Down and sit inside some of the industry's most iconic cars, including Knight Rider's KITT, a Jurassic Park jeep, the DeLorean from Back to the Future, the original Batmobile, the Ghostbuster's ECTO-1, and a slew of rides from Agents of S.H.E.I.L.D. And once again, PopHorror was there to tell you all about it.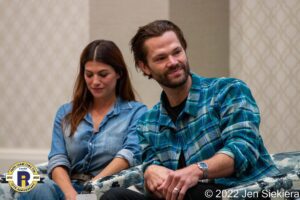 Guests/Celebrities
As always, celebs are divided up on three floors at Rhode Island Comic Con. On the lower concourse, they had Supernatural's Jared Padalecki and his wife, Genevieve, both of whom are now on Walker: Texas Ranger along with Keegan Allen and Mitch Pileggi; Clueless's Alicia Silverstone, Stacey Dash, and Breckin Meyer; Arrow's Stephen Amell; Shazam's Zachary Levi and Ashen Angel; Adventures in Babysitting's Elizabeth Shue; Mallrats' Jason Lee and Ethan Suplee; Doctor Who's John Barrowman; The Walking Dead's Michael Rooker; Cobra Kai's William Zabka and Paul Walter Hauser; the Karate Kid himself, Ralph Macchio; professional wrestler Saraya Fka Paige; Shamiek Moore (Spider-Man: Into the Spider-verse 2018); and Law & Order: Criminal Intent's Vincent D'Onofrio.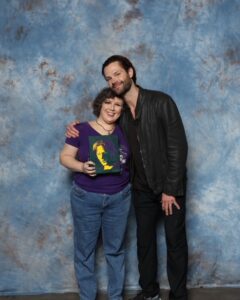 On the third floor, Rhode Island Comic Con 2022 had Danny freaking Trejo; Star Wars' Rupert Friend, Dante Besco, Ahmed Best, Simon J. Williamson, Amy Allen, Spencer Wilding, Grant Feely, Bonnie Piesse, Carey Jones, Dorian Kingi, and Antonio Vina; Supernatural's Alaina Huffman, Jake Abell, Mark Sheppard, Samantha Smith, Emily Swallow, Rick Worthy, Samantha Ferris, and DJ Qualls; A Nightmare on Elm Street's Jackie Earle Haley; The Walking Dead's Seth Gilliam, Margot Bingham, Jeremy Palko, Matt Lintz, and Josh Hamilton; American Horror Story's John Carroll Lynch; Fear The Walking Dead's John Glover; The Shining's Danny Lloyd; Robert Patrick (Terminator 2 1991); My Hero Academia's Kellen Goff, Emily Neves, Leah Clark, Luci Chritian, Kyle Phillips, Amalee, Monica Rial, Jad Saxton, and Christopher Sabat; Adventures in Babysitting's Anthony Rapp, Maia Brewton, and Keith Coogan; The Mandalorian's Katy O'Brian, Kyle Pacek, Lauren Mary Kim, Misty Rosas, Tate Fletcher, and Barry Lowin; voice actress Tara Strong; Robocop's Peter Weller; M.A.S.H.'s Jamie Farr and Loretta Switt; Hocus Pocus's Jason Marsden; Mitchel Whitfield (My Cousin Vinny 1992); Javicia Leslie (Batwoman TV series); Joivan Wade (Doctor Who TV series); Disney's Paige O'Hara, Jonathan Freeman, Linda Larkin, Jodi Benson, Bill Farmer, Scott Weinger, Bruce Reitherman, and Brett Iwan; V's Bonnie Bartlett; The Man In The High Castle's Conor Leslie and Daisuke Tsuji; Kenny James (Super Mario Bros. franchise); She's All That's Rachel Leigh Cook; Rachael MacFarlane (American Dad TV series); Scott Patterson (Gilmore Girls TV series); and William Daniels (Boy Meets World TV series).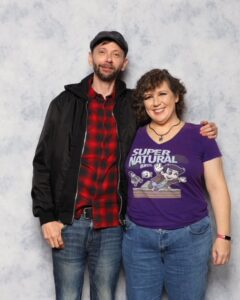 Way up on the fifth floor, we had professional wrestlers Sgt. Slaughter, Bret Hart, Amy Dumas, Billy Gunn, Bubba Ray Dudley, Trish Stratus, Maxwell Jacob Friedman AKA MJF, and D-Von Dudley; Naruto's Keone Young, Brian Donovan, Maile Flanagan, Neil Kaplan, Tom Gibis, Yuri Lowenthal, Michael Yurchak, Kate Higgins, Doug Erholtz, and Colleen O'Shaughnessy; CHiPs' Erik Estrada and Larry Wilcox; The Godfather's Gianni Russo and John Martino, Cool Running's Rawle D. Lewis, Leon, Malik Yoba, and Doug E. Doug; Gigi Edgley (Farscape TV series); Mighty Morphin Power Rangers' Jason David Frank (RIP), Jason Faunt, and Steve Cardenas; Marilyn Ghigliotti (Clerks franchise); and Pinky and the Brain's Paul Robson and Maurice LaMarche.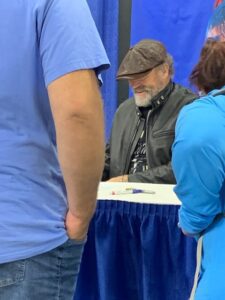 We also celebrated some birthdays this year at Rhode Island Comic Con. Samantha Smith, Seth Gilliam, and Loretta Switt… Happy birthday!
This Year's Question
Every year, I try to think of a unique question to ask the people I meet at Rhode Island Comic Con. Last year, I went with, "If you could book a double horror movie bill at your local drive-in, what movies would you pick and why?" I got a ton of great answers, too! This year, I wanted to ask about something a bit more serious, polling for information both readers and upcoming actors would find interesting: "What's your process for learning and memorizing your lines?"
The Walking Dead
Michael Rooker doesn't memorize his lines. He just says what he thinks his character should say at the moment.
Josh Hamilton (Lance) uses an app on his phone to memorize his lines.
Seth Gilliam (Gabriel) rereads and rewrites the lines both his and the other character in the scene are to say.
Actor turned artist Jeremy Palko (Andy) just said he would love to play Bob Ross one day.
Margot Bingham (Stephanie) is confident in her lines when she can sing them all.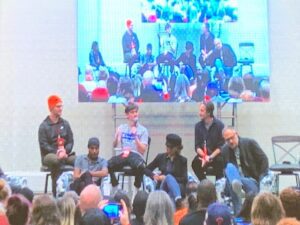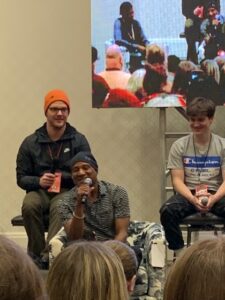 Supernatural
Jared Padalecki (Sam) reads and rereads them over and over until they become as familiar as song lyrics.
Mark Sheppard (Crowley) keeps reading them over and over.
Jake Abell (Adam/Michael) bites down on a mechanical pencil, saying the lines around the instrument and making his mouth work harder to gain muscle memory as he repeats them outloud.
DJ Qualls (Garth) gets the character's mindset down and imagines himself saying them as that character. He's also not afraid to request changes to the writer, especially if they're grammatically incorrect (a man after my own heart).
Samantha Smith (Mary) eats candy while learning her lines, so when it comes time to deliver them, a taste of the candy brings them all back to her.
Rick Worthy (Alpha Vampire) tapes himself saying the other characters' lines and then replays them, challenging himself to say his own lines in the pauses.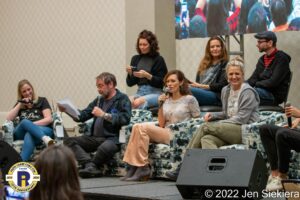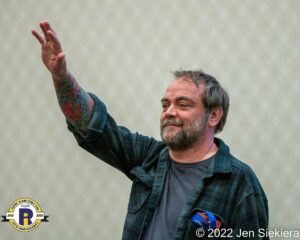 American Horror Story
John Carroll Lynch breaks his lines down grammatically and highlights subjects, verbs, etc. in different colors. He also separates them into beats when the action or dialogue changes direction.
Adventures In Babysitting
Anthony Rapp admits that emotional scenes are easier to memorize and says that "the camera is a vacuum cleaner of truth. You can't lie to it. Everything has to be real."
Keith Coogan learns his lines in order, from the first line to the last, one at a time.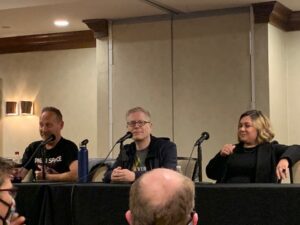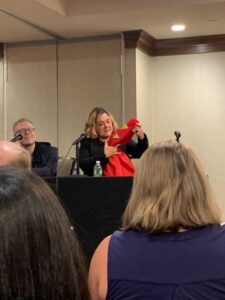 Autographs/Photo Ops
Almost all of the above talent offered selfies and autographs at their tables, and many of them stood for professional photo ops with eager fans. The staff at Rhode Island Comic Con 2022 had all of these scheduled photo times down pat and were efficient at getting people in the correct line for their pre-paid celeb glamor shots. These lines moved fast and ran smoothly, an impressive feat at such a crowded and hectic event. And all signatures could be authorized by an onsite rep for JSA Authentication.
Panels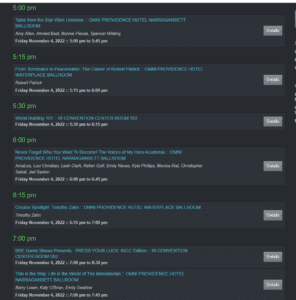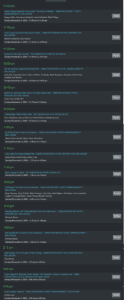 Rhode Island Comic Con 2022 offered the very first ever Walker: Texas Ranger panel with Jared Padalecki, Genevieve Padalecki, Keegan Allen, and Mitch Pileggi, an event that brought in fans from all over the country. There was also a highly attended panel for Supernatural with Mark Sheppard, Samantha Smith, Emily Swallow, Samantha Ferris, Alaina Huffman, and DJ Qualls.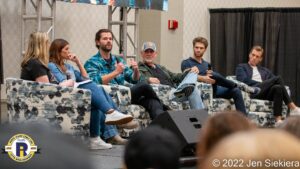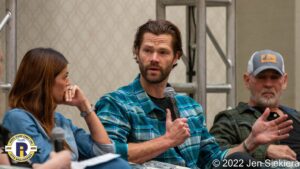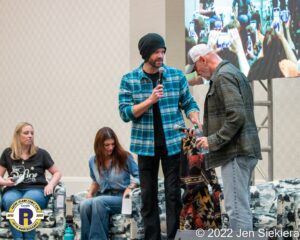 Vendors/Artists
There were four floors of vendors and artists, and ALL of them offered something unique that catered to the tastes of fans from every genre. From artists like Nick Minor (radientgrey.net) to clothing like The Legging Lass (thelegginglass.com) to board games like Game of Ham (@gameofham) to food to jewelry to crocheted and Perler beaded items to Legos to comics, books, VHS and video game consoles, Rhode Island Comic Con 2022 had something for your every nerd.
Cosplay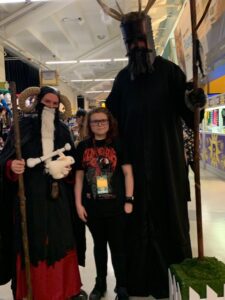 I can't even get over how many different costumes and cosplays were walking around this year's Rhode Island Comic Con. An entire section was devoted to scenes from Star Wars and character cosplayers. I even got in on the action with my Linda Belcher cosplay.
After Party/Karaoke
On Friday night after the con, Supernatural's Rick Worthy threw a karaoke party at The Boombax at the nearby Dean Hotel to raise money for his charity, Buddy's Healing Paws (buddyshealingpaws.org), which helps to fund expensive/life-saving surgeries and procedures for fur babies from all over the country. A few celebs even got in on the singing action, including his Supernatural costars Alaina Huffman and DJ Qualls and The Mandalorian's Katy O'Brian. Worthy started the charity after losing his own best friend, Buddy, just before the Covid shutdown. There are all natural treats available on the Buddy's Healing Paws website as well, so be sure to check it out!