Rising to fame during a significant era in film history, Boris Karloff contributed to the golden age of Hollywood of the 1930s. Theatrical audiences used film as a fantastical adventure to escape the uncertainties in their jobs, the economy and their lives. This month, we celebrate and remember the horror icon Boris Karloff and recognize the legacy he left fans from all around the world.
Artwork by Rob Birchfield
On November 23, 1887 Boris Karloff was born William Henry Pratt in Camberwell, England. As a young boy, he endured his own physical struggles, being bow legged, speaking with a lisp, and stuttering. Although he eventually overcame the stutter, he carried the lisp with him, an impediment noticeable throughout his career. After his mother's passing, he was raised by his eight older siblings. Karloff finished high school and attended King's College London. He left before graduating and moved to Canada to pursue acting.
During the earlier years of his career, Karloff appeared in numerous silent films for Universal Studios. Some of the more notable movies include The Last of the Mohicans (1920), Forbidden Cargo (1925), and Tarzan and the Golden Lion (1927). Karloff gained recognition with films like The Criminal Code (1931) and Five Star Final (1931), which was nominated for Best Picture at the Academy Awards.
It wasn't until 1931 that the world would recognize Karloff for his performance in Frankenstein. His sympathetic, chilling and poetic portrayal of the monster received great critical praise. Universal Studios quickly obtained ownership of the copyright for the makeup design for Frankenstein's monster. Paired with platform boots and costume, the makeup would become an iconic industry image. Karloff reprised the role of Frankenstein's monster twice, once in the highly anticipated sequel Bride of Frankenstein (1935) and again in Son of Frankenstein (1939). He would go on to play roles in more infamous horror films, teaming with fellow horror star Bela Lugosi in films such as The Black Cat (1934), The Raven (1935), and The Body Snatcher (1945).  
Jack Pierce applies the iconic makeup worn by Boris Karloff in Frankenstein (1931).
With the multiple narratives of the Frankenstein storyline, Karloff decided to leave Universal Studios, justifying his reasoning on the fact that the Frankenstein franchise ran its course. In the mid-1960s, Karloff would achieve a late-career popularity when he narrated the animated television film Dr. Seuss' How the Grinch Stole Christmas and offered his voice for the Grinch character. Karloff would later receive a Grammy Award for Best Recording for Children for his contributions to the film.
Boris Karloff voiced Baron Boris von Frankenstein in Mad Monster Party? (1967)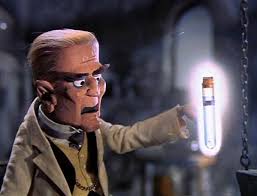 Karloff contracted bronchitis in 1968 and was hospitalized in England. Within the following year, he died of pneumonia on February 2, 1969, at the age of 81. Karloff left behind a legacy in both film and television. He was awarded two stars on the Hollywood Walk of Fame and was depicted in a U.S Postal Service Classic Monster Movie Stamps series. More notorious for playing the role of the monster in Frankenstein, Karloff made a firm foundation in the film industry as a whole.
Classic Monster Movie Stamp series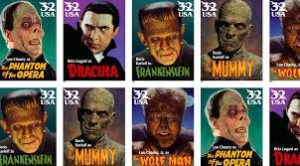 Karloff's name will live on, whether it's through his momentous representation of characters throughout the years, narration and voice overs, or his storytelling. His prestige predominately started with a bold appearance and a story told through expression and body language. The monster is one entity that withstands the test of time and is universally known by all who felt its suffering. There is no doubt that Boris Karloff left an imprint on the horror genre and will forever be immortalized with art, memorabilia, and award nominations and wins.