WithAnO Productions, after announcing the release of their film Kill Her Goats, launched a Kickstarter campaign to put the 80s-style slasher film on VHS. The film is directed by Steve Wolsh (Muck), and stars Kane HodderHatchet), Ellie Gonsalves Zebra), and Arielle Raycene (About Pie).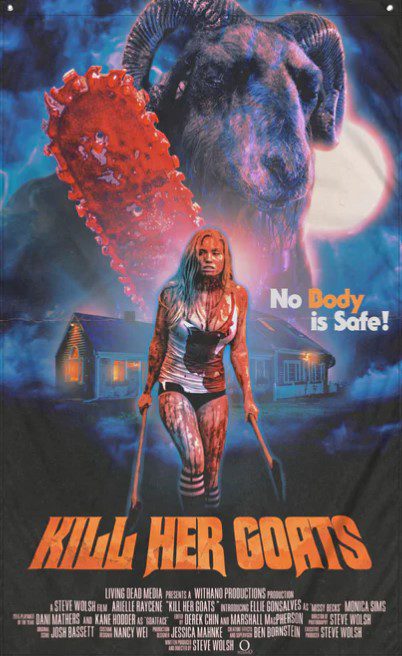 KILL HER GOATS VHS Kickstarter Details
It's a short Kickstarter campaign, only 13 days (anyone sensing a theme?) so that the VHS rewards will be delivered when KILL HER GOATS is released wide on all platforms in March. Fans of the classic home video medium will be able to pick from limited edition variants (Slipcase, Clamshell, Big Box, and Book Box) with other rewards for 80s horror fans that include the Kane  Hodder/Goatface Horror Stuffed plush pillow (think WWF Wrestling Buddies), and autographed collectibles from horror legend Kane Hodder and Writer/Director Steve Wolsh.
The KILL HER GOATS: Don't Let VHS Horror Die Kickstarter runs from today until January 31st, 2023. You can view it at the following link:
There are lots of cool perks at every pledge tier, so check it out!
Are you going to snag a copy for yourself? Tell us in the comments!