Alas! Released on May 13, 1988, the heavy sleeper of the F13 franchise turns 35 this year, and it's not just the infamous heavy sleeping bag kill that makes Friday the 13th VII: The New Blood so great. We received an unmasked Jason for a full 5 minutes, the makeup FX was outstanding, and Jason finally meets his match with the Kmart Carrie final girl… sorry, not sorry Tommy Jarvis and Freddy Krueger.
Friday the 13th VII: The New Blood Synopsis:
Years after the strange drowning death of her father, Tina Shepard (Lar Park Lincoln) returns to the site of his demise, Crystal Lake. Her developing psychic powers were responsible for ending her fathers life, leaving Tina riddled with guilt as an adult. While deceitful Dr. Crews (Terry Kiser) tries to manipulate her abilities for his own ends, both physician and patient are in for a shock when Tina's powers unwittingly free camper-killer Jason Voorhees from his watery slumber.
Let's see that beautiful Friday the 13th VII poster art!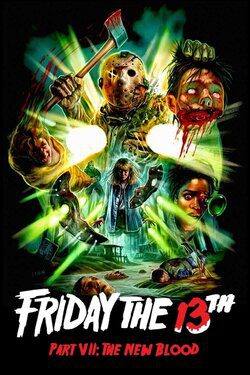 Friday the 13th Part VII: The New Blood is an American supernatural slasher film directed by John Carl Buechler (Re-Animator 1985) and starring Lar Park Lincoln (13 Fanboy 2021), Susan Blu (The Transformers Movie 1986), Terry Kiser (Weekend at Bernie's 1989), Diana Barrows (My Mom's A Werewolf 1989), William Butler (Mothman 2000), Kevin Spirtas (as Kevin Blair: The Kills Have Eyes II 1984), Heidi Kozak Haddad (as Heidi Kozac: Slumber Party Massacre II 1987), Larry Cox (Heathers 1988), Craig Thomas (Spring Fever 1982), Jennifer Banko (Leatherface: Texas Chainsaw Massacre III 1990), Jeff Bennett (Johnny Bravo TV series), Diane Almeida (The Adventures of Ford Fairlane 1990), Jon Renfield (Combat High 1986), Elizabeth Kaitan (Silent Night, Deadly Night II 1987), Susan Jennifer Sullivan (Gattaca 1997), Deborah Kessler, and Kane Hodder (Hatchet 2006) in his first appearance as Jason Voorhees.
The Setup
Friday the 13th VII: The New Blood starts with a young Tina Shepard attempting to escape the chaos of her father physically abusing her mother in their home and heads out onto Crystal Lake in a boat. When her father follows her in an attempt to stop her, Tina's dormant telekinetic abilities emerge, and she accidentally destroys the dock her father is standing on, causing him to fall into the lake and drown.
Years later, a teenage Tina is still struggling with remorse surrounding her father's death. Her mother, Amanda Shepard, takes her to the same lakeside residence as a poor exposure therapy attempt with the guidance of her quack psychiatrist, Dr. Crews. He begins a series of experiments (verbal assaults) designed to agitate Tina's mental state, forcing her powers to become more pronounced. After another upsetting session with Dr. Crews, Tina runs from the cabin to the dock thinking about her father's death. While thinking about him, she wishes he would come back. Her powers unwittingly summon our mass murdering star Jason Voorhees, who has been chained at the bottom of Crystal Lake for years.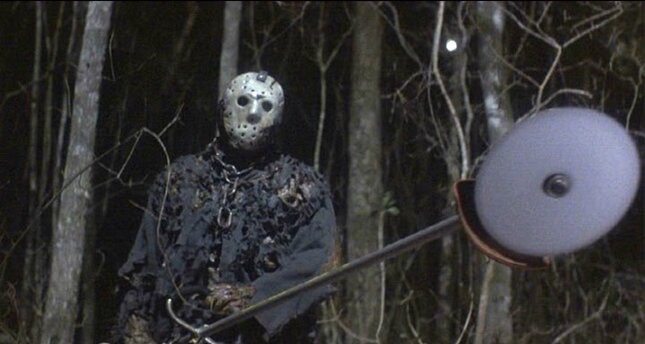 Next door to the Shepard's lake house is a group of promiscuous teens who are throwing a birthday party for their friend, Michael. The group includes Michael's cousin, Nick, preppy Russell and his girlfriend, Sandra, Ben and his girlfriend, Kate, science-fiction writer Eddie, stoner David, perky Robin, shy Maddy, and snobby socialite Melissa. Nick becomes infatuated with Tina despite her visions of a hockey mask-wearing monster butchering his family and friends.
"Okay, you big hunk of a man! Come and get me!" – Lady Camper Judy
Naturally, the cabin of self-involved, partying teenagers becomes the hunting ground for Jason. Meanwhile, Dr. Crew continues to gaslight Tina and her mother, Amanda, for the benefit of his selfish research. Tina will be forced to confront Jason Voorhees, trust her intuition, and embrace her telekinetic powers if she is to save her new love interest, Nick, and what's left of her family.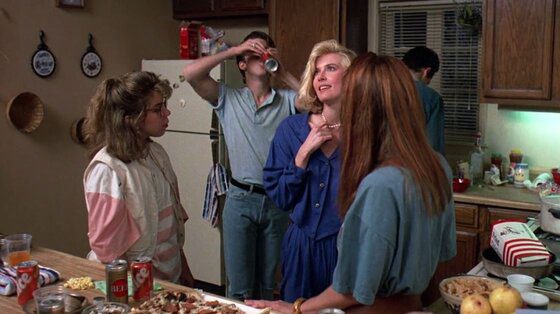 The Payoff
Friday the 13th VII: The New Blood follows your typical FT13 plot with some horny kids doing drugs and getting killed in ever-increasingly bloody ways (as if you needed anything else). However, this plotline becomes the secondary focus of Friday The 13th VII, as the actual story here is more focused on the lives and feelings of the characters. The relationship between Tina and her psychiatrist, Dr. Crews, which evokes an emotional injustice in the audience, is one especially focused aspect.
Jason Voorhees has never been more badass. Not only are there incredible kills in Friday the 13th VII, but Jason also has some brutally fun toys. Kane Hodder delivers an incredible performance as Jason, giving the character depth and real-life motions that he had been lacking in the previous installments. Kane is the only actor to ever play Jason Voorhees thrice, and he puts Jason at his most intimidating level. This is also the first Jason character that slightly separates himself from the vengeful son into the embodiment of instant, walking death.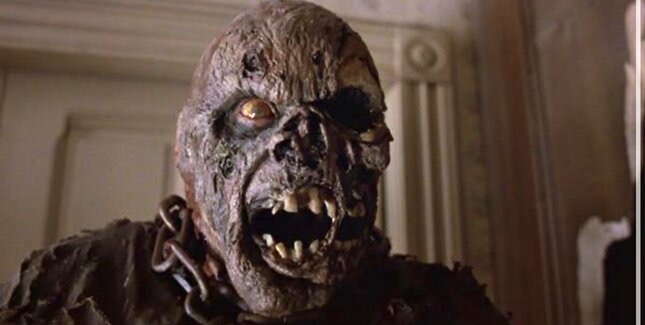 Friday The 13th VII: The New Blood should be recognized for the addition of a character with metaphysical abilities, as opposed to being criticized. So in comes Tina, our troubled telekinetic teen that rewarded us with a historical third-act faceoff. The idea of a girl with telekinesis fighting Jason was amusing, and the kills had remarkably great screams. Why should Jason get to be the only one that stretches the bounds of reality?
The visuals were an art of the time. Gone are the fuzzy screen FT13 movies of yesterday, and the clean, remastered cinematography runs rampant. It is truly a joy to see Jason massacre teenagers in high definition. Director John Carl Buechler's monster makeup FX for Jason is some of my favorite practical effects works of the '80s, and his gore effects are equally impressive and realistic. Though largely cut by the MPAA, many of them are now only available through deleted scenes on the DVD.
"Need a little touch-up work, my ass!" – Maddy
Dark sets and tons of night shots make this a creepy flick. Crystal Lake has a much grimier, nastier look to it than in the other FT13 films. The fog, the forests, and the general lack of light makes it feel like an evil, unnatural, scary place. You can't forget the unmasking of Jason, which is the best interpretation of the unmasked Jason ever.
Friday the 13th VII Final Thoughts
It will always confuse me as to how this film doesn't get more credit in the Friday the 13th fandom as one of the best the franchise had to offer. It had a great protagonist, intimidating villains, spectacular effects, a somber tone, sharp cinematography… Friday the 13th VII: The New Blood is truly an underrated gem of the genre. In a final word, if you love the Friday The 13th franchise, horror films, or slasher movies, I highly suggest you see Friday The 13th Part VIl The New Blood, a terrific sequel that is one of the best in the series. Read our 11 Reasons Why 'Friday the 13th Part VII: The New Blood' Is One of the Best F13 Entries articles here.
You can watch Friday the 13th VII: The New Blood on digital today, and check out the vintage trailer below!