There have been so many adaptations over the years of Arthur and Merlin. But now, a new Arthurian character has emerged in David Lowery's The Green Knight. Check out the trailer and poster below!
[ad1s]
Synopsis:
An epic fantasy adventure based on the timeless Arthurian legend, THE GREEN KNIGHT tells the story of Sir Gawain, King Arthur's reckless and headstrong nephew, who embarks on a daring quest to confront the eponymous Green Knight, a gigantic, emerald-skinned stranger and tester of men. Gawain contends with ghosts, giants, thieves, and schemers in what becomes a deeper journey to define his character and prove his worth in the eyes of his family and kingdom by facing the ultimate challenger.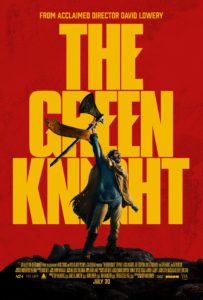 The film is directed and written by David Lowery (A Ghost Story 2017 – read our review here). The cast includes Dev Patel (Slumdog Millionaire), Alicia Vikander (Tomb Raider 2018), Joel Edgerton (Obi-Wan Kenobi), Sarita Choudhury (Lady in the Water), Sean Harris (Mission Impossible – Fallout), and The Witch's Kate Dickie and Ralph Ineson.
I am sucker for fantasy movies, and this one looks like it takes the cake. The cast includes seasoned actors which bodes well for the acting in the film. The Green Knight is set to be released July 30, 2021, in theaters.