A Gen Z Hurricane party, booze, edibles, coke, toxic friendships, and Tinder dates. What could go right? Being a homegrown west coast kid I genuinely feel left out on 'hurricane parties.' Earthquake parties just don't have the same ring to them. Either way, I was surprised to see Pete Davidson staring in suspected slasher horror. I had to rent Bodies Bodies Bodies and see what all the fuss was about.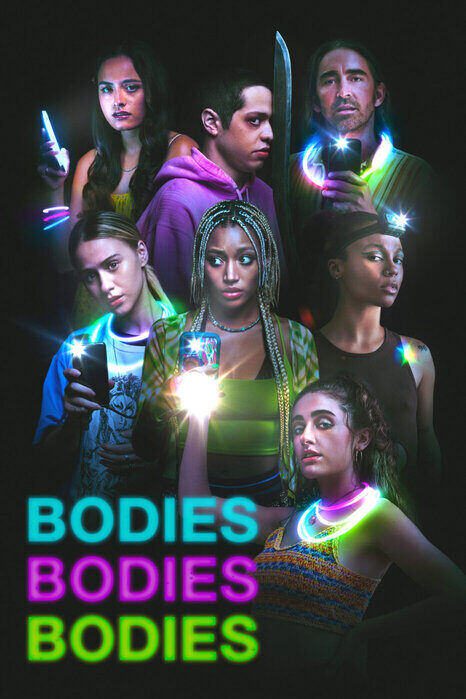 Bodies Bodies Bodies was directed by Halina Reijn (Instinct (2019), premiered at South by Southwest on March 14, 2022, and was theatrically released in the United States on August 5, 2022, by A24. It stars Pete Davidson (Suicide Squad (2021), Amandla Stenberg (The Hunger Games (2012), and Maria Bakalova (Guardians of the Galaxy Vol 3. (2023)
The Setup
Sophie and Bee are newly in love and traveling to Sophie's friend David's dad's mansion. There they meet up with Sophie's old party crew of friends. There's David's actress girlfriend Emma, Alice (Rachel Sennott – Bite Size Halloween (2021) the talkative podcaster, and her Tinder date Greg (Lee Pace – Guardians of the Galaxy (2014) along with the antagonistic friend Jordan. Their friend Max (Conner O'Malley – Palm Springs (2020) left the previous night due to a drama-filled shroom night. Who hasn't been there?
Sophie being freshly sober and out of rehab is fast to show off how well she's doing and to introduce her new love Bee to her friends.
The Tik Tok videos, dancing, and drinking kick off. So does the weather. The party is off and running when they begin to play a game called "Bodies Bodies Bodies'. The game calls for a random drawing of marked paper that marks one person as a murderer. They tag someone in the dark who 'kills the player' and when the 'body' is discovered, all players assemble to try and guess the killer.
When the hurricane shows up and gets real, so does the game. Real dead bodies begin to stack up. Each character has another layer revealed as the coked-out 20-something-year-olds begin to trust nothing and no one. They're left to fend for themselves in a dark mansion, with no cell reception or any possible way to escape the storm or each other.

The Payoff
Bodies Bodies Bodies was a lot of setup and misdirection. Mixed with some humor and subliminal charter plots. It's a fun guessing game that appears generic at a glance. Bodies Bodies Bodies has a fun reveal in the third act that saved the experience. All of the drama, murder, backstabbing, and confrontations were overall convincing performances.
Bodies Bodies Bodies (2022) Final Thoughts
The whodunit experience isn't original, but Bodies Bodies Bodies contributed a new twist that kinda pokes fun at itself and the audience for that matter. Viewer reviews seem to be split on Halina Reijn's film, but if you don't spend any money to rent or see it in theaters I think it lands better as a "why not" selection on a streaming service.
You can watch Bodies Bodies Bodies now on Paramount+, Showtime, and on Digital or Demand. Check out the trailer below!