Hulu's Into the Dark series delivers a new holiday horror-themed segment each month, and the new one for Valentine's Day has arrived. Down is not your average sweetheart tale.
The director for this twisted story is the one and only Daniel Stamm (The Last Exorcism 2010) from a script written by Kent Kubena (producer on the Black Christmas remake). The cast includes Natalie Martinez (Death Race, End of Watch), Matt Lauria (Friday Night Lights), Arnie Pantoja, Diane Sellers, and Christina Leone.
Synopsis for Down
A pair of office of workers get trapped in an elevator over a long Valentine's Day weekend, but what at first promises to be a romantic connection turns dangerous and horrifying in this Blumhouse mash-up of rom-com and horror film genres.
I absolutely adore holiday horror-themed stories, so I'm a sucker for Hulu's new series. Down was fun and exceptionally bloody. It felt like a mashup of Devil and P2, leaning very heavily on P2. That's all I can say without giving away too many spoilers, but you'll get what I mean when you watch it. That being said, it's not really an original concept, but still fun nonetheless.
What really stood out were the impressive performances from Natalie Martinez and Matt Lauria. They were both equally brilliant, showing a range of emotions, and killed it each in scene. They also both had some surprising moments that will leave you floored.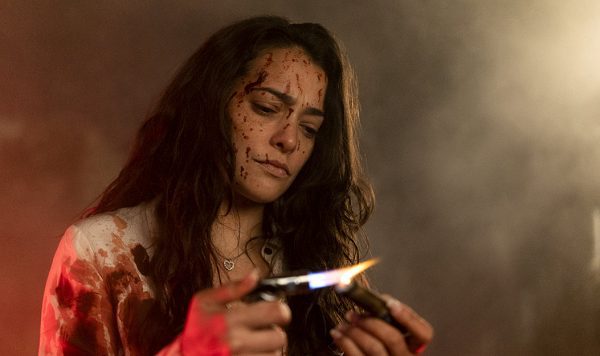 This segment is full of twists and turns, some that you may expect and others that you won't. It was intense and exciting, and I loved seeing the story unfold. There's also a decent amount of blood splatter to warm your cold, black hearts.
Final Thoughts
Each segment was fun, but I definitely enjoyed Down more than the last one. I liked that it didn't take forever to get to the thrilling parts, and as I mentioned before, the performances were exceptional – awarding winning, if you ask me. Stay tuned each month for a new holiday horror-themed segment for Hulu's Into the Dark series. You won't be disappointed!