Capsules was directed and co-written by Luke Momo (The Stamp Collector (2021). It stars Kate Pittard (Spoiler Alert (2022), Davis Browne (Control (2016), Marcus Fahey (Debut (2021) and Caroline Potter Shriver.
Capsules (2022) Synopsis

After experimenting with mysterious substances, four chem students find themselves addicted in the worst way possible: they'll die unless they take more.
Here's a look at the key art.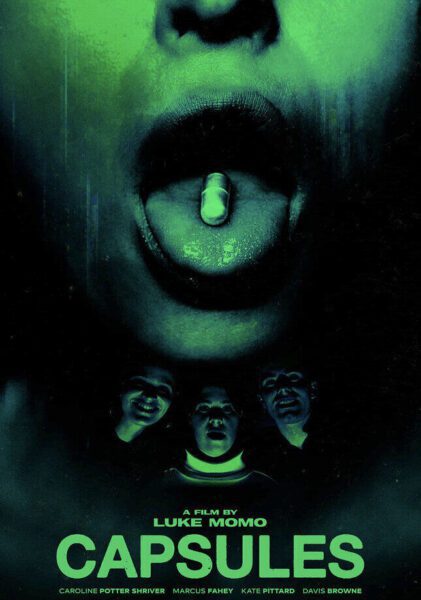 THE SETUP
Have you ever let your curiosity get the best of you? How about when you're all out of fresh new experiences and happen to find some unmarked mystery pills? Well, that's just what happened to this group of chem students on study night. Ryan, Maya, and Dev are mind-altering enthusiasts who invited the lecture hall's smartest student, Jasper, over to help with some studying charts for a big test.
After hours of note-taking, bummer pot, and no more Adderal, the students start to have a few drinks and reminisce over fun psychedelic stories and drug trips. Ryan remembers earlier that day, he had pocketed an unmarked pill bottle while helping a man he found passed out on the street. After some misgivings and heroic convincing, they all decide to dose up and hope for a good trip.
There's some puke, euphoric laughs, racing thoughts, and conversations with milk. They discover that after 7 hours the withdrawals are death. This leaves the Chem students to race to find a cure, through lab research, dissection, and trying to find the old man who originally had the unmarked pills that Ryan lifted.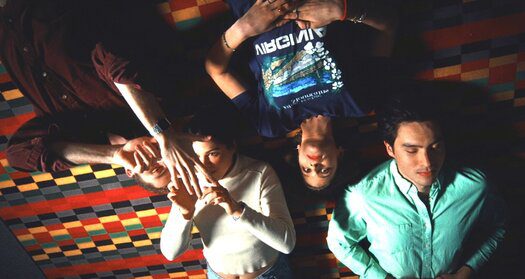 THE PAYOFF
For a small budget with new young actors, Capsules shots looked and sounded great while the performances encapsulate what it's like to be reckless and young. The old-time tripper in me would've loved to see more of the positive effects of the mystery drug the group experimented with. But with a 70-minute runtime, Capsules progresses fast to find a cure.
Capsules (2022) FINAL THOUGHTS
Youth is wasted on the young.  Capsules was a fun idea with an unconventional pace that I think Luke Momo will improve with more writing experience and a larger budget for his future films.
You can watch Capsules On Demand and On Digital right now! check out the trailer below!