Locally Selected Werewolf Movies in Your Town
I have a confession to make… I am not a fan of werewolf movies. But please, hold the rotten tomatoes! It's a bit like how I am with action films. It takes a really interesting story for me to go see it. Otherwise, I have to be forced. However, I'm always open to classics and films that come highly recommended by peers. So when I saw an opportunity to check out Silver Bullet at the Park North Alamo Drafthouse's Graveyard Shift, I couldn't miss out.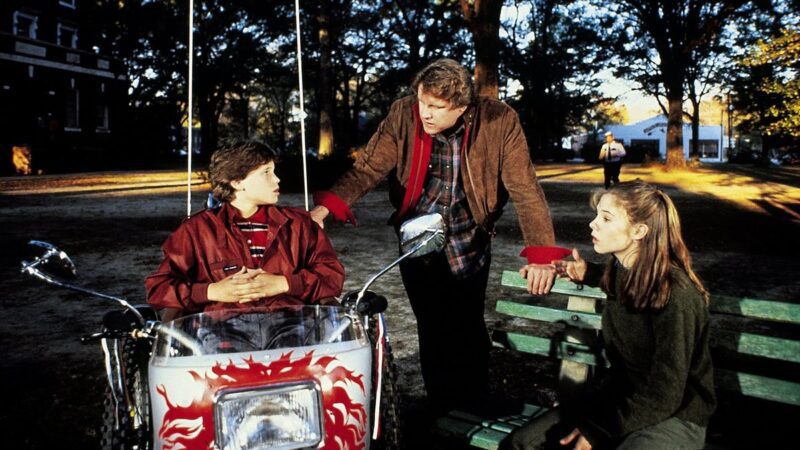 If you missed the digital webcomic released by Fangoria last summer (like I did), no worries! You can pick up a copy at any of the screenings on the Werewolves Across America Tour! Check out select werewolf movies, and meet Rob himself, who will happily autograph your book and have a chat!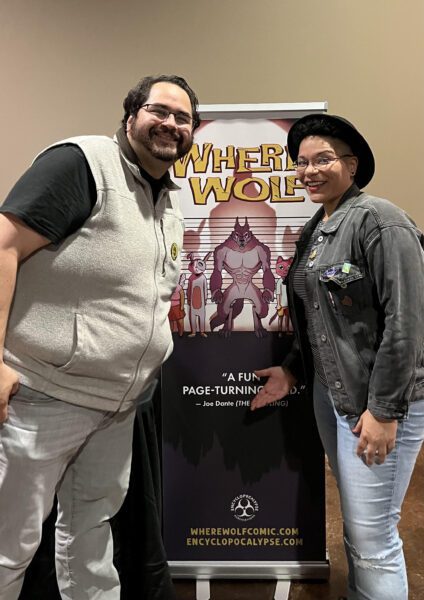 But Wait… What IS Where Wolf?
Before partaking in the night's festivities, I sat with Rob for a bit to learn more about Where Wolf.
I actually first came up with the idea back in 2007. I was working for a newspaper at College Station and I just thought– we had just run an article about a furry community that was in College Station. This is such a weird place for there to be a furry community. It made me think about that. Then I read an article about how apparently in the 1800's there were wolf attacks happening in College Station, and students were being eaten by wolves! So those two ideas kinda just gelled in my head. And over 10 years they kind of like, danced this long, slow dance.
The slow dance produced a highly intriguing story. Larry Chaney is a reporter who's stuck in a rut. Overall, he's unhappy with his work and his life and longs for something more. Unfortunately for him, he also lacks the drive and maturity to have more. But his moment comes when he's asked to help cover a story that involves grisly murders in town connected with a furry convention.
I just picked up my copy at the show I attended and can't wait to dive in! Rob believes there are 3 things that are essential for great werewolf movies:
Comedy, because there's something inherently silly about a guy turning into a big dog. You have to kind of acknowledge that. Joe Dante, the director of The Howling said, 'If you don't give audiences something to laugh at, they're going to find their own things to laugh at.' Tragedy, a werewolf movie is about a person afflicted with a curse. Pushed to do things they don't want to do. Almost a metaphor for addiction. And the third essential thing for any werewolf movie is a badass-looking werewolf.
If you can't make a screening, Encyclopocalypse Publications (Fright Night, Vamp, & Re-Animator graphic novelizations) will be releasing Where Wolf in all your favorite bookstores on July 7th!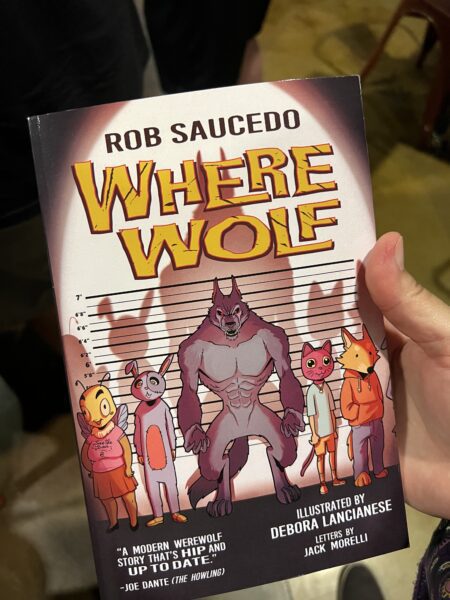 Last year Where Wolf was also optioned by two incredible producers, James Fino (Rick and Morty) and Charles Horak (Deathcember). So the hope is to have an animated series, film, or podcast coming down the road!
Don't Miss Out!
In the meantime, the Werewolves Across America Tour has all your favorite werewolf movies and will continue throughout the summer in selected cities. So you still have a chance to participate in the fun! For any fans of Silver Bullet, whenever there are theatrical screenings held moving forward, you have Rob's efforts to thank for a clean, remastered image. His talks with Paramount motivated them to create a DCP print for a more enjoyable cinematic watch!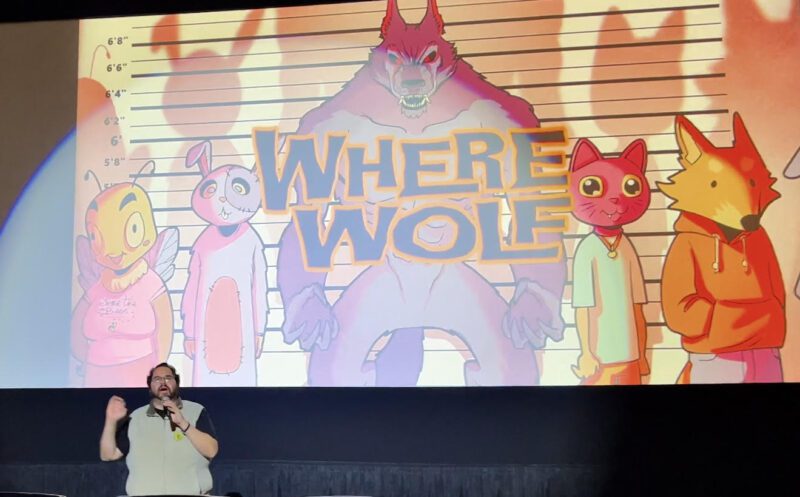 Be sure to check back here with us for additional updates as well as a Where Wolf review. You can also give Rob a follow on Twitter (@robsaucedo2500), Instagram (@robsauce2500), and Substack (robsaucedo) for in-the-moment updates on his tour and the adventures of Where Wolf.
Werewolves Across America Tour Locations, Dates, and Screenings
Alamo Drafthouse South Lamar (Austin, TX): Wednesday, April 5
Graveyard Shift: SILVER BULLET at 7 PM
Weird Wednesday: FREEWAY at 9:40 PM
Alamo Drafthouse Richardson (Dallas, TX): Thursday, April 6
Graveyard Shift: SILVER BULLET at 7:30 PM
Alamo Drafthouse Lubbock (Lubbock, TX): Friday, April 7
Graveyard Shift: SILVER BULLET at 9 PM
Alamo Drafthouse Montecillo (El Paso, TX): Saturday, April 8
Graveyard Shift: SILVER BULLET at 7:30 PM
Majestic Tempe 7 (Tempe, AZ): Sunday, April 9
Cinematery: WOLFCOP – 5:30 PM
Alamo Drafthouse Sloans Lake (Denver, CO): Tuesday, May 2
Graveyard Shift: SILVER BULLET at 7:30 PM
Alamo Drafthouse Wrigleyville (Chicago, IL): Tuesday, May 16
Graveyard Shift: SILVER BULLET at 7:30 PM
Alamo Drafthouse City Foundry (St. Louis, MO):  Wednesday, May 17
Graveyard Shift: AN AMERICAN WEREWOLF IN LONDON at 7 PM
Alamo Drafthouse Springfield (Springfield, MO): Thursday, May 18
Graveyard Shift: AN AMERICAN WEREWOLF IN LONDON at 7 PM
Alamo Drafthouse Yonkers (Yonkers, NY): Sunday, May 21
Graveyard Shift: SILVER BULLET at 6 PM
Alamo Drafthouse Brooklyn (Brooklyn, NY): Tuesday, May 23
Terror Tuesday: SILVER BULLET at 9:30 PM
Alamo Drafthouse New Mission (San Francisco, CA): Tuesday, June 6
Terror Tuesday: THE HOWLING at 9:30 PM
Alamo Drafthouse Downtown LA (Los Angeles, CA): Wednesday, June 7
THE HOWLING at 7:30 PM
Alamo Drafthouse La Vista (Omaha, NE): Friday, June 9
SILVER BULLET at 7 PM
Alamo Drafthouse Woodbury (Woodbury, MN): Tuesday, June 20
Graveyard Shift: SILVER BULLET at 7:30 PM
Alamo Drafthouse Charlottesville (Charlottesville, VA): Sunday, July 9
Graveyard Shift: AN AMERICAN WEREWOLF IN LONDON at 7 PM
Alamo Drafthouse Bryant Street (Washington DC): Monday, July 10
Graveyard Shift: AN AMERICAN WEREWOLF IN LONDON at 7 PM
Alamo Drafthouse Loudon (Loudon, VA): Tuesday, July 11
Graveyard Shift: SILVER BULLET at 7 PM
Alamo Drafthouse Winchester (Winchester, VA): Wednesday, July 12
Film Club: GINGER SNAPS at 7 PM
Alamo Drafthouse Raleigh (Raleigh, NC): Tuesday, August 1
Terror Tuesday: SILVER BULLET at 9:30 PM