If you search Roger Corman, you will find over 400 filmmaking credits to his name. The man is one of, if not the most, prolific film producers ever. He has earned such nicknames as The King of the Cult Film, The King of the Bs, and The Pope of Pop Cinema. After six decades in the business, only about a dozen of his films have failed to earn a profit. They are not only entertaining films… many of them are some of the most well know cult classic films out there.
What may be more amazing than his credits is his eye for talent. He has been a mentor to many top names in Hollywood, including Francis Ford Coppola, Ron Howard, Martin Scorcese, Jack Nicholson, James Cameron and Robert DeNiro, and that's just to name a few. His influence on modern cinema is remarkable. He was even honored in 2009 with an Academy Award for Lifetime Achievement.
Roger Corman is celebrating his 95th birthday this year. To celebrate, let's take a look at the man himself, as well as two outstanding films from his career!
Roger Corman Biography
Roger William Corman was born on April 5, 1926 in Detroit, Michigan. He originally wanted to follow in his father's footsteps and studied Engineering at Stanford University. During his college career, he began to lose interest in this career path. His passion for film grew stronger. He graduated from Stanford in 1947 and got a job at US Electrical Motors, but he only worked there for three days. That finalized that engineering wasn't for him, and he went on to take a job as messenger for 20th Century Fox which would lead to him becoming a story analyst.
He sold his first script, The House in the Sea, in 1953, which was eventually filmed and released as Highway Dragnet (1953). Corman was so displeased and discouraged with the final film and how it didn't match what he envisioned, that he took his salary from the picture and a little earnings and set himself up as a producer, turning out Monster From The Ocean Floor (1954). Corman used his next picture, The Fast and the Furious (1954), to acquire a multi-picture deal with a fledgling company called American Releasing Corp aka ARC, which quickly became American-International Pictures (AIP), where Corman was the major talent behind the camera. AIP became one of the one of the most successful independent film studios.
Roger Corman's directorial debut was Five Guns West (1955). Over the next 15 years, despite little formal training, he directed 53 films. He brought together many quick and low budget films during those years, directing 9 films in both 1957 and 1958. The Little Shop of Horrors (1960 – read our retro review here) was shot in only two days and one night!
Continuing to expand his career in the 1960s, he gained both critical praise and commercial successes, creating a series of adaptations of Edgar Allan Poe stories, most of them starring Vincent Price, including The Pit and the Pendulum (1961).
The Intruder (1962) was a serious look at racial integration in the South, starring a pre-Captain Kirk William Shatner. While this film was both critically praised and won at the Venice Film Festival, the movie became Corman's first—and, for many years, only—commercial flop.
He called its failure "the greatest disappointment in my career." As a consequence of the experience, Corman opted to avoid such direct message films in the future, resolving to express his social and political concerns beneath the surface of overt entertainments.
from IMDb:
Those messages became more radical as the 1960s wound to a close and after AIP began re-editing his films without his knowledge or consent, he left the company, retiring from directing to concentrate on production and distribution through his own newly formed company, New World Pictures. In addition to low-budget exploitation flicks, New World also distributed distinguished art cinema from around the world, becoming the American distributor for the films of Ingmar Bergman, Akira Kurosawa, Federico Fellini, François Truffaut and others. Selling off New World in the 1980s, Corman has continued his work through various companies in the years since–Concorde Pictures, New Horizons, Millenium Pictures and New Concorde.

In 1990, after the publication of his biography, How I Made A Hundred Movies in Hollywood And Never Lost A Dime—one of the all-time great books on filmmaking—he returned to directing, but only for a single film, Roger Corman's Frankenstein Unbound (1990).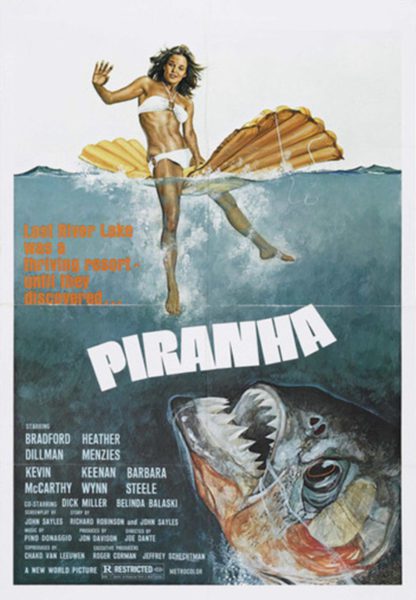 Roger Corman also has been an executive producer for many cult classic horror films, like Piranha (1978), The Evil (1978), Slumber Party Massacre II (1987) and The Terror Within (1989), just to name a few.
I believe Corman perfectly captures why horror films do well:
"Horror films always do well. But in cycles. One horror film will do well, and people will make lots of horror films, saturate the market until there are too many horror films and people will slow down making horror films. And then it'll start up again."
Trivia: Courtesy of IMDb
Frequently has cameos or bit parts in the films of many successful filmmakers who got their start working for him, such as Jonathan Demme, Joe Dante, and Francis Ford Coppola.
Corman, as a director and/or producer, is credited with starting and/or mentoring the careers of many now-famous film directors, such as Jonathan Demme, Francis Ford Coppola, Ron Howard, John Sayles, James Cameron, Joe Dante, and Martin Scorsese, and writers such as Robert Towne and John Sayles. He also discovered/gave early roles to then-unknown actors and actresses such as Jack Nicholson, Charles Bronson, Robert De Niro, Sylvester Stallone, Talia Shire, Diane Ladd and Sandra Bullock.
As an example of his influence in Hollywood, no Corman-produced movies were up for Oscars at the 1974 Academy Awards, but nearly every major category featured wins or nominations by "Corman School" graduates–those whom Corman had either started in the business or mentored early in their careers.
He appeared in two Best Picture Academy Award winners: The Godfather: Part II (1974) and The Silence of the Lambs (1991).
Roger Corman is a legend. We have him to thank for so much, including revolutionizing the independent film. He took chances, and he mentored many of the best Hollywood talents out there. If he hadn't, modern film would not be where it stands today. Thank you, Roger! Happy birthday!