Being a transplant to a new town is isolating enough. Now mix in a language barrier, and reevaluate your career path – aka unemployed superstar. They say idle hands are the devil's playground, well The same can be said about an idle mind. It's a catalyst for a self-imposed existential crisis, or what if the paranoid really are being watched? Chloe Okuno strummed all these strings to her own tune in her feature film directional debut.
Let's take a look at the poster art.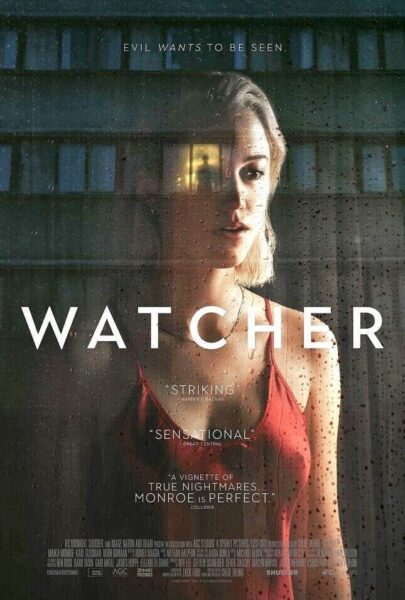 Watcher Synopsis
A young American woman moves with her husband to Bucharest Romania and begins to suspect that a stranger who watches her from the apartment building across the street may be a local serial killer decapitating women.
The Setup
Julia is taking a huge left turn in her life when she decides to abandon her acting career and follow her husbands occupational path. Her husband Francis has taken an office position in his family's homeland in Romania. He speaks the native tongue, but Julia is left at home to practice on tape.
She explores the township sites of Bucharest, does some gift shopping, and familiarizes herself with the new grocery store isles. Julia even has drinks with the neighbor who she can hear through the walls at times. But something still feels off.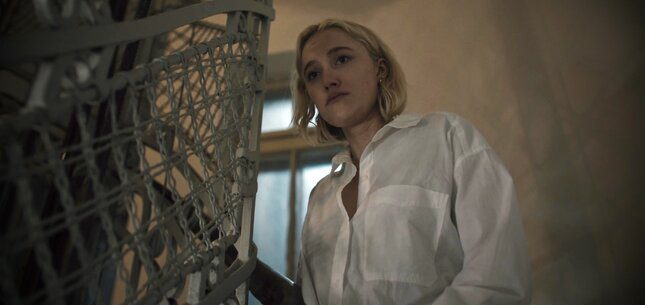 On a late neighborhood stroll with her husband Francis, they see a crime scene with police tape. They discover there was a woman murdered in a gruesome fashion. Julia now notices at night, there's someone's silhouette in the window from the apartment building across from hers. She's been listening to translations of survivors' stories from the now-coined killer " The Spider" who's murdering women in Bucharest.
She feels like someone's following her in grocery stores, sitting behind her in movie theaters. She keeps the curtains drawn day and night, but she is isolating even more so with the thoughts of her rationalizing husband minimizing her fears.
The Payoff
A lot of audiences have been calling Watcher a slow burn, but to me, Watcher was more methodical in its psychologically thrilling approach. It was cognitive terror. Each reveal was purposeful and Maika Monroe's character, Julia, always moved and spoke with intent. The casting felt well-rounded with each character in Chloe Okuno's directional debut. The setting of the cold, grey refurbished town of Bucharest was deceitful. I couldn't tell if it was beautiful or corrupt. It was easy to associate it with Julia's paranoia, as her mental torture progressed.
Watcher (2022) Final thoughts
Watcher is a Hitchcockian prosperity of psychological torment. Chloe Okuno's film successfully illustrates the misery of knowing a truth you can't prove, even if it's to save your own life. I'd definitely recommend Watcher for date night, then see what happens when you suggest a Romanian getaway with your partner, just for laughs.
You can catch Watcher on Shudder, Hulu, and On digital today! Check out the trailer below!