Finally! 10 years after the franchise's last installment of Evil Dead (2013), passionate, loyal fans are rewarded with this year's most anticipated horror – sorry Ghostface – EVIL DEAD RISE (2023). Executive produced by horror royalty Sam Raimi (Evil Dead (1981) and Bruce Campbell (Ash vs Evil Dead (2019), the film was written and directed by Lee Cronin (The Hole in the Ground (2019).

Evil Dead Rise had its premiere at SXSW on March 15, 2023, and was released in the United States on April 21, by Warner Bros. Pictures. The film received generally positive reviews from critics and has grossed $115 million worldwide against a production budget of $15-19 million, making it the highest-grossing film in the series.
EVIL DEAD RISE (2023) Synopsis
A twisted tale of two estranged sisters whose reunion is cut short by the rise of flesh-possessing demons, thrusting them into a primal battle for survival as they face the most nightmarish version of family imaginable.
Look at this poster! LOOK AT IT!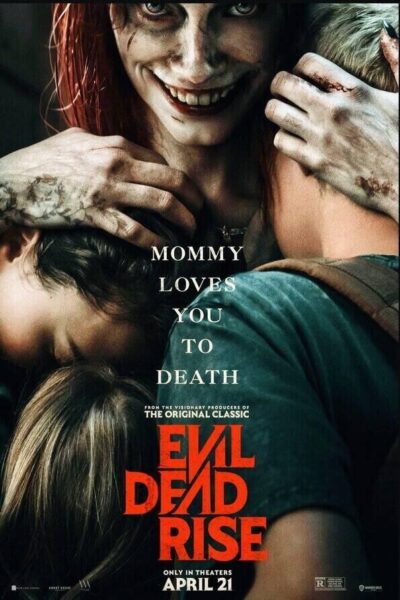 The Setup
Evil Dead Rise focuses on a small broken family of two sisters. Beth is the bachelorette metal chick guitar technician. Older sister Ellie is a tattoo artist who recently became a single mother of her three kids, Danny, Bridget, and the youngest Kassie.
Due to a surprise pregnancy test result taken in a rock venue's backstage bathroom, Beth returns to her sister's top-floor apartment in downtown LA for some big sister guidance. Ellie wasn't expecting a visit, nor was she surprised her sister is there without a reason. Ellie also has to bring Beth up to speed about the kids' dad no longer being in the picture, and how the old apartment building they call home has been condemned and will be demolished in a month. Naturally, Ellie sends Danny and his sisters to go pick up pizza while the adults catch up.
While Danny and his siblings are parking in the apartment garage basement, a strong earthquake hits the downtown LA area and exposes an underground vault room. Being the building was converted from a bank years ago, this checks out. Danny investigates and discovers – or as kids call it nowadays 'fucking around and finding out' – a bunch of religious artifacts, 3 phonograph records, and a strange book. Hoping he can flip the items to help his mom, he disregards Bridgette's advice and takes his unearthed scores home to inspect further.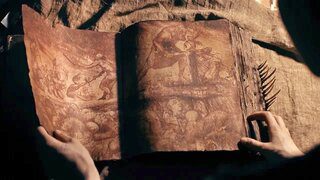 Danny interrogates the book, which looks to have teeth binding the pages shut, and he begins to play the vinyl on his turntable. In the recordings, Danny hears a priest discussing the nature of "the book of the dead" and its powers. The speakers begin to play the priest's translations of the pages. Creeped out, Danny tries to pull the record and kill the power, but something takes control. The pages begin to flip. We see the infamous Raimi camera angle of a flying person view, possessed, twisting and turning to the book of the dead's location where it catches Ellie in the elevator, in a violent recognizable fashion.
"This horror will not stop until innocence is destroyed. Until evil be thy name."~Father Marcus Littleton
Ellie is strung up by the cables in the elevator while a dark presence enters her body. The building loses power, leaving the small family apartment stranded on the top floor because the earthquake also destroyed the stairs. Ellie limps back into the apartment, and her voice begins to stammer and transition into a dark Deadite-possessed tone. She falls to the ground and contorts on all fours, then proceeds to projectile vomit at her family's feet and die in the puddle.
But when Ellie rises, and announces "Mommy's with the maggots now," all hell breaks loose The family is forced to trudge through each hellish nightmare attack from Deadite-possessed Ellie, one after another. Who will survive or who will be dead by dawn?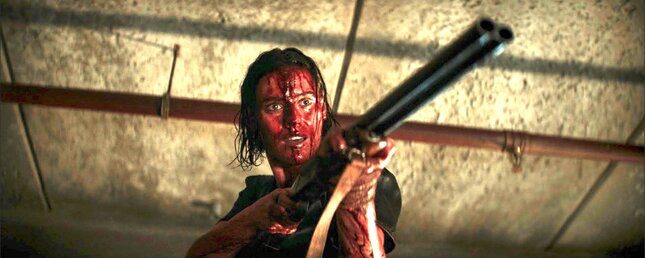 The Payoff
Lee Cronin absolutely delivers horror fans an instant classic. It did feel different from Evil Deads past. The on-the-nose campy kills weren't really in play here, but there was some homage with an eyeball being bitten out of a head and spit in another victim's mouth to choke on and die. I'd say that counts. Cronin's version of Evil Dead felt darker and more sinister than others. It didn't shy away from gore by any stretch of the imagination however, it wasn't the essence. The addition of kids to an Evil Dead film held the tension with no breaks. We know no one is safe here, and they didn't disappoint.
The new setting being outside of a cabin was a refreshing new take that was executed successfully, the dilapidated building had a gothic mansion expression that was exciting. In theaters, I didn't notice how dark the screen was, but watching at home on digital I was tempted to adjust my OLED screen, even at night in my bedroom I was surprised by how dark it was. To be fair, for almost the entire second act the cast was operating by candlelight so it was definitely intentional.
Evil Dead Rise had a direct pace with no teasing and was full of incredibly terrifying shots, substantial character performances, and haunting sounds. One of my favorite moments was in the third act, blood shot out onto a car windshield, which sounded just like the first raindrops of a wet season, tapping and then piling on the glass that puts you at peace. It made me smile ear to ear in theaters. That's right: horror ASMR.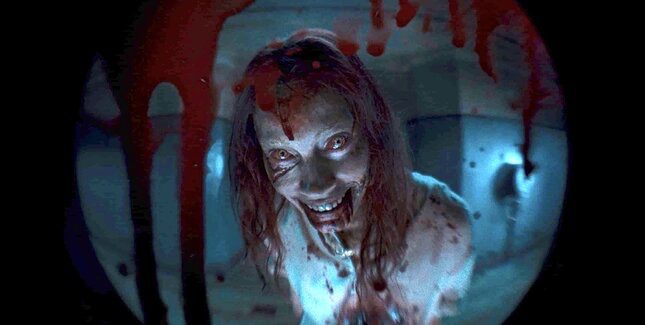 Evil Dead Rise (2023) Final thoughts
I see some OG Evil Dead fans rejecting the modern take online, like Star Wars original trilogy loyalists. But I have to admit, Evil Dead Rise captured the reason why I fell in love with horror. For followers of the genre, it will reward every type of fan. Watching Evil Dead Rise felt like Lee Cronin and Sam Raimi took me by the hand and walked me through the annals of horror Hall of Fame.
There's Exorcist projectile vomit, a Shining-style blood-filled elevator, Deadites in the vents like Aliens, a Hereditary possessed mother, a haunting old building that gives Conjuring and Oculus vibes, a rad running close-up camera shot that's Blair Witch-esque, a mutated, amalgum Deadite that resembles The Thing, gross Drag Me To Hell internal maggots, and *light spoiler* a wood chipper that pulls at some Fargo strings. Don't worry, Evil Dead Rise is also equipped with the almighty boomstick and chainsaw. Oh, and how can we forget, yes even a cheese grater.
You can catch Evil Dead Rise in theaters or On Digital today! Don't forget the Soundtrack is coming to Vinyl soon from Waxwork Records. Check out the trailer below.