Here at PopHorror, it's no secret that we love slasher films, especially those of the low budget indie variety. In recent months, a campy '80s inspired slasher film came to my attention and that film is Pool Party Massacre. Over the past few months, director Drew Marvick has been teasing the horror community with increasingly brutal set photos as well as the film's excellent poster, but no footage had been revealed. That all changes now. Check out the newly released trailer that is chock full of blood, guts and boobies, and then be sure to read on for all the details on Pool Party Massacre and its upcoming release.
Pool Party Massacre is the debut feature from writer/director Drew Marvick. The plot follows Blair, a young socialite who decides to have a pool party with her equally high maintenance friends, not realizing there is a killer hiding out in the house who plans on slaughtering the scantily clad babes one by one. The film stars Kristin Noel McKusick, Crystal Stoney,  Jenifer Marvick, Destiny Faith Nelson (Tales of Torment), Adult film star Alexis Adams, Dora Deceuninck, Paul Card, Nick Byer, Jimmy Grosse, Sally Burnswello (Do Not Disturb 2014), John Molinaro (Party Bus to Hell 2017), Mark Justice (The Immortal Wars 2017), Cameron Lee Vamp, and LeeAnna Vamp (Bob Freeman: Exterminator for Hire 2015).
The film just launched its online store which has all kinds of goodies including DVDs, Blu Rays, VHSs, Posters, T-Shirts, and Beer Koozies. The film is expected to release and ship on 4/20/17.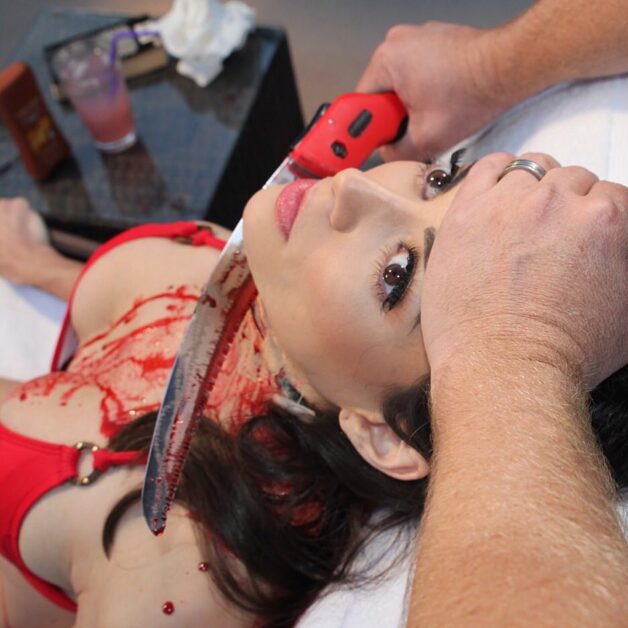 I'm been looking forward to checking out this flick for a long time and I'm super excited that the wait is almost over. Are you looking forward to Pool Party Massacre? Are you planning on preordering a copy? Let us know and be sure to keep your eyes peeled for our upcoming review of Pool Party Massacre.