February 27, 2019, is the 15th anniversary of the release of the movie Club Dread. Since then, the film has essentially become a cult classic. Enough has been written about the comedy troupe behind the film, Broken Lizard, the guys behind Super Troopers. Rather, this retro review is going to focus instead on the movie itself.
Prior to writing this retrospective, I had never seen Director Jay Chandrasekhar's (Super Troopers 2001) film, nor was I familiar with anything about it except that it was supposed to be a horror comedy. But one thing I did hear was that it included many familiar tropes seen in a 1980s slasher: over the top violence, rampant nudity, and ridiculous plot twists. Although I was a bit surprised to find the film was a bit tamer than I expected, it checked off all the boxes for second tier slashers that it was intentionally trying to ape, and in a fairly successful and enjoyable way.
The film's story location is a small but remote island off the coast of Costa Rica. Rather than a cabin in the woods with a handful of characters, Club Dread focuses on a tropical resort owned by the famous singer, Coconut Pete, who was played by Bill Paxton (Near Dark 1987 – read our retro review of this film here) hamming it up as a Jimmy Buffett clone. Soon, the latest group of party guests arrives. The movie's focus quickly turns to the resort staff behind the all-inclusive location. Jenny (Brittany Daniel: The Hamiltons 2006) plays the lead as the resort's aerobics instructor. She's in the company of others, including Puttman (Director Jay Chandrasekhar) as the tennis coach, DJ Dave (Paul Soter: The Slammin' Salmon 2001) as the DJ, Juan (Steve Lemme: Beerfest 2006) as a party planner, Sam (Erik Stolhanske: Puddle Cruiser 1996) as the "fun police," and Lars (Kevin Heffernan (Big Helium Dog 1999) as the resort's masseuse.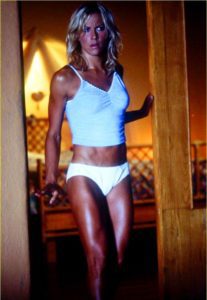 Almost immediately, we get excessive blood and boobs in a pre-credit sequence. The scene promises further over the top scenarios throughout. However, the film takes a step backwards immediately after. With its dark humor and occasional midnight movie characteristics, the picture's impression is more in line with the 2009 remake of Friday the 13th (read our retro on this film here). As a result, Club Dread plays out like a meta version of a slasher rather than an all out comedic romp. Not surprisingly, this most likely is why the movie has been granted cult status. Whether shown within a horror movie marathon or viewed as a standalone farce, Club Dread is a good time that should not be missed.
In my research, I found some pretty cool quotes and trivia about this movie. Quotes first…
Quote #1
Juan: [about the goat incident] At least I wore a condom.
Jenny: You told me they were against your religion!
Juan: Uhhhh… I'm going to go find Pee-na-lope.
Quote #2
Juan: Okay. Juan Castillo… went to jail… for having sex with a goat. Okay? It that what you wanted to hear? We lived on a farm! And I got lonely! We were just a couple of crazy kids!
Quote #3
Juan: When you jump, squeeze your ass cheeks together, or water will fly up your butthole and pulverize your intestines.
Quote #4
Dirk: No, I'm not an asshole. I'm just young, dumb and full – What the fuck? Something just brushed up against my leg.
Jenny: Oh, my God! What is it?
Dirk: No. There's seriously something down here. Oh, no, wait! It's just my gigantic cock!
Now trivia…
Trivia #1
The joke about pronouncing Penelope as Pee-na-lope came about when Jay Chandrasekhar and Kevin Heffernan went to a screening of Carlito's Way (1993), and when Penelope Ann Miller's name came up on the screen a man behind the two said, "Pee-na-lope? What kind of a name is Pee-na-lope?"
Broken Lizard screened the film for Jimmy Buffett, who was so amused that he requested permission to sing some of the film's original songs on one of his live tours.
Trivia #2
The translation of Steve Lemme's character name, Juan Castillo, is John Castle, which was Patrick Swayze's character name in Dirty Dancing (1987). Lemme and Kevin Heffernan are huge Swayze fans.
Trivia #3
During the campfire scene, the cast tells the story of a former employee being tricked into having sex with a female corpse and going insane. This closely resembles the back story of the killer in the movie Terror Train (1980).
Trivia #4
When the staff members are looking at Coconut Pete's old album, one of the song titles is "I'd Tell Ya, But Then I'd Have Tequila."
Club Dread's DVD is out of print but the movie is available wherever VOD can be rented. At some point, it would not surprise me if a special edition Blu-ray became available. But until then, discs from third party retailers are available for quite reasonable prices.