Sept. 16, 2023 is a pretty momentous day. No, there's not a major sporting event (to my knowledge) or any national holiday (though this should be considered one). Jennifer Tilly (Bound 1996), one of my all-time favorite Queens of Horror, is officially 65 years old!
I've always been a massive fan of the Child's Play franchise and anything that the brilliantly sick mind of creator Don Mancini comes up with. However, I wasn't truly hooked until Bride of Chucky and Seed of Chucky, which sees the world of Hackensack, New Jersey go full horror-camp and introduce Tilly as the adorably demented Tiffany Valentine (and, eventually, herself). In honor of Tilly's 65th journey around the sun, let's take a look at her Top 10 moments as the kickass wife of our favorite Good Guys doll.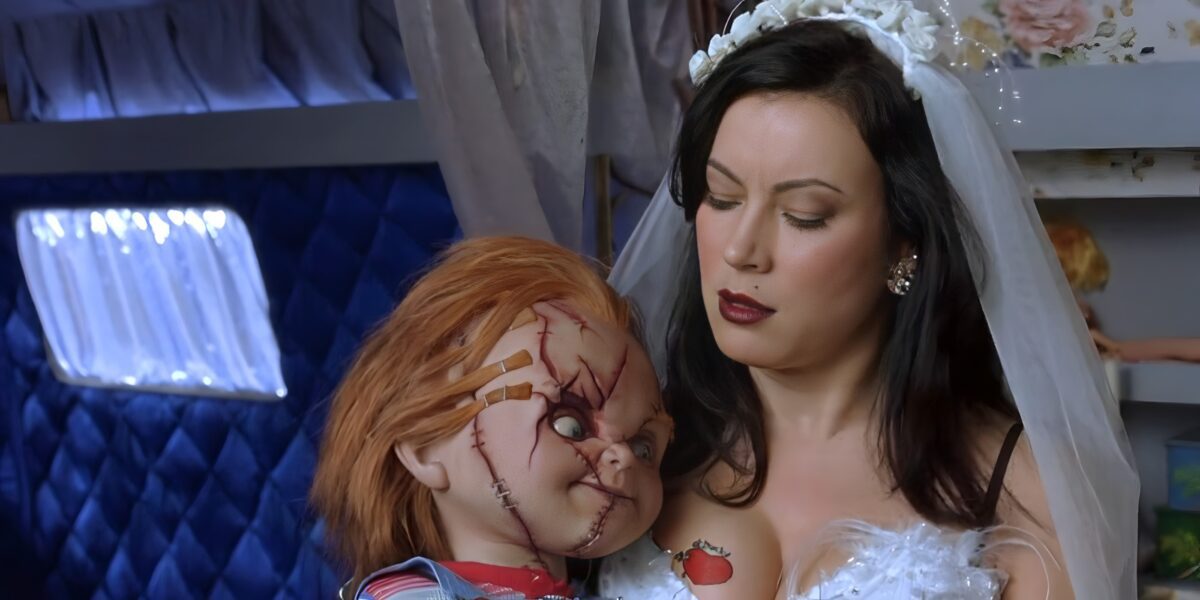 10. Tiffany is a romantic at heart
On many occasions, Tiffany is just as big a psychopathic murderer as Chucky (Brad Dourif, One Flew Over the Cuckoo's Nest 1975). But deep down, she craves a fairytale type of love. In Bride of Chucky, as Jade (Katherine Heigl, Grey's Anatomy 2005) and Jesse (Nick Stabile, Saints and Sinners 2007) tie the knot, she gushes, "I always dreamed of having a big church wedding with bridesmaids and a cake, and my picture in the paper. Not just the usual mug shot, but something really flattering." How sweet!
9. Tiffany has morals when it comes to intimacy
In Seed of Chucky, when Jennifer Tilly is about to hook up with Redman in order to, ironically, land the role of the Virgin Mary in his upcoming film, Tiffany steps in to bring the actress to her senses: "You should be ashamed of yourself. Where's your self-respect? You know what my mother used to say about dirty girls? She said, 'You can always smell it on girls who sell it.'"
8. She's a top-notch party host
In Chucky Season 2, Tiffany, while possessing the body of Jennifer Tilly (we know, it can get confusing), invites her sister Meg Tilly (Psycho II 1983), Bound co-stars Joe Pantoliano (The Matrix 1999 [our interview]) and Gina Gershon (Killer Joe 2011), and friend Sutton Stracke, of The Real Housewives of Beverly Hills, for a dinner gathering to celebrate the birthday of Glen and Glenda (Lachlan Watson, Chilling Adventures of Sabrina 2018). Naturally, it's blood, guts and gore galore, though she certainly has a knack for entertaining guests.
7. The candy bar/beheading scene
At the beginning of Seed of Chucky, before Tiffany performs the voodoo curse, Jennifer Tilly portrays herself: an actress who's best known in Hollywood for playing the wife of killer doll Chucky (and who just wants to enjoy a damn candy bar). It's a disturbingly hilarious moment as, after heading to the props room to retrieve her previously-hidden chocolate bar from Chucky's overalls, she picks up and talks to the head of dead puppeteer Tony Gardner. "You look so real!"
6. Her dark obsession with Nica
Poor Nica Pierce (Fiona Dourif, The Blacklist 2018) has no idea how drastically her life is going to change when that mysterious Good Guys doll arrives at her home in Curse of Chucky. After being mistreated by Chucky for so many years, Tiffany gets it in her head during Chucky Season 1 that Nica is her ideal match. To make sure her knew love doesn't go anywhere, and to ensure the portion of Chucky's soul that's inside Nica doesn't overpower her, good ol' Tiff amputates the arms and legs of Nica, whose blood-curling scream upon realizing her horrifying predicament is award-worthy.
5. Fuck Martha Stewart
For any woman who's ever had to cook, clean and take care of an entire household while their significant other does virtually nothing, Tiffany's kitchen scene in Bride of Chucky is pretty inspirational. Egged on by Jade and Jesse, Tiffany becomes fed up when, after whipping up treats for Chucky, he informs her that the dishes aren't going to wash themselves. Instead of obeying his demands, she flings a dish at his head. Chucky, shocked, asks, "What would Martha Stewart do?"
Next comes one of the most iconic Tiffany tirades of the franchise: "Fuck Martha Stewart! Martha Stewart can kiss my shiny plastic butt. Here I am, slaving away over a hot stove, making cookies, making Swedish meatballs, and for what? For a man who doesn't appreciate me, for a man who can't even wash one fucking dish, for a man who isn't even a man at all where it counts, if you get my drift. Take it from me, honey, plastic is no substitute for a nice hunk of wood."
4. The tub death
There are a lot of deaths in the Child's Play franchise, but one of the most memorable is the bathtub demise of Tiffany in Bride of Chucky. While sipping some wine and watching Bride of Frankenstein, Chucky kicks the TV into the water, causing a violent electrocution. It's at this point that Chucky transfers her soul into the Belle doll, ultimately launching the intricate timeline of Tiffany and Jennifer Tilly's souls swapping between doll and human.
3. Tiffany has a soft spot for her child
No one — not even Chucky — is safe from the wrath of Tiffany. That is, except for her "sweetface" Glen/Glenda (Billy Boyd, The Lord of the Rings: The Fellowship of the Rings 2001), who she instantly forms a strong love for in Seed of Chucky. In fact, she tries to stop her killing addiction for the sake of her kid. Even Jennifer Tilly, before being possessed by Tiffany, can't help but take a liking to Glen, who she comforts with a hug in the hospital after he's forced to kill his own father. And lets not forget Tiffany's ravishing makeover of Glen/Glenda into GG!
2. Tiffany's "little slip" on Redman
In Seed of Chucky, Tiffany is trying so hard to kick her killing habit for the sake of Glen. However, she can't shut down her hatred of Redman. After being told by an addiction counselor that "Rome wasn't built in a day," she decides that one quick murder won't completely knock her off the wagon. While stuffing his face at Jennifer Tilly's table, Redman is quite literally gutted by Tiffany. When Glen walks in on this gorey scene, she assures them that it was "just a little slip."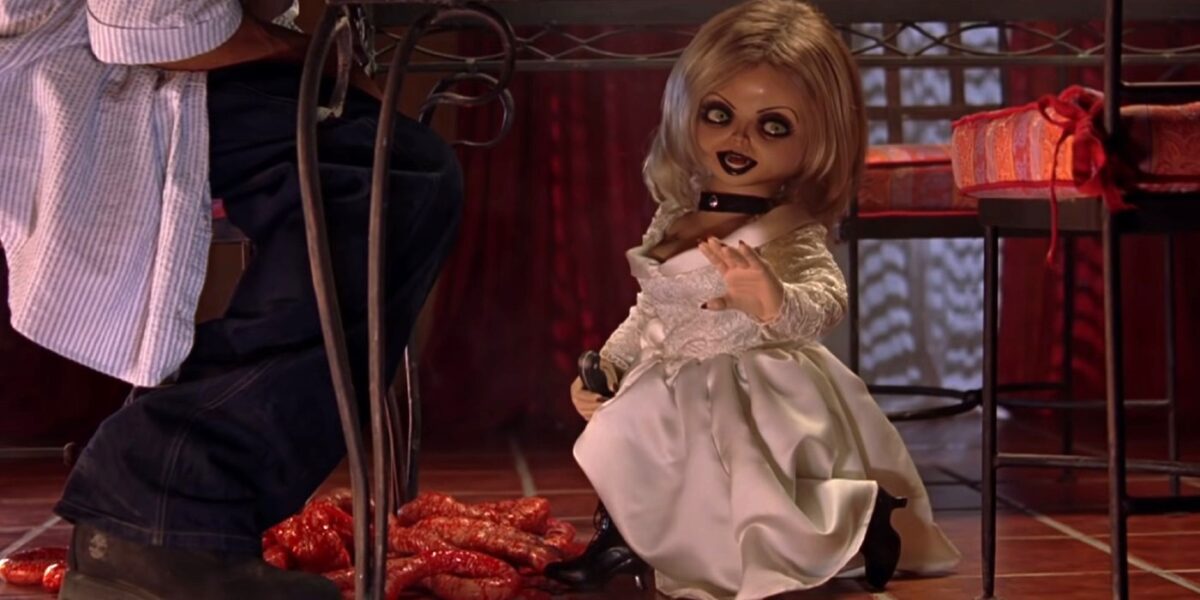 1. Transforming into a badass Barbie
The latter movies of Child's Play would've had a completely different tone if, in Bride of Chucky, Tiffany decided to keep her new Belle doll look as-is. But a clean face and virgin hair is not her style. As Blondie's "Call Me" plays, she transforms her soul's fresh vessel with bleach, black nail polish and grungy makeup, becoming the version of Tiffany that fans have come to know and love. "Barbie, eat your heart out."
Of course, there are countless more unforgettable moments involving Tiffany because, let's be real, Ms. Tilly steals the screen every single time she's on it. Have an amazing birthday Jennifer! I hope I can be as cool as you when I'm 65.