Horror is no stranger to crossovers or expanded universes. The Universal Monsters did it back in the 1930s-1940s, and there is of course, Freddy Vs Jason (our retro review). But there were almost a lot more of them that were all scrapped for one reason or another. Below, we'll look at some crossovers that could have been.
#1 Underworld and Blade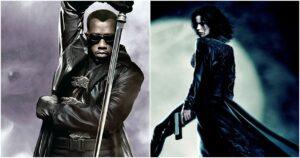 The Underworld camp wanted to do a crossover with Blade (our retro review), but Marvel turned it down immediately. Kate Beckinsale has spoken about this several times publicly, sharing her disappointment that it never happened even as recently as the premiere of her 2021 film, Jolt.
#2 Underworld and Resident Evil
Both Len Wiseman and Paul W.S Anderson have shown am interest in crossing over the horror franchises, Underworld and Resident Evil (our retro review), but were never able to figure out a way to make it work. Another concern that Paul had was that he saw crossovers as geared toward dormant franchises, and neither of theirs were at the time. Now, with a new Resident Evil franchise in the making, it's all the more murky.
#3 Underworld and I, Frankenstein

Stuart Beattie's I, Frankenstein was made by the same producers as Underworld and was intended to be in the same universe. There were even talks of a Selene cameo in the film. Unfortunately, the film was received poorly and all plans of the sequel crossovers we're dropped.
#4 Monster Squad vs Godzilla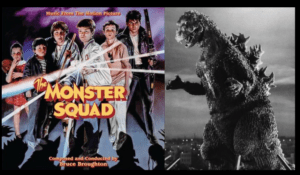 Shane Black reportedly had big plans for a Monster Squad (our retro review) sequel… putting our favorite pint-sized monster mashers up against Godzilla himself. Due to poor box office results, any hope of a sequel was scrapped, however.
#5 Michael Myers vs Pinhead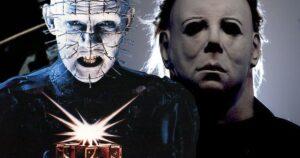 Filmmaker Dave Parker (Tales Of Halloween 2015- our review) had pitched the idea of pitting Michael Myers against the Hell Priest in an project titled Helloween.
He had this to say:
"I was just trying to come up with a plausible way to get these two guys together to fight. So, why does he all of a sudden go out and kill his sister in Halloween? He's trick-or-treating in a flashback and he goes up to this one house… and sees the guy with the black boots, who gives him the box. He opens it and the Lord of the Dead—Sam Hain—escapes from Hell and takes over Michael's body because he doesn't want to be in Hell. Now, Sam Hain is who the Shape is, and that's why he can't be killed."
Dave continued with a time jump to modern day—the '90s at the time.
"So, the story takes place when people try to destroy the Myers house and they find the box hidden between the walls. Of course, they open it and Pinhead shows up, and it's Halloween and it's the Myers house, so Michael shows up because there are people there, and Pinhead recognizes that Michael is Sam Hain because he can feel it, which begins this whole battle in the real world. And of course, the third act takes them all to Hell…"
The movie idea was rejected.
#6 Freddy Vs Jason Vs Ash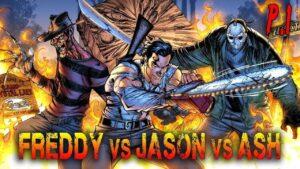 In 2007, a 6 issue comic series of the same name was released, and talks began of a film adaptation of these amazing horror franchises. However, creative differences prevented it from ever being brought to the big screen.
#7 Child's Play on Elm Street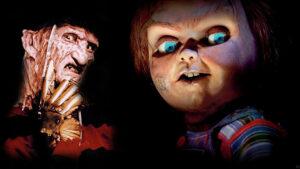 Don Mancini has liked the idea of a Chucky Vs Freddy movie for quite some time, sharing some details of what it could be:
"My idea for the movie is to do it as a horror movie version of Dirty Rotten Scoundrels. It's called Child's Play On Elm Street. Chucky ends up in the bedroom of a house on Elm Street and Freddy meets him there. And they're, like, fans of each other. So they have this rapport. But then they realize Elm Street isn't big enough for the two of them. It only can contain one killer."
So far, he's been unable to get it greenlit due to rights issues.
#8 Leprechaun Vs Candyman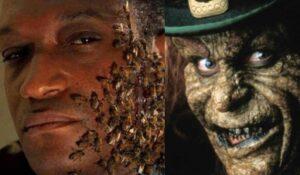 After the success of Freddy Vs Jason, studios wanted another crossover to cash in on. Leprechaun Vs Candyman made it far enough to have a rough draft of a script sent to Tony Todd himself, only to be shot down. Todd said it would be a discredit to his character and could tarnish the legacy of Candyman.
Would you have liked to see any of these be made or do you think they're better off shelved? Are there any more that we've missed? Let us know in the comments!