In case you guys didn't know, it's the year of the clown, baby! Although clown films are released all the time, it's not ever year that two highly anticipated ones are coming out one right after the other another: Crepitus and IT. You can smell the coulrophobia in the air and the sounds of extra locks being bolted on doors in preparation for this epic occasion. But the question is which clown should you fear most? On that note, we present to you Crepitus Vs Pennywise!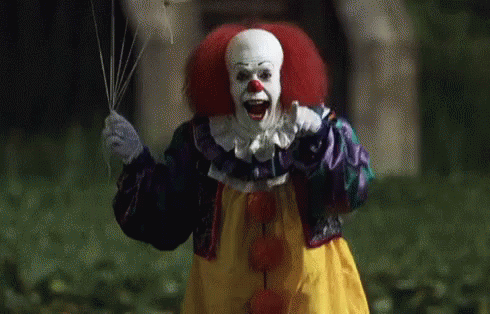 Crepitus and Pennywise – these clowns don't mess around but do have similar passions… like the blood and tears of children. They are in insanely disturbing, reside in creepy houses, and have a long history of killing the innocent. However, despite their similarities (maybe they went to the same clown school?) they are each unique in their own ways and have their own reasons for their madness. Each film has so much to offer and they both happen around the horror fan's favorite time of year.
Crepitus is set to be released on October 15th (subject to change), bringing Halloween to us a tad early, which is awesome. This film is directed by Haynze Whitmore and written by Eddie and Sarah Renner. The story revolves around two siblings who are forced to move into their grandmother's creepy haunted house. However, it only gets worse when they discover a cannibalistic clown name Crepitus is residing there as well.
Everything about this story is cringeworthy and makes you fear clowns all over again. They have an all-star cast including  Bill Moseley, Eve Mauro, Chalet Lizette Brannan, Caitlin Williams, Lance Paul, Darren Barcomb, and Johnny Stevenson.
Meanwhile, IT is set to be released in theaters on September 8th, just about the time leaves begin to fall. The film is based on the book by Stephen King and is directed by Andrés Muschietti. The story revolves around a group of kids known as The Losers Club who come face to face with an evil clown named Pennywise that is making children disappear.
It's been 27 years since the first adaptation came out in 1990, which is ironic (or maybe not), since in the book it is stated that Pennywise only comes out to terrorize the town of Derry every 27 years. It stars a great cast including Bill Skarsgård, Finn Wolfhard, Javier Bote, Sophia Lillis, Jaeden Lieberher, Nicholas Hamilton, Megan Charpentier, Steven Williams, Wyatt Oleff, Owen Teague, Jack Dylan Grazer, Jeremy Ray Taylor, Jackson Robert Scott, and Pip Dwyer.
We have two amazing actors, both named Bill, playing sickly yet badass clowns. First, let's look at the new Pennywise. Bill Skarsgård is an incredibly talented actor who has a knack for the dark and depraved. He proved he fits in perfectly with the horror genre with his character Roman Godfrey in the hit Netflix series Hemlock Grove. He was beautifully terrifying with a thirst for blood and always captivated the screen. Although no one can replace Tim Curry as Pennywise, I think Skarsgård will do an exceptional job with his own spin on it. I think this film will be far darker than the original adaptation and will shed a whole new light to what the supernatural child killer of Derry is all about.
Then we have the legendary Bill fucking Moseley playing the cannibalistic clown Crepitus and I don't think they could've picked anyone more suitable for the part. Moseley excels at every role he does and although we've seen him play some demented characters before, this just may be his best one yet. Crepitus, to me, is just a wee bit more demented than Pennywise. In the trailer you can hear him say, "Two I will pluck, one I will eat, the other I'll fuck." That's pretty sick, right? Either way, I think both Bills are going to kill it with their clown performances and will both give their own unique spins on sick and demented clowns, leaving us sleeping with the light on.
Speaking of trailers, both IT and Crepitus have intensely creepy teaser trailers that give us a taste of what the story will be like and the type of fear we will be having instilled upon us later this year.
IT trailer – https://www.youtube.com/watch?v=fh8FLnFQj3o
Crepitus trailer – https://www.youtube.com/watch?v=nJCieUvztl4
I love how both clowns reside in creepy homes but for different reasons. Each house is one that I would never step foot in and I like the idea of something simple being the host of something so evil. Which house do you think is creepier?
Overall, when it comes to Crepitus Vs Pennywise I don't know whose pearly whites shine brighter. Both Crepitus and Pennywise seem to take their clown business very seriously and have their own special way of dealing with children. With the popularity of Stephen King, the book, and the first adaptation, IT clearly has the upper hand, however, with a great story like Crepitus and an amazing actor like Bill Moseley playing him, I think it will be an interesting turnout to see which clown will be favored above all when everything is said and done. Which film are you excited for? Or are you dying to see both of them? Do you think both Bill's can pull off their clowny characters? Let us know in the comments!