Christmas horror is one of our favorite sub-genres. I mean, who doesn't love a good killer Santa film? Well, you'd better watch out… THE MEAN ONE (2022) is here to take Christmas horror to a whole new level. But not with a killer Santa…with a killer Grinch! David Howard Thornton (Terrifier 2, read our review here) stars as the killer meanie, and we can't wait to check it out!
Have a look at the official trailer below, then read on for the details!
THE MEAN ONE (2022) Synopsis
One Christmas Eve, in a sleepy mountain town, Cindy's mother is killed and her Christmas stolen by the Mean One, a bloodthirsty green grouch in a red Santa suit. 20 years later, Cindy returns to Newville, where the monster launches another bloody reign of terror that threatens to destroy Christmas. Now Cindy's got a bold new purpose: trapping and killing The Mean One.
Steven LaMorte directed the film from a screenplay by Flip and Finn Kobler. It stars David Howard Thornton, Krystle Martin, Chase Mullins, John Bigham, Erik Baker, and Amy Schumacher.
Here's a look at the official poster art!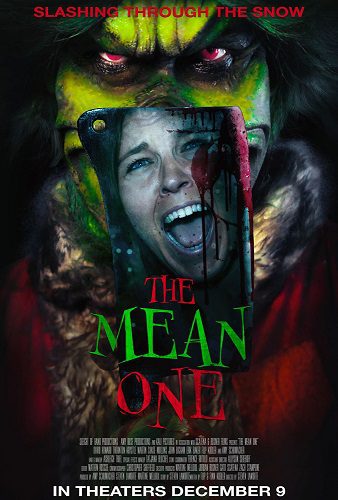 The Mean One hits theaters on December 9, 2022. You can sign up for ticket notifications on the official website!
What can we say? Our black hearts grew three sizes today! What do you think? Are you going to check this out in theaters on December 9? Tell us in the comments!