The newest sharkbuster, THE BLACK DEMON, is righting capitalism's wrongs and giving horror fans the R-rated megalodon movie it's been waiting for.
From Adrian Grunberg, director of Rambo: Last Blood (2019), comes THE BLACK DEMON, starring Josh Lucas (American Psycho, (2000), Fernanda Urrejola (Cry Macho, (2021), Julio Cesar Cedillo (Cowboys vs. Aliens, (2011), and Venus Ariel (Exposed, (2016).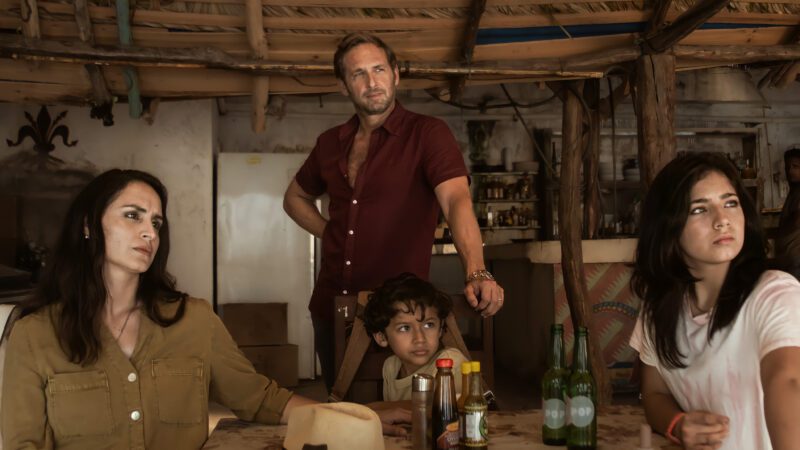 Paul (Lucas) brings his family to a beautiful, once-thriving town built on the backs of the hard-working men on the nearby oil rig owned by his employers. Unfortunately, the town is unrecognizable now, as the oil rig has had a spill, and safety concerns may call for the whole production to be shut down. On the journey to the rig itself, it becomes apparent that the murky, oil-contaminated waters are as barren and dangerous as the town – save for one giant creature lurking beneath, waiting to reclaim its rightful territory.
Megalodons are huge sharks that existed around 20 million years ago. They were up to fifty times bigger than the most giant great white sharks we see today. However, there is no scientific proof of their existence in modern times.
In Mexican tradition, though, the myth of the Black Demon – the monstrous black shark that lurks in the depths of Mexico's Sea of Cortez – is alive and well. Legend has it, the shark is sent to balance the power between the earth and its inhabitants. The oil spill in these once-beautiful waters and the economic destruction of this once-bustling destination are certainly screaming for a savior.
The question is, will anyone get out alive to tell the tale of THE BLACK DEMON?
With an impressive cast and effects to match, you're about to be taken on a terrifying nowhere-to-run nightmare of humans versus nature backed by a legend rooted in the Mexican tradition. THE BLACK DEMON delivers a shark movie with more than just bite. This tale has heart.
THE BLACK DEMON is only in theaters on April 28th.