Absurdist fiction is a favorite subgenre of mine that Quentin Dupieux does well. I will say that while you can never really know what to expect from a Dupieux film, I think the trailer for Smoking Causes Coughing gave me a fairly different impression of what the movie would be. 
Saving the World From Evil with the Combined Power of Toxic Chemicals
Dear reader, while I do my best to give spoiler-free reviews, for some films I feel it's a bit necessary to do a deeper dive. That said, while I don't feel anything revealed here ruins the film, some things mentioned may be considered light spoilers.
Have a look at the trailer, then read on!
The Story (Kind of…)
The Tobacco Force is a rather unlikely bunch of heroes, using their toxic "powers" (harmful chemicals found in cigarettes) to rid the world of evil. Complete with Super Sentai-style get-ups, they fight cheesy foam rubber Kaiju-like creatures and other threats to the world. They're a week away from battling a big baddie called Lézardin but aren't performing their best. Their boss, Chef Didier, a Muppet-looking rat reject with mysterious green ooze constantly running from his mouth (voiced by Alain Chabat), notices the lack of cohesion in the team. He stresses the importance of them being a solid unit in order to stop Lézardin from destroying the world and decides to send them on a lakeside retreat.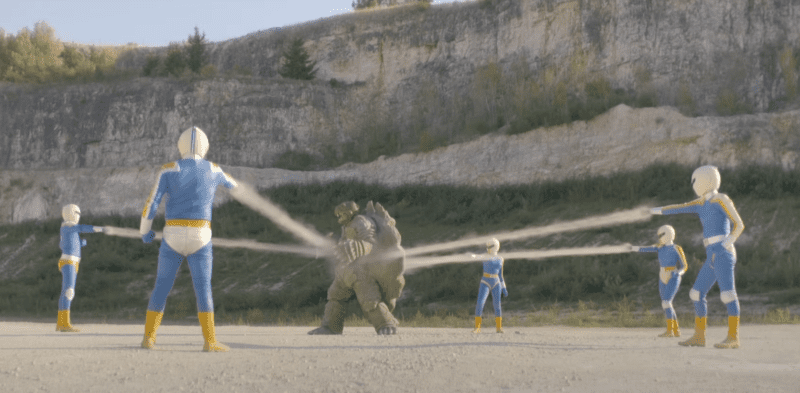 Even Heroes Practice Self-Care
At the retreat, Ammoniaque, Méthanol, Nicotine, and Mercure come to realize they don't fully know how to relax. Team leader Benzène takes right to it and offers a scary story by the campfire to help lighten things up. After some bickering and resistance from Ammoniaue, Benzène begins. And this is where the film takes a turn I didn't expect.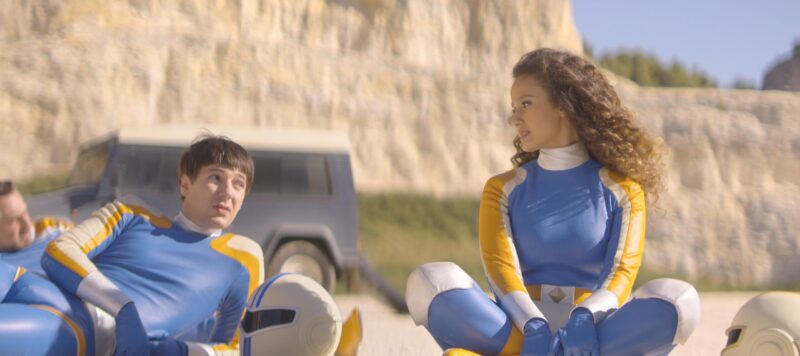 Tales from the Crypt is Not My Thing, I'm Going to Bed.
The film takes on an anthology vibe when the setting shifts to Benzène's story about 2 pairs of friends who take a trip to the countryside for a weekend getaway. Which… this one is probably my favorite. One of the wives finds a freaky helmet from the 1930s that resembles a welders mask that "quickly purifies" the wearer's mind and offers clarity in thought.
There's then the promise of Mercure offering a story of his own, but they're interrupted by a judgemental little girl who hates adults that lives nearby. Her parents come to take her home after she tells her own little 2 sentence horror story. The team calls it a night and tries rest and relaxation the next day.
Fish Tales
While taking a swim, Benzène catches a barracuda that he decides to serve up for lunch. Staying true to absurdist fiction, the barracuda snaps to and tells the team from the grill, that it too has a terrible story to share. And this one… filled with so much hilarious ridiculousness and gore. I can't even begin to touch it without giving the best bits away. The ending of the story is never told, as the barracuda has now burnt up on the grill.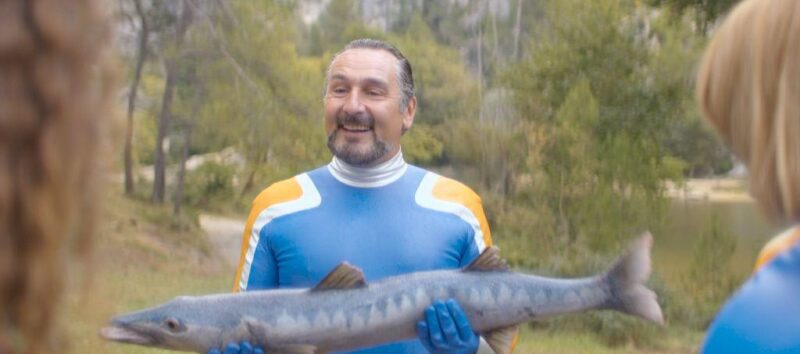 Third Time's a Charm
Lunchless and bored, The Tobacco Force heads back to the outdoors and finds various ways to amuse themselves, only Chef Didier calls in with some terrible news. The team now finds themselves in a hopeless panic regarding an update on the situation with Lézardin.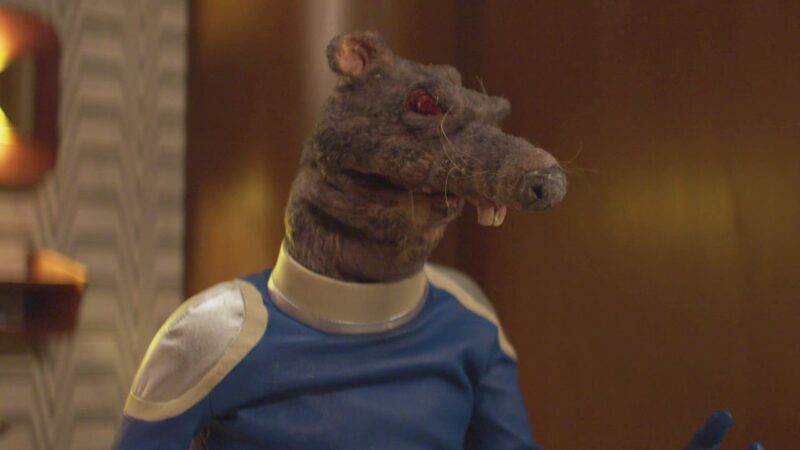 The End?
One absurd curveball gets thrown in by Dupieu bringing the film to an anti-climactic ending. I promised no major spoilers, so if you've read this far, you're going to have to watch the film. But just know, it's as laughable as you'd expect with everything you experienced throughout the film.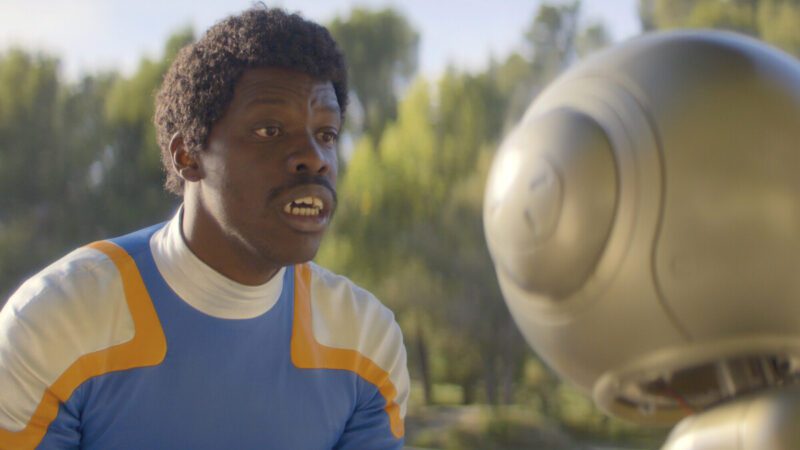 Final Thoughts and Takeaways
I love absurdist fiction because they stretch the imagination so much that beyond anything is possible, and it's fun. It's just a ridiculous, good time. Which is so desperately needed in life. On the surface, one could look at Smoking Causes Coughing and just shrug it off. But there really is more depth and meaning beyond the absurdity. Even in a story featuring a sentient bucket of human goo with lips floating in it… Especially in a story of a sentient bucket of human goo with lips floating in it…
That's why I love Quentin Dupieux's work. You can just laugh at the silly and take it at face value, or take a look beyond and see the significant themes and meanings, then marvel at how one could make them connect in such a way.
Smoking Causes Coughing is set to release on March 31, 2023 in the United States. Watch for it!