Shudder is the world's premiere horror streaming service, and you know we are big fans! Maybe even Stans? We're always excited to see what they have cooking, month after month. December is no exception!
What does Shudder have in store for horror fans this holiday season? Lots!
Read on for the details!


Shudder December, 2022 Highlights
Shudder kicks off December in style with no less than SEVEN films from the A NIGHTMARE ON ELM STREET franchise! Holidays go better with Freddy, don't you think? Shudder original film, A WOUNDED FAWN also lands on the first, and it's getting rave reviews.
If you love Christmas-themed horror, you're going to want to check out Joe Begos's Christmas Bloody Christmas on the 9th. It looks amazing!
A mountain of amazing stuff lands on December 12, including Autopsy, Murder Mansion, Girl in Room 2A, and My Dear Killer.
And what would a major holiday be without Joe Bob Briggs (and Darcy, too)? Joe Bob's Ghoulish Get-Together premieres on Friday, December 16 at 9pm ET. You know we'll be there for that!
Check out the full lineup below!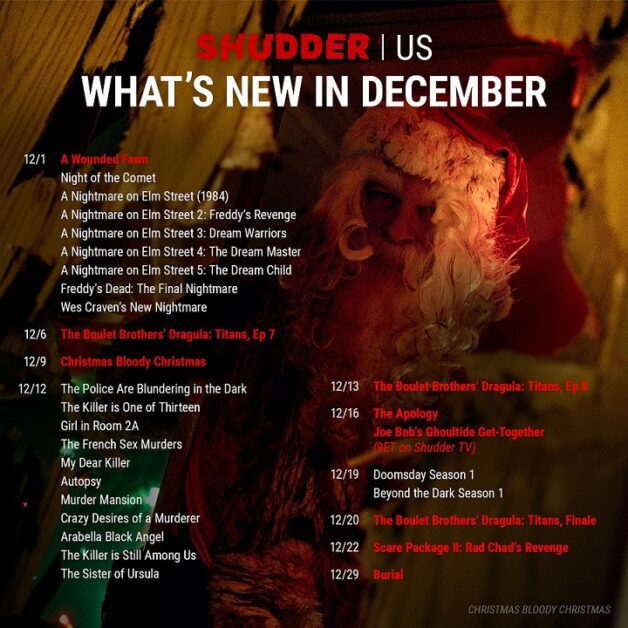 Excellent! We are stoked!
What are you looking forward to most in December on Shudder? Tell us in the comments!