The folks at FANGORIA Magazine were kind enough to send us the details of their upcoming January issue. It features a ton of exclusive content and a badass cover, and it's only available to subscribers. But good news…we've got a discount code for the subscription you know you need!
Check out the cover art below, then read on for the details!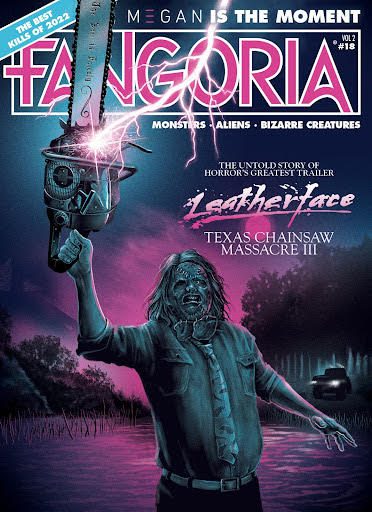 From The FANGORIA Press Release
Los Angeles, CA – November 15th, 2022 FANGORIA's January issue thrills horror fans with its stunning cover by artist "Ghoulish" Gary Pullin.

"We've wanted to put Leatherface on the cover for the nearly five years I've been editor of the mag," said Fango EIC Phil Nobile Jr. "When we hit upon the idea to explore the untold story of the infamous 'Excalibur' trailer from 1990's LEATHERFACE: TEXAS CHAINSAW MASSACRE III, the only two people more excited than me were writer Amanda Reyes, who dug up some amazing details in her research for the article, and illustration artist Gary Pullin, who said 'yes' before I could finish asking him."

The cover story explores the origins and making of one of the great horror trailers, in which the Lady of the Lake (spoiler: it was a man) tosses a chromed chainsaw to the franchise's iconic killer, creating a trailer that lingered in viewers' minds for longer than the actual film it was promoting.

The cover depicts the moment in the trailer in which the gods give life to the saw via a lightning bolt. In typical Ghoulish Gary fashion, however, he presents the classic moment from the front, offering a brand-new look at something familiar and classic.

The January issue also features new releases M3GAN, Jason Eisener's Kids Vs. Aliens, Emily Hagins' Sorry About the Demon and Roxanne Benjamin's There's Something Wrong with the Children, as well Elizabeth Banks' (possibly not horror, but very gory) Cocaine Bear.

FX coverage in FANGORIA #18 includes a conversation with M3GAN's puppeteering team, makeup legend Ve Neill talks to the great Greg Cannom about his classic work on Bram Stoker's Dracula, and Chainsaw Award winner Christopher Nelson opens up his iPhone to spoil Halloween Ends with some horrific, unseen makeup FX images.
Badass!

To get this cover, you MUST subscribe; it will not be sold in stores. Readers can subscribe RIGHT HERE and use code LEATHERFACE to get 25% off a new subscription.