Based on a true story, COCAINE BEAR (2023) looks every bit as batshit insane as it sounds. We've got the trailer to prove it!
Check this out!
COCAINE BEAR (2023) Synopsis
Inspired by the 1985 true story of a drug runner's plane crash, missing cocaine, and the black bear that ate it, this wild dark comedy finds an oddball group of cops, criminals, tourists and teens converging in a Georgia forest where a 500- pound apex predator has ingested a staggering amount of cocaine and gone on a coke-fueled rampage for more blow … and blood.
Elizabeth Banks directed the film, from a screenplay by Jimmy Warden. It stars Keri Russell, Ray Liotta, Alden Ehrenreich, O'Shea Jackson and Jesse Tyler Ferguson.
Check out this poster art!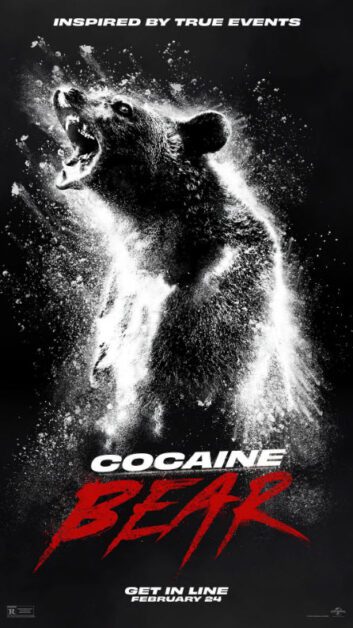 Cocaine Bear is coming your way on February 24, 2023. Watch for it!
We can't wait. Hah hah! How about you? Tell us in the comments!