In our review for Danishka Esterhazy's (The Banana Splits Movie 2019 – our review) Slumber Party Massacre (2021), a reboot of Amy Holden Jones' 1982 film, our reviewer said:
"It doesn't take long before things get messy, bloody, and gory, but you'll love every minute of it." 
If that doesn't get you to want to watch this raunchy horror flick, then maybe this news will. We just found out that Broke Horror Fan and Witter Entertainment will be releasing Slumber Party Massacre on VHS!
Slumber Party Massacre stars Hannah Gonera, Frances Sholto-Douglas, Mila Rayne, Alex McGregor, Reze-Tiana Wessels, and Michael Lawrence Potter.
Synopsis:
A remake of the 1982 slasher film about sorority girls attacked by a maniac killer with a large electric drill.
From the press release:
Slumber Party Massacre (2021) joins our official VHS lineup 2/8/2022! Orders open at 12PM EST/9AM PST exclusively in our shop. The 2021 remake of the '80s slasher classic arrives on VHS in a black clamshell case with three versions to choose from: a standard edition with new art by Vasilis Zikos (100 stocked, shown above), a variant with art by Creepy Duck Design (limited to 50), and a big box edition with Zikos' art (limited to 50). In partnership with Broke Horror Fan & Shout Factory.

Don't forget to stay tuned after the feature for an alternate ending. The release also includes a slew of exclusive cast introductions and a letter from director Danishka Esterhazy!

*Orders for Slumber Party Massacre VHS are expected ship in late February/early March. We appreciate your continued support and enduring patience in the face of supply chain delays.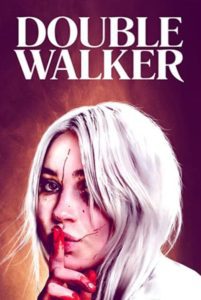 Only a handful of Double Walker [PopHorror review] VHS are left in stock! Officially licensed from Cranked Up Films.

Synopsis:

A young ghost haunts her cold Midwestern home town, trying to piece together the horrific flashes of memories from her past. One by one she kills the men she believes were responsible for her death, though her plan is derailed when she meets Jack, a kind movie theater usher who inadvertently intercepts as she's stalking her next victim. While Jack takes her in and offers her a glimpse at a normal life, her desire to avenge her own murder lingers on.

Double Walker is a deliberately paced and engrossing ghost story fit for an old school movie night. Only 50 were created and won't returning to the lineup.
Pick up either if these titles here.