Back in 2000, when Rob Zombie first announced that he wanted to try his hand at directing a full-fledged horror movie, many horror fans had doubts. Sure, the guy could write some badass music and he'd seen his share of horror films, but did that mean he could create a feature length movie? Fresh off of the multi-platinum success of his debut solo album, Hellbilly Deluxe (1998), Zombie was ready to jump right in to filmmaking, penning a script and getting the backing of Universal Pictures at the beginning of 2000. The result was House of 1,000 Corpses, released this week back in 2003, a dark, gruesome and hilarious flick that critics panned but horrorphiles loved.
Preceded by his reputation as a lover of the grotesque and weird, Zombie managed to get quite a known cast for his first film, including Trilogy of Terror's (1975) Karen Black, Spider Baby's (1967) Sid Haig, Texas Chainsaw Massacre 2's (1986) Bill Moseley, Henry: Portrait of a Serial Killer's (1986) Tom Towles, From Dusk Till Dawn's (1996) Walter Phelan and Jake McKinnon, King Kong's (1976) Dennis Fimple and Scrooged's (1988) Michael J. Pollard. The shock rocker turned director cast his then girlfriend, Sheri Moon, in the film, marrying her on Halloween just after shooting wrapped.
Zombie also worked with The Matrix's (1999) Scott Humphrey on the score/soundtrack while Andy Gould produced, eventually going on to produce all of the shock rocker's films. Halloween 4: The Return of Michael Myers (1988)'s Wayne Toth and Michael Deak collaborated with Michael O'Brien's Ex Mortis Effects to create the twitchy, blood drenched special effects.
When distributor Universal Studios saw the completed movie, the overload of gore and depravity convinced them House of 1,000 Corpses would never get less than an NC-17 rating, so they pulled out and the film sat for three years, waiting for backing. Of course, it might have also pissed them off that Zombie shot a terrible ending to the original film in the hopes that they would throw more money at him to reshoot, a bluff that did end up working. In 2003, Lions Gate Entertainment finally picked it up, so it all worked out.
The movie was shot on the Universal Studios backlot in the building where The Best Little Whorehouse in Texas (1982) was filmed. Unfortunately for Zombie, this house was on the tram tour of the studio's lot. Countless shots were delayed and even ruined when the tram made its frequent appearance. All of the cutaway scenes (Baby masturbating with a skeleton, Otis torturing the teenagers, etc.) and the opening credits were filmed in the director's basement on a 16MM handheld camera after the main shooting wrapped. Many scenes were shot twice in both red and white light and then edited together later, creating the bloody, psychedelic feel that the movie is known for. Strangely enough, Universal Studios gave House of 1,000 Corpses its own haunted house for 2010's Halloween Horror Nights, so I guess there were no hard feelings.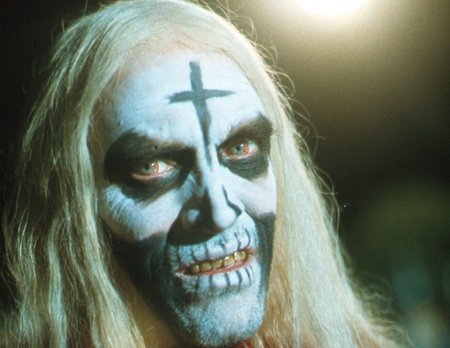 Zombie was highly influenced by occultist Aleister Crowley. He actually used one of the egomaniacal philosopher's poems, titled "The Poet," as the soundtrack to Denise being lowered into Dr. Satan's lair. Not only was the poem used, but it was also read by Crowley himself, from the only known recording of the sound of the hedonist's voice. If you look closely at the walls in The Museum of Monsters & Madmen, you can see actual reproductions of Crowley paintings that were found under white wash in his Abbey of Thelema in Italy.
In the House of 1,000 Corpses' opening weekend, ticket sales across the box office board averaged a spooky $666 per theatre – truth is sometimes stranger than fiction. The movie was critically panned, but despite its negative reviews, gained a cult following, especially after the release of the sequel, The Devil's Rejects (2005). Although mostly hated by critics, a few movie reviewers found the film to be a gem – CinemaBlend eventually wrote: stating,
"While his Halloween films were a mess, Zombie did bring something new with his original films, House of 1000 Corpses, and The Devil's Rejects, developing a cult following for his movies on top of the one he earned for his music. Say what you will about him as a director, but there's no denying that he has a unique vision."
The film was dedicated to Dennis Fimple, the actor who played Grandpa Hugo, who sadly passed away in 2002.
For many horror fans, House of 1,000 Corpses was a breath of fetid air. Although styled after grindhouse films of the '70s and Universal horror classics, the film felt new and original, different enough to catch audience's attention but not so obscure that they struggled with what was going on. Not to say the movie is clear and concise – as a matter of fact, watching House of 1,000 Corpses is like reliving your own fever dreams, complete with random grotesqueries and skewed camera angles. The fluorescent lights brought every detail to the front and center. Zombie was not one to hide behind shadows, and his idea to show the audience everything that was going on in full Technicolor, producing a film people would watch behind their fingers, petrified of what they would be shown next but totally unable to look away.
Each character – from the clown-faced Captain Spaulding to the giggling nymphomaniac Baby to the albino leader Otis to the burned giant Tiny – have their own set of psychosis, although the Firefly clan has never let anything as mundane as manic insanity ruin their day. Even a visit from the local cops can't keep them down. Who knew something as simple as a bunny suit could make everyone so happy?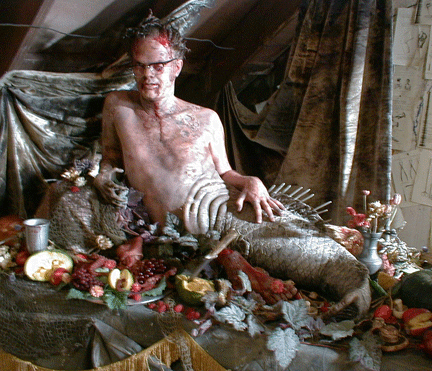 Although stunted by delays, reshoots and the loss of the backing of Universal Studios, House of 1,000 Corpses finally made it to theatres on April 11, 2003, soon becoming a genre favorite, especially after the sequel, The Devil's Rejects, was released in 2005. House of 1,000 Corpses proved to audiences that Zombie could make not only a horror movie but a barbaric, twisted, surreal, grotesque, funny horror movie, one that would stick with fans for years and push the bearded rocker to the top of many horror fans' lists.